American Legion Baseball
National Championship 1960
Hastings Duncan Field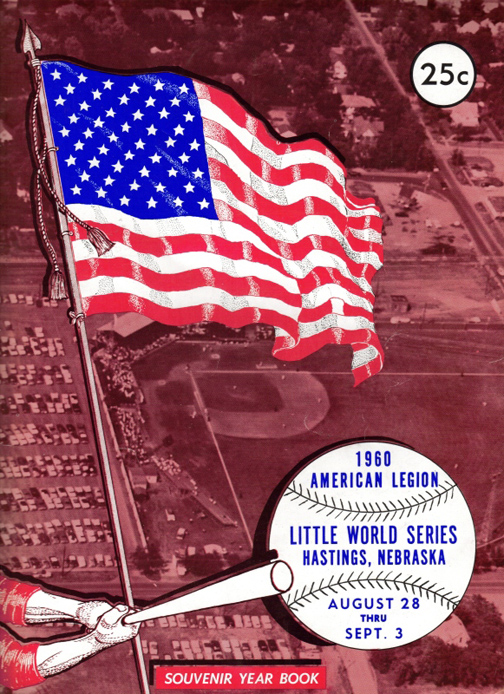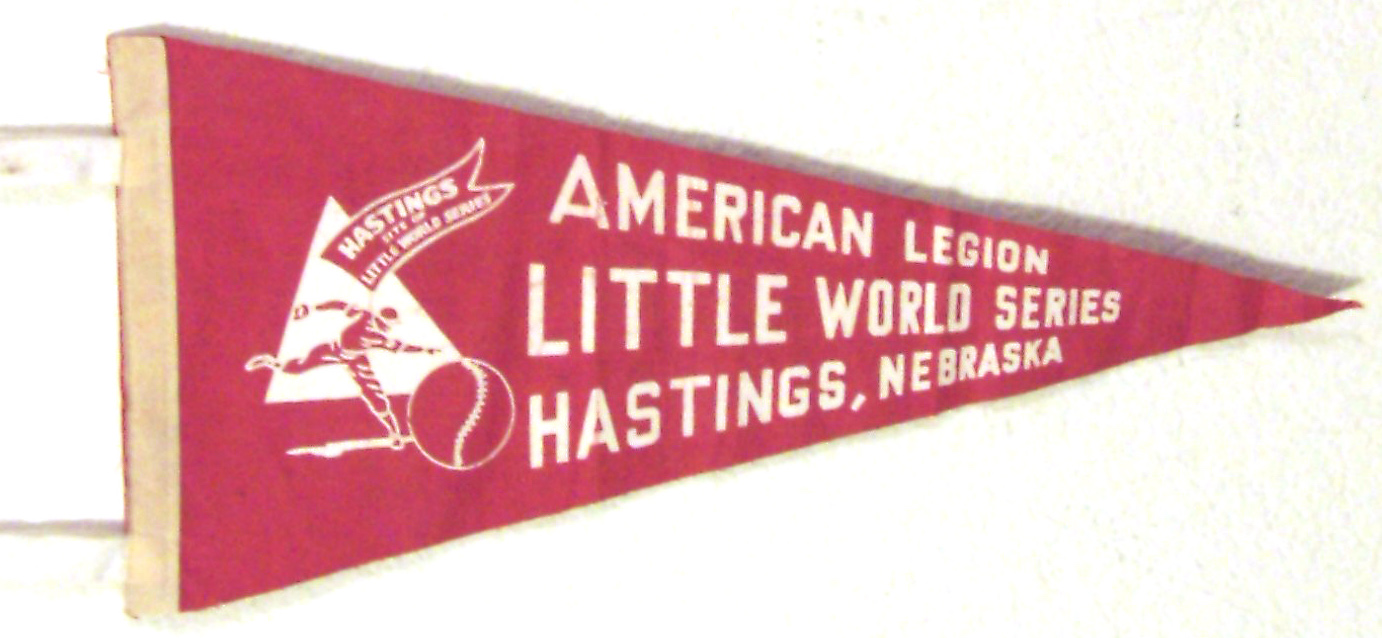 The 1960 championship featured eight teams in a double elimination format. The games were played at Duncan Field in Hastings Nebraska. The series featured Rusty Staub, playing for New Orleans and Dave McNally who pitched for Helena Montana. Hastings Nebraska beat South Omaha for the Nebraska State Championship and went on to win region 6 in order to play on their home field for the championship. Brooklawn New Jersey represented region two. Pittsfield Mass. and Pan Am Post 140 from Miami Florida rounded out the field.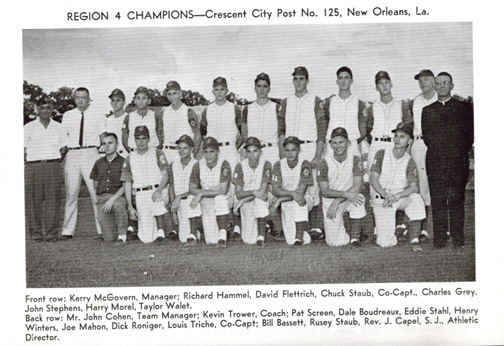 Image Courtesy Dan Bretta
Crescent City Post 125, New Orleans Louisiana won the 1960 championship. The boys from Jesuit High School were led by Richard Roniger. He received the George W. Rulon award as the American Legion player of the year. Rusty Staub was another standout for New Orleans in 1960. He went on to play 23 seasons in the Major Leagues. Pat Screen went on to star at quarterback for LSU and was mayor of Baton Rouge. New Orleans defeated Billings Montana 9-3 in the final game.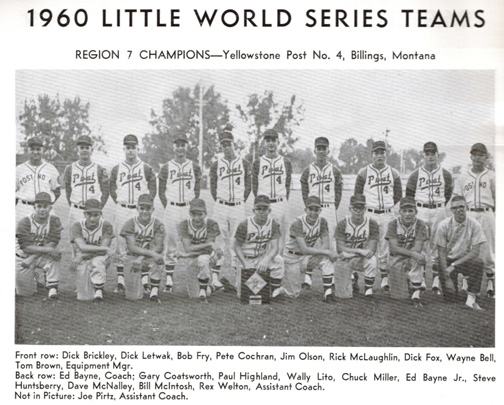 Image Courtesy Dan Bretta
Yellowstone Post No. 4 from Billings Montana was second in 1960. They were on a three year run as Montana State Champions and were in the American Legion World Series in 1958. They had four players who went on to play professional ball. Their leader was Dave McNally. Dave was named Montana Athlete of the Century. He had a 14 year run in the major leagues with 13 of those years with the Baltimore Orioles. He was 18-1 in 1960 and had 27 k's in one game, including 5 in one inning. He also had a grand slam home run during the series. His only loss came against New Orleans in the final game of the series.
Bob Fry was a star in the outfield for Billings. He won the American Legion James F Daniel Jr. award for outstanding sportsmanship and the Louisville Slugger Batting Championship award. He was signed by the Mets organization and played for Greenville in the Western Carolina league in 1965.
Kenneth "Pete" Cochran was in the Dodgers organization for a few years and played for St. Petersburg, Great Falls and Salem during his minor league career.
Gary Coatsworth was the fourth player from Billings to be signed by a major league organization. He went on to play for Quad Cities and Idaho Falls in the Los Angeles Angels organization.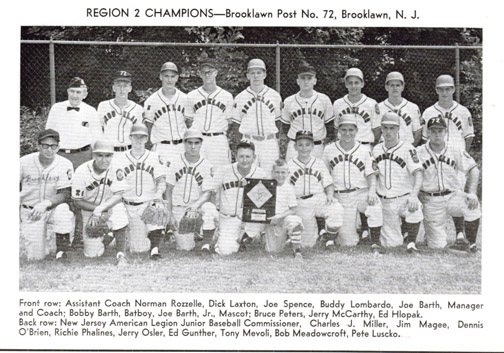 Image Courtesy Dan Bretta
Brooklawn Post 72, Brooklawn N.J. is one of the most successful American Legion teams in history. As of 2008 they have 23 New Jersey championships, two national championships and two times were second in the American Legion World Series.
Brooklawn ran into Dave McNally from Billings in the first round and lost 3-0. They then went through the losers bracket until they ran into Billings again. Once again Dave McNally prevailed and Brooklawn lost 5-3.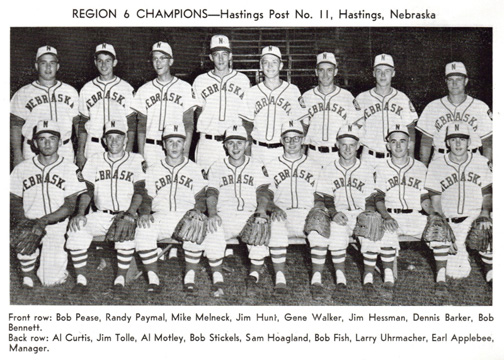 Image Courtesy Dan Bretta
Hastings beat Omaha South to reach the Region 6 tournament. They went on to win Region 6. Their reward was to go home and play in the American Legion World Series. Bob Stickels was a tall young pitcher for Hastings. He went on to pitch for the University of Nebraska and was drafted by the Kansas City Athletics in 1967. In 1967 he played for three teams in the Athletics organization and two teams in 1968. He played for Iowa in the "AAA" American Association in 1970, 1971 and for part of the 1972 season.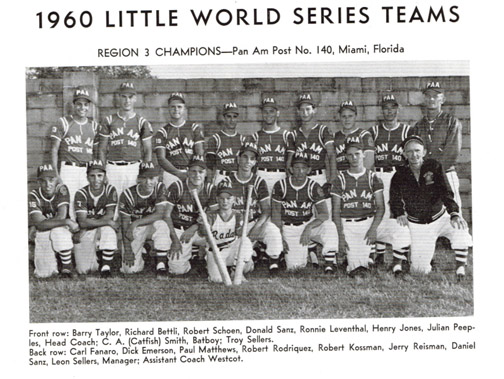 Image Courtesy Dan Bretta
Pan Am Post 140 from Miami Florida represented region 3 in the championship.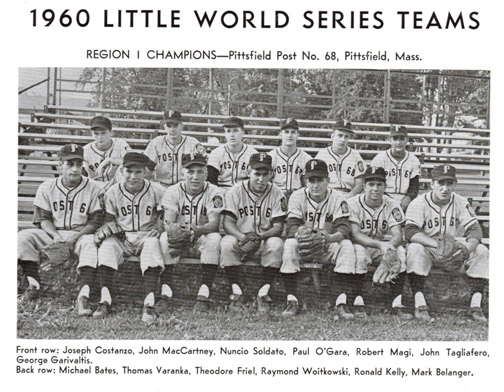 Image Courtesy Dan Bretta
Pittsfield Post 68 from Pittsfield Mass. represented region 1 in the 1960 American Legion World Series.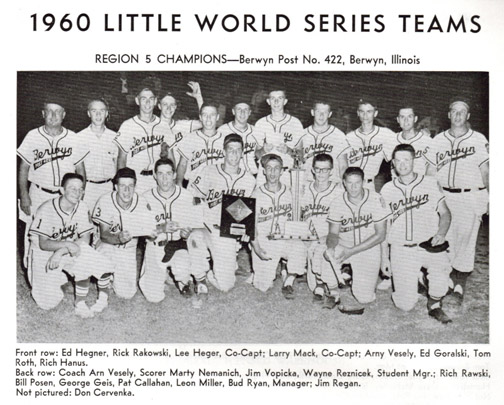 Image Courtesy Dan Bretta
Berwyn Post 422, Berwyn Illinois represented Region 5 in the ALWS. They were second to Omaha McDevitts in the 1939 championships.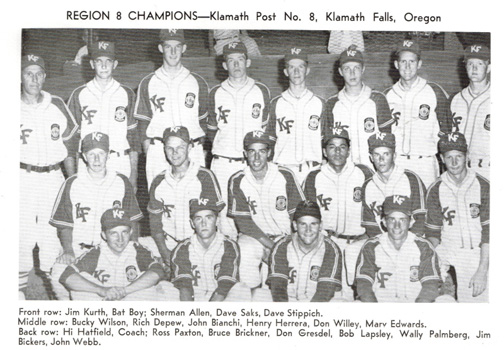 Image Courtesy Dan Bretta

Klamath Post 8 from Klamath Falls Oregon represented Region 8.

American Legion Nebraska Championships