Nebraska Minor League Baseball
Omaha Spikes/Royals
1998-Present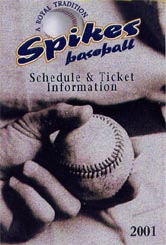 In 1998, the American Association is disbanded once again and Omaha joins the Pacific Coast League. In 1999, the Royals name is changed to the Golden Spikes, a moniker that does not last very long.
In 2001, Mike Minker, who also ownes the Wilmington Delaware franchise buys a majority share of the Omaha franchise.
Nebraska Minor League Baseball Home