Nebraska Minor League Baseball
Les Mann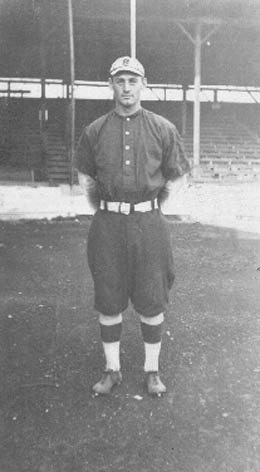 Les Mann was a 17 year old from Lincoln who led the MINK league in runs scored in 1911. He also averaged .328 in 95 games in 1911. His play with Nebraska City led him to be noticed by the talent scouts.
He was also a track star. In the 1911 state track meet, the youngster from Lincoln High School won five events. He was first in the 220 yard dash with a time of 22.2 seconds. The world record at the time was 23.0 seconds. He also won the 50 yard dash, the 100 yard dash and the 440 yard dash. He took first in the 220 yard hurdles and second in the discus.
He was signed by the Boston Braves before graduating from high school.
In 1912 he played for Seattle in the PCL.
In 1913, as a nineteen year old, he made it to the major leagues playing for Boston in the national league. In 1915 he played for Chicago in the Federal League. His career lasted until 1928. In 16 seasons he had a lifetime average of .282, 44 home runs and 503 RBI's.
Les Mann was the manager of the team that the United States sent to Germany for the 1936 Olympics. Mann was the secretary of the United States Amateur Baseball Congress and was selected to manage the team that went to the Olympics. Other coutries had promised to send teams to compete in the games but none showed up. The team was then split into two teams and a demonstration game was conducted. Over 125,000 fans watched the baseball contest. Paul Amen from Lincoln Nebraska was one of the players on the 1936 Olympic team. Les was listed as living in Florida at the time of the olympics.
Les died in 1962 in Pasadena California.
Nebraska Minor League Baseball Home