Nebraska Minor League Baseball
Les Nunamaker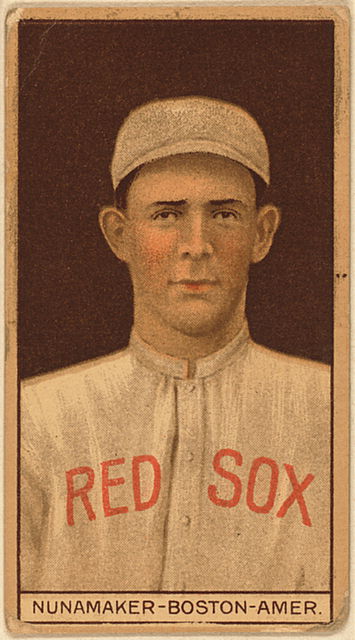 Les Nunamaker
T207 1912 Brown Backgrounds
Image Courtesy Bob Payne
According to the Museum of Nebraska Major League Baseball Les Nunamaker was born in Malcom Nebraska and raised in Aurora Nebraska. Baseball Reference states that he was born in Aurora Nebraska. The Hastings newspaper obituary called him a native of Aurora, the Aurora paper indicated that he was born in Hamilton County and grew up in Aurora. Wherever he was born there is consensus that the young catcher started his career with the Haskell Indian team. His professional career started with Dubuque in the Three Eye (III) league in 1909. He played in over 90 games and averaged .241. He also played in 26 games for Lincoln in the Western league and averaged .278.
In 1910 Les played for Bloomington in the III league. The three "Eye" league was a class "B" league in 1910. He batted .264 in 113 games. He also had 34 errors, which was the most errors by a catcher in the league that year.
In 1911 he started his major league career with the Boston (AL) team. (The Hastings Daily Tribune reported that he started with the Chicago Cubs but every other reference states that he started with Boston. In 1914 he was traded to the Yankees. On August 3rd 1914, in a game against Detroit he threw out Donnie Bush, George Moriarty and Hugh High when each tried to steal second base. Throwing out three batters in one inning has not been repeated in major league baseball.
His best year was 1916 when he batted .296 for the Yankees. He was traded to the Browns in 1918 and then to Cleveland in 1919. He was thirty three during his last year in 1922.
After his twelve year major league career he continued in baseball in the Michigan League and Chatanooga Tennessee.
In 1928 he took over the manager position with the Lincoln Links during the season. He was a player manager for the Links. In 1929 at forty years old he batted .324 for the Links and the team finished in third place behind McCook and Fairbury. He managed the Links for four years with one second place and two third place finishes.
He went to Hastings to work for his brother Fred at the Hastings Pioneer Market. He was a member of the Hastings Gun Club and was a director of the Nebraska Sportsmans Association. He died in Hastings in 1938. He was forty nine years old.