Nebraska Minor League Baseball
Jack Urban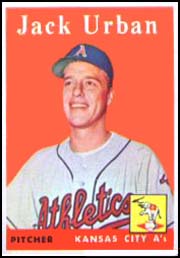 Topps 1958
Photoshopped
Jack was born in Omaha Nebraska in December of 1928. He graduated from Omaha Tech High School in Omaha.
Originally with the Yankee organization, Jack played for Belleville Stags in the Mississippi-Ohio Valley League in 1949. In 1954 he pitched a no hitter for Birmingham against New Orleans in the Southern Association. He played for Denver in the American Association in 1955. In 1956 he was 11-8 in 30 games for Denver. In 1957 he played in 7 games and was 3-2. On April 5th he was sent by the New York Yankees to the Kansas City Athletics.
Jack made his debut with the Athletics in June of 1957. He pitched in 31 games that year and had a 7-4 record and a 3.34 ERA. In 1958 he pitched in another 30 games and was 8-11. He played a few games in in 1959 with the St. Louis Cardinals. In all he had a 15-15 lifetime major league record.
Jack Urban spent most of the 1959 in his home town of Omaha pitching for the Omaha Cardinals. He pitched in 19 games, and had a 3-7 record.
He split the 1960 season between Charleston and Little Rock.