Nebraska Minor League Baseball
Dazzy Vance
---
Hall of Fame
---
Dazzy Vance began his career with the Superior Brickmakers in 1912. On September 2nd he pitched a five hitter in the first game of a double header as Superior defeated Columbus 4 to 1. He then pitched the first five innings of the second game getting the win 7 to 4. He was 11-15 for the 1912 season.

He pitched for Superior in 1913. He was 11-14 in 25 games.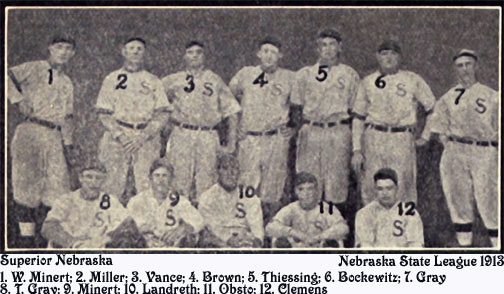 In 1914 he pitched for the Hastings team and led the Nebraska State League in strikeouts with 194. He had a 17-4 record for the year pitching in 26 games. He was picked up by St. Joseph in the Western League where he went 9-8.
The young man from Orient Iowa made it to the majors in 1915 with Pittsburg. He was 0-4 pitching at the beginning of the year for Pittsburg and the end of the year for the Yankees. In between he played for St. Joseph in the Western League. He left his mark on the Western League in 1915. He had 199 strike outs to lead the league. He also had the most wild pitches (12) and struck batters (25) to lead the league in both categories.
He had 17 wins for St. Josephs in 1916 which led to a stint with the Yankees where he was once again winless. He pitched in 8 games and had a 0-3 record.
According to the Reach Guide for 1924, Dazzy was sent from St. Josephs to Columbus. Finally Dazzy went to his family doctor in Hastings, Nebraska and he was told that it would take a couple of years for his arm to heal. He also made a brief appearance with the Yankees in 1918. He was sold to Toledo, then Memphis then to Sacramento of the PCL. From Sacramento he went back to Memphis. The story is that the Memphis manager did not like the New Orleans manager and arranged for Dazzy to be sold to the Pelicans. Dazzy and Gilbert, the New Orleans manager, worked out a deal where Dazzy only pitched once a week. This brought his arm back to life and he was bought by Brooklyn and given one more chance at the majors.
He did not win a game in the majors until 1922 when he was 31 years old and pitching for the Brooklyn Robins. He had 28 victories in 1924 and a 2.16 ERA with 262 K's. . He was named MVP in 1924 and given $1,000 in gold coins. He signed a $47,500 contract in mid March of 1925. He had 22 victories, 221 K's and four shutouts in 1925 with one no hit game against Philadelphia in September. He led the National League in strikeouts seven seasons in a row. In 1928 he went 22-10 with four shutouts, 200 k's and a 2.09 ERA.
He made his only world series appearance in 1934 pitching with Dizzy and Dazzy. He pitched 4 outs (three by k's) in the fourth game of the series. He played until 1935 and had 197 lifetime wins, a career 3.24 ERA, 2,045 strike outs in 2,967 innings and only 840 walks.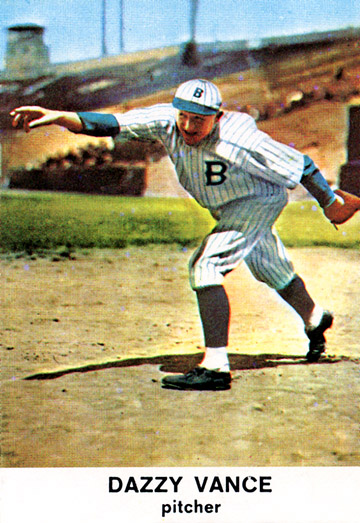 Dazzy Vance
Brooklyn Dodgers

Check out Dazzy Vance at the Baseball Hall of Fame.

Dazzy Vance by Rob Neyer at ESPN.