Nebraska Minor League Baseball
American Association
Omaha Cardinals 1956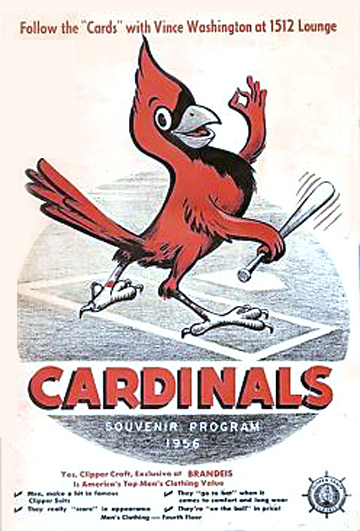 Standings 1956
President:Edward S. Doherty

Standings
Wins---
Losses-
GB
Attendance
Manager
Indianapolis
92
62
--
231,189
Kerby Farrell
Denver
86
67
5
368,305
Ralph Houk
Omaha
82
71
9.5
212,859
Johnny Keane
Minneapolis
78
75
13.5
318,326
Eddie Stanky
St.Paul
75
78
16.5
102,004
Max Macon
Charleston
74
79
17.5
150,318
Charlie Merto/Frank Skaff
Wichita
65
88
26.5
109,207
George Selkirk
Louisville
60
93
31.5
78,842
Red Marion/Max Carey

---

BA: Charlie Peete, Omaha, .350
Runs:Marv Throneberry, Denver, 123
Hits:Bob Martyn, Denver, 183
RBIs:Marv Throneberry, Denver 145
HRs:Marv Throneberry, Denver, 42
Wins:Curt Barclay, Minneapolis, 15/Stan Pitula, Indianapolis, 15
SOs:Ted Abernathy, Louisville, 212
ERA:John Gray, Indianapolis, 2.72
Omaha was managed by Johnny Keane. It was his second year as Cardinal manager. He was a highly rated short stop in the Texas League in 1937 when he was struck in the head with a pitch. After World War II, he managed at Houston, Rochester and Columbus. When the franchise was moved from Columbus to Omaha he moved with the club to Omaha.
Omaha was a consistent third in 1956. Third in the league standings, third in club batting average, third in club fielding average and third in team ERA.
Charlie Peete led the Cardinals and the American Association in batting in 1956. He was 26 years old and played in 112 games for Omaha in 1956. . In November he died in a plane crash near Caracas Venezuela while travelling there to play winter ball. The outfielder had 16 home runs on the year.
First base for the Omaha Cardinals in 1956 was held down by Tom Alston . He had played for the parent club Cardinals in 1954 and 1955. He was brought up to the parent club at the end of the 56 season and appered in three games. In Omaha he played the position for 103 games and had a .306 batting average. Backing him up was Maurice Mozzali . He saw first base action in 60 games and played in the outfield for 66 games and maintained a .302 average.
Walter Shannon who averaged .299 and Walter Lammers with a .261 average split the second base chores. Shannon was a 23 year old prospect from Cleveland Ohio. He played for St. Louis for parts of the 1959 and 1960 seasons.
Stan Jok played at third base for 67 games. He made his major league debut in 1954 with Philadelphia. He also played a few games with the White Sox in 54 and 55. Walter Shannon, Walter Lammers and Ben Valenzuela with a (.220) average also playing some third during the year.
| | |
| --- | --- |
| | The short stop was Dick "Ducky" Schofield and averaged .295. Dick had made his major league debut at eighteen years old in 1953. He played for St. Louis for parts of the 53-55 seasons. He was sent to Omaha in 1955 where he played in 107 games. In 1956 he played in 108 games in Omaha and averaged .295. He played 16 games in St. Louis in 1956. He was traded to the Pirates in 1958. He played in the majors until 1971. |
Catcher was Nelson Burbrink . He had played in 58 games for the parent Cardinals in 1955 and averaged .276. In 1956 he put on the mask for 111 games in Omaha and averaged .256. James "Igor" Command was his backup. He had been in the Philadelphia organization in 54 and 55 where he played in 23 major league games. He caught 43 games and averaged .318 in Omaha in 1956.

The outfield for Omaha in 1956 had Charlie Peete and Dan Schell as their stalwarts. Dan Schell had played with Philadelphia in 1954 and part of 1955. Schell played in 139 games and had a .291 average. Other players include Alberto Baro (56 games .305 average) and Ray Coleman . I think this was the Ray Coleman who broke into the majors in 1947 with the Browns. In 1956, he played in 48 games for Omaha and averaged .250.

Omaha went through a cadre of pitchers in 1956.
Gordon Jones appeared in 27 games, had a 13-8 record and led the team with 122 k's. The 26 year old fireball flinger from Portland Oregon was up and down with the parent club over the years. He played 11 games with St. Louis in 1954 and 15 games in 1955. He was called up to the parent club at the end of the 56 season and appeared in 5 games for the parent Cards. Overall, he appeared in the major leagues for a few games in eleven different years.

Tom Cheney made 29 appearances and had a 10-5 record. The 20 year old from Morgan Georgia made his major league debut in 1957 with the St. Louis Cardinals. He played in the majors for parts of eight different seasons adn had a 6-10 lifetime record.

James Pearce was a veteran player with five years of major league experience before coming to Omaha in 1956. The 6' 6" thirty one year old appeared in 34 games and had a 9-13 record for Omaha.

Ed Mayer was a 23 year old lefty from San Francisco California. He appeared in 18 games and had a 6-5 record. He made his major league debut with the Cubs in 1957 and played in a total of 22 major league games.

Herbert Moford had a short stint with the parent club in 1955. The 27 year old from Brooksville Kentucky made 39 appearances and had a 12-9 record. He returned to the majors in 1958 and played for four different teams in his four year major league career.

Wright (15 0-0 3.35 ERA)
Marion Kutyna (26 4-2)

Nebraska Minor League Baseball Home