Nebraska Minor League Baseball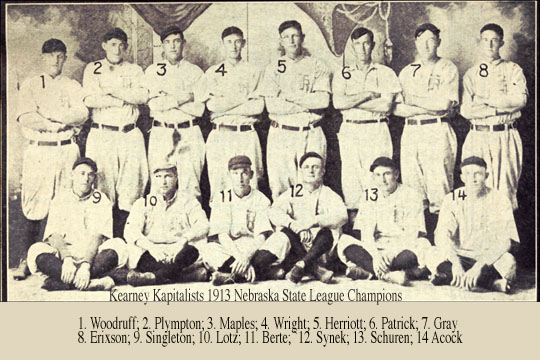 One of the issues surrounding any baseball history web site is that of organization. Baseball is the story of leagues, towns, players and years.

By League
This path leads to a synopsis of each of the leagues by season. The Nebraska State League is represented in each of its four incarnations (1910-1915, 1922-1923, 1928-1938 and 1956-1959). The Tri-State attempt of 1924 and the class "D" Western League of 1939-1941 are also here. The MINK league of 1910-1913 is also present. Lincoln and Omaha are given their own listings as both have participated in a variety of leagues.
By Town
This lists the twenty two towns that have hosted minor league teams in the past and provides detail as to the teams, the towns, the fields, the players and the history of their participation. Occasional side tracks like the effort in 1910 to rid Fremont of its famous "houses" and information about the town during the particular era are included.
By Player
This is a list of the more successful or colorful players in Nebraska minor league history. Learn about Harry Smith who led Fremont to the first Nebraska League crown in 1910. Cotton Pippen, a fireballing Texan who came to Beatrice and pitched both ends of a double header to lead Beatrice to a crown.
---
Baseball Fields of Nebraska


Of course Nebraska has its share of beautiful baseball parks, fields, diamonds and stadiums. The link above is a start at a photo essay and description of the current and historical diamonds in the state.
---
Any investigation like this one results in a number of interesting but miscellaneous subjects. These include information about Sunday baseball, a contentious subject in the early part of the century.
One cannot help but have some impressions of the many towns one visits while tracing down information about the various teams and players. One immediate conclusion is that many towns in Nebraska offer a variety of enjoyable diversions and vacation destinations. Check it out, a lot of fun getaway weekends await. So far days have been spent in Seward, York, Beatrice, Fremont, Columbus, Norfolk, Kearney, Grand Island and Omaha. A lot of hours were spent in the town's local library, nearby museums, historical society locations and current/old ballpark locations. Eventually this will contain a list of the various towns and my (totally biased) impressions.
No compilation would be complete without a list of references and links to other Nebraska Baseball Web Sites.
Send comments, corrections or addition to: tachyonbb@gmail.com
Thanks for looking and I hope you enjoy the site.
© 2010 Bruce Esser