Nebraska City Nebraska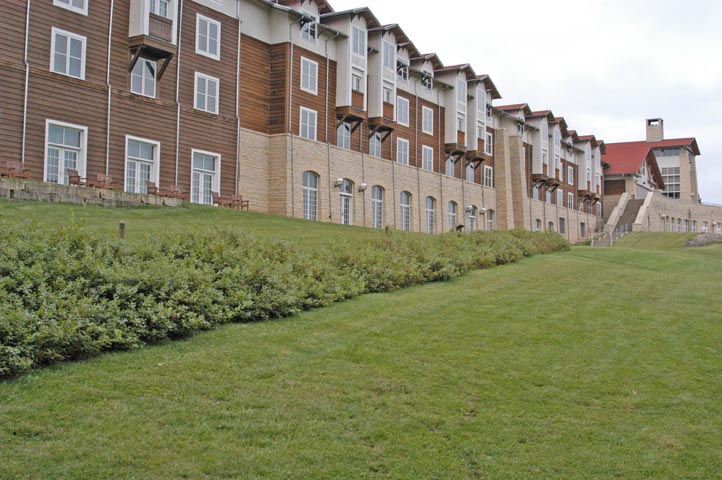 Back of Lied Lodge
Nebraska City Nebraska
If you think of Nebraska City at all you probably associate the name with Arbor day or you think of a crisp fall day and a pleasant time visiting the various orchards in the area.

Then you stumble on an amazing resort lodge right smack dab in Nebraska City. You might expect such opulence and good taste in Coeur d'Laine Idaho or Aspen Colorado but not in Nebraska City. The Lied Lodge is an amazing place and well worth an overnight visit. Wonderful guestrooms, fine dining, a lobby that is as comfortable as it is impressive, the walking trails, the exercise and swimming areas are all first class.

In addition the Lied lodge is a leader in being sensitive to its environment and employing leading edge technologies to provide for the energy needs of the structure.
Unlike many towns, Nebraska City honors its past and has a unique collection of interesting buildings that are over 100 years old. The Morton James Public Library combines old and new into a working structure. Their film of old Nebraska Newspapers is pretty good and their film viewer actually worked.
Nebraska City was a charter member in the Class "D" MINK league. They were last in 1910 and 1911 but won the league in 1912. They were in contention for the league championship in 1913 when the league folded. The original ball park in Nebraska City was called the "15th Street Park". It was probably on 15th and Central. In 1911 one of the new features was the addition of "shower baths" for the players to use after practice and games. The showers were added to the back of a business on 16ht and Central.
The current ball park in Nebraska City is located in Steinhart Park. It has its own little McCovey cove as can be seen in the photo above. The park is well maintained. The grandstands are typical aluminum but the slope behind the stands gives the park an old time feel.
| | |
| --- | --- |
| | In addition to the baseball diamond at Steinhart Park the town boasts over 300 acres of city parks. Arbor Lodge State Historical Park and Arboretum and Kimmel Orchard are worth a visit. |
Nebraska Minor League Baseball Home