Nebraska Minor League Baseball
Missouri, Iowa, Nebraska, Kansas (MINK) League
Nebraska City Forresters 1910
The Nebraska City Forresters were charter members of the class "D" MINK league in 1910. The Forresters were league champions in 1912. The franchise lasted from the beginning until the league folded in June of 1913.
There were over 1,000 fans in the stands for the Forresters opening game. The ballpark on 15th Street was packed and many fans crowded the sidelines to watch them play Clarinda. Mayor Jackson tossed the first pitch and the Nebraska City News duly reported the Judge Travis failed to catch the toss. The ball was then auctioned off and George Zells had the winning bid of $2.50. Judge Travis arranged his court in Plattsmouth so that he and the other members of the court could attend the game. The Merchants band provided entertainment and the business district of Nebraska City closed for the afternoon so everyone could attend the game.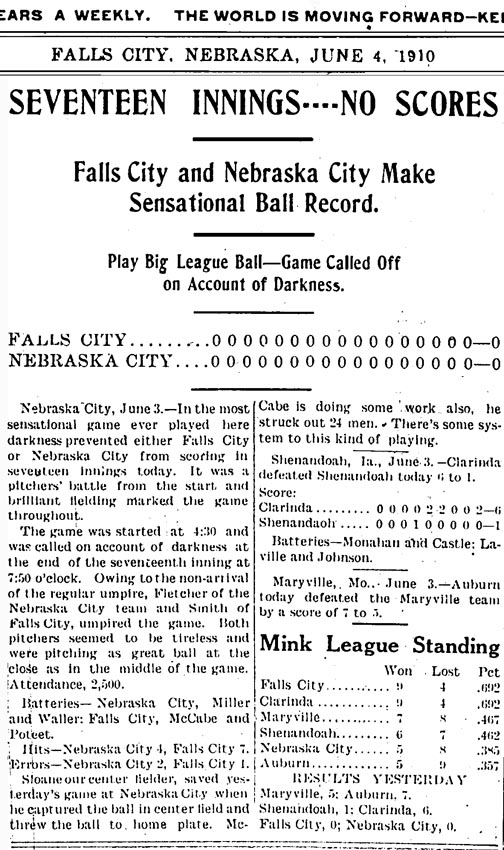 The team had its share of extra inning games in the early part of the season. They had two 17 inning games and a 19 inning game in four weeks. In June additional trouble hit the team as many of the players participated in a "pick up" game at the Driving Park on Sunday the 26th of June. The ministerial alliance had warned the team that they would not tolerate the playing of baseball on Sunday. A complaint by Rev. J. A. Koser resulted in a number of Nebraska City players being arrested. The newspaper also reported that "a certain young woman of this city wears three of the rings of Mink players and two of them are diamonds."

The Forresters in 1910 were not a very good team. For the season they were 43-56 and wound up in last place in the league.

Financially, the team wound up in the hole at the end of the season. The treasurer of the club H. O. Rice released the balance sheet for the year and it was published in the paper as follows:

Receipts:


Gate Receipts.&nbsp&nbsp&nbsp&nbsp&nbsp&nbsp$3,922.24
Subscriptions.&nbsp&nbsp&nbsp&nbsp&nbsp&nbsp$2,542.00
Other sources.&nbsp&nbsp&nbsp&nbsp&nbsp&nbsp$200.00
Total........&nbsp&nbsp&nbsp&nbsp&nbsp&nbsp$6,664.24

Disbursements


Salaries of Players&nbsp&nbsp&nbsp&nbsp&nbsp&nbsp$3,364.10
Grading of Park....&nbsp&nbsp&nbsp&nbsp&nbsp&nbsp$311.00
Grading 14th St....&nbsp&nbsp&nbsp&nbsp&nbsp&nbsp$152.05
Building Material..&nbsp&nbsp&nbsp&nbsp&nbsp&nbsp$155.32
Labor Building.....&nbsp&nbsp&nbsp&nbsp&nbsp&nbsp$100.00
Maintenance........&nbsp&nbsp&nbsp&nbsp&nbsp&nbsp$200.00
Traveling Expenses.&nbsp&nbsp&nbsp&nbsp&nbsp&nbsp$3,040.39
Total..............&nbsp&nbsp&nbsp&nbsp&nbsp&nbsp7,322.86

This left the team with a defecit of $637.00. In addition the paper listed the salaries paid during the year to the players. The average wage earner at this time earned about $12.00 per week. A salary of $600.00 per year was considered to be sufficient for a family of five.
Salaries:

Keithley
$5.00
Harry Stahl
$3.00
Sherer
$62.50
William Thomas
$3.00
Wells
$82.50
Metz
$103.50
Cass
$182.65
Les Mann
$175.00
Mayfield
$192.67
Hull
$37.50
Moore
$179.17
Turk Richter
$271.95
Wood
$23.83
Waller
$258.00
Whitcomb
$45.00
Collier
$220.83
Miller
$239.18
Fletcher
$73.95
Al Chapman
$220.64
Wagner
$18.00
Badura
$37.50
Wallace Hicklin
$263.26
Morarity
$4.45
Burns
$125.35
Brewer
$9.40
O'Shea
$10.00
Roster
Nebraska Minor League Baseball Home