Nebraska Minor League Baseball
Missouri, Iowa, Nebraska, Kansas (MINK) League
Nebraska City Forresters 1912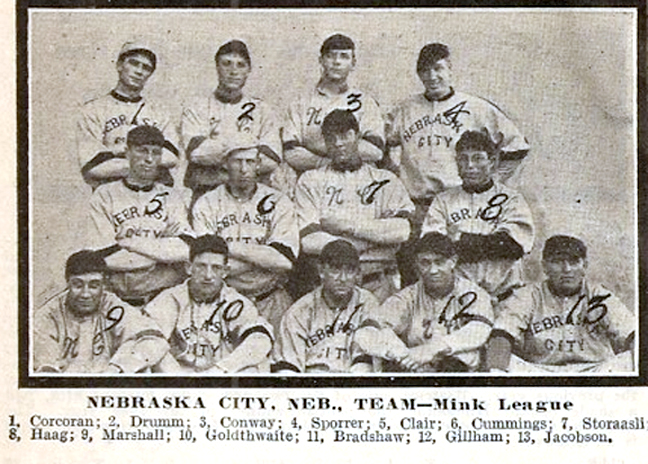 Nebraska City started the 1912 season with great hope for a successful season. Manager Ducky Holmes played a variety of positions and was quite successful at bringing together a winning group of players.
The team started the year with a winning streak that put them in first place for the month of May. In June they lost the lead to Falls City and by early July they were looking at third place. In the first week of August they vaulted from third to first place and remained there for the rest of the season. For the year they wound up 61-38. Falls City matched their win count with 61 but had 41 losses to put them in second place.
At the end of the season the town held a "Beefstake" dinner for the team. Marshall, Pat Conway and Cummings were not able to attend the reception and dinner as they were picked up by the Western League Sioux City team.
Roster:
Infield:
First Base: Milt Drumm He led the league in batting with a .341 average and in runs scored wtih 65. He played for Waterloo in 1913 and was with Kearney in the Nebraska State League in 1914.
Second Base: C. Clair batted .227. He was wtih Kearney in the Nebraska State League in 1910 and with Grand Island in 1914.
Third Base: Jones had 139 at bats and averaged .216.
Short Stop was handled by Joseph Gillham . He averaged .272.
Catcher: Thomas Goldthwaite .255. Thomas was the catcher in 1910 for the Enid team in the Western Association.
Outfield:
Marshall averaged .285
Sporer tended the garden in 1912 and averaged .254.
Charles Bradshaw averaged .247.
Pitchers:
Pat Conway was the leading pitcher for the team in 1912. He had a 15-6 record for the season and was sold to Sioux City of the Western League at the end of the season. He also spent some time in Racine before returning to Nebraska City for the 1913 season.
Rhode had a 10-8 record in 1912.
Cochran 7-10
Nebraska Minor League Baseball Home