Kearney Nebraska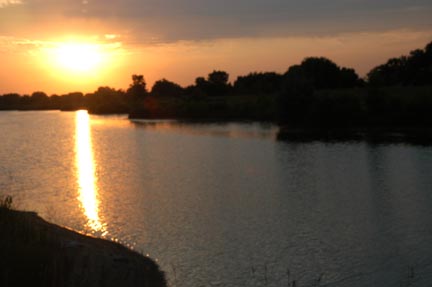 Sunset Kearney Nebraska
Bruce Esser
While we had an enjoyable time in each of the cities we have visited, Kearney was one of the most enjoyable.
Their current baseball field Memorial Baseball Field at 7th Avenue and 33rd Street was the location where their Nebraska State League team played from 1956-1959. It is currently where the local American Legion team and UNK teams play. It is a pretty ballpark, built into a hillside and well maintained.
The library is a friendly space and the staff was very helpful. The microfilm of the Kearney Hub was clear to read and the archive seemed to be complete.
The Great Platte River Road Archway
was an enjoyable experience and recommended as a
good history synopsis of travel across the plains
from the first explorers to the present interstate system.
Kearney Arch
Debra Esser
Kearney Arch Detail
Debra Esser
Crane on Parade
Bruce Esser
Trails and Rails Train Interior
Bruce Esser
We plan on returning again to do more baseball research and attend an event at the Tri-Cities arena. Either a Tri-City Diesel's arena football game or a Tri-City Storm hockey game. Visiting Kearney was an enjoyable experience and we plan on returning for a weekend getaway soon.
Buffalo
Bruce Esser
Moonrise Over Kearney Arch
With apologies to Ansel Adams
Kearney Nebraska Minor League Professional Baseball Teams
Nebraska Minor League Baseball Home