Nebraska Minor League Baseball
American Association
Omaha Cardinals1957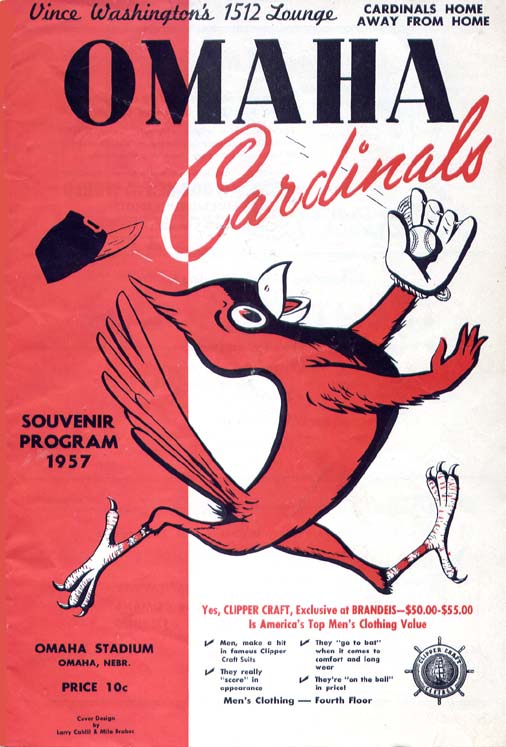 Standings 1957
President:Edward S. Doherty

Standings
Wins---
Losses-
GB
Attendance
Manager
Wichita
93
61
--
145,028
Ben Geraghty
Denver
90
64
3
305,625
Ralph Houk
Minneapolis
85
69
8
256,113
Red Davis
St.Paul
82
72
11
202,260
Max Macon
Omaha Cardinals
76
78
17
117,066
Johnny Keane
Indianapolis
74
80
19
159,947
Andy Cohen
Charleston
67
87
26
124,114
Frank Skaff/Don Griffin/Bill Norman
Louisville
49
105
44
135,987
Dutch Meyer

---

BA:Norm Siebern, Denver, .349
Runs:Norm Siebern, Denver, 124
Hits:Norm Siebern, Denver, 191
RBIs:Marv Throneberry, Denver 124
HRs:Marv Throneberry, Denver, 40
Wins:Carlton Willey, Wichita, 21
SOs:Stan Williams, St. Paul, 223
ERA:Frank Barnes, Omaha, 2.41
The 1957 season was started with a lot of hope in Omaha. Manager Johnny Keane had a good mix of young bucks and experienced veterans and looked to be in contention for the American Association title.
Tom Cheny and Frank Barnes led the pitching staff and looked as strong as any in the league. The infield was solid and the outfield looked promising.
At the end of April, Omaha was in second place just 1 1/2 games out of first. They hung around for the first half of the season. On July 5th they were just 1/2 game out of first. Then the bottom fell out as they lost 10 games in a row and eventually finished in 5th position.
The collapse started with Rance Pleiss being sent to Denver. Although he was owned by Kansas City, he was assigned to the Cardinals for the 1957 season. During this time period the Yankees had considerable influence on the Kansas City management Most people considered KC to be a type of farm team for the Yankees. Pleiss was resassigned by KC to Denver, a Yankee farm club.
Dick Brown started with Omaha. He was owned by the Indians and was brought up to their parent club during the season. Herb Moford was sent to Charleston and Frank Barnes had a sore arm for the entire second half of the season. Robert Mabe was made into the Omaha workhorse, earning decisons in 31 games during the year. Tom Cheny entered the service in early September.
Roster:
First base was held down by lefty Louis Limmer . Lou started his career in 1946 with Lexington and spent two years in Lincoln in the Western League. Lou had played with Philadelphia in 1951 and 1954. The 30 year old played for Charleston (AAA) in 1956 and moved to Omaha for the 1957 season. He averaged .263 for the year. He is known as one of the good guys in baseball. He hit the last home run in Philadelphia Athletics history and had 246 total minor league home runs in his career.
The middle infield position was held down by Sherwin Dixon . He was 26 years old and spent the previous season with Seattle in the Open Pacific Coast League and Rochester (AAA). He played in 133 games at both second and short and averaged .226.
The hot corner was handled by Milton Smith . He played in 145 games at third and second and averaged.264. He spent the 1956 season playing for Seattle in the Open Pacific Coast League. He had a cup of coffee with Cincinnati in 1955.
Fred Marsh played in 64 games at short and averaged .228. The infielder from Valley Falls Kansas had played in the majors from 1949 through 1956.
Robert Ries played in 17 games and averaged .191.
Behind the mask for the Cardinals in 1957 was James Command . The twenty seven year old port side swinger averaged .248. Richard Brown moved up from Mobile (AA) for the 1957 season. The 23 was behind the plate for 46 games and averaged .261.
Outfield:
James King played for the Cubs in 1955 and 56. The Elkins Arkansas native was traded to the Cardinal's organization for the 1957 season. The 24 year old played 116 games in Omaha and averaged .268. He also played 22 games with the parent Cardinals. He played for the Giants in 1958, Washington from 1961 through 1967 and finished in Cleveland at the end of 1967.
Don Lassetter played in 144 games in Omaha in 1957 and averaged .289. The 24 year old from Newnan Georgia played for Allentown (A) in 1956. He was promoted to St. Louis at the end of the year and appeared in 4 games.
Charles Diering started with the Cardinals in 1947. He played 10 years in the majors with three different teams. In 1956 he played for Baltimore and Montreal (AAA) and moved to Omaha in 1957. He played in 78 games and averaged .220.
Canadian Glen Gorbous started the year with Philadelphia. He had major league experience in 1955, 56 and 57. In 1956 he played for Miami (AAA) in 1956. The 26 year old played in 97 games and averaged .243 in Omaha.
Harry Keister played in 24 games and averaged .267. Al Baro played in 22 games and had a .230 average. Bruce Barmes from Vincennes Indiana played in 35 games and averaged .339. He played in 5 gmes for the Senators in 1953. Gary Geiger was signed by the Cardinals in 1954. He played in 20 games in 1957 for Omaha and averaged .267. He had a long major league career playing from 1958 until 1970.
Pitchers:
Frank Barnes led the Omaha Cardinals and the American Association with a 2.41 ERA. The right handed pitcher from Longwood Mississippi, made it to the St. Louis Cardinals in 1957. He played in 15 games over three years with the Cardinals.
Tom Cheney was 14-8 in 25 appearances for Omaha in 1957. The 22 year old from Morgan Georgia also played 4 games with the parent Cards in 1957. He played in the majors for 8 years with three different teams.
Bob Gibson , Omaha native, Technical High School Graduate, attended Creighton University, Hall of Fame, Best Pitcher in Baseball. Appeared in 10 games in 1957 and had a 2-1 record.
Glen Stabelfeld was 8-8 in 1956 in Omaha and was 9-5 in 32 appearances in 1957.
Don Liddle was a 32 year old lefty. He had played with Milwaukee in 1953, the Giants in 1954, 1955 and 1956. He was traded to the Cardinals organization in the middle of the 1956 season. He appeared in 36 games in 1957 and had a 2-7 record.
Boyd Linker was 5-9 in 35 games. He was listed in the program as a 23 year old rookie making his first appearance in professional ball.
Robert Mabe was a workhorse for the Omaha Cardinals in 1957. He had a 14-17 record. He spent the 1956 season in Houston (AA) where he had a 21-10 record. The Danville Virginia native pitched for the St. Louis Cardinals in 1958, the Reds in 1959 and Baltimore in 1960.
J. Kelton Russell was 2-1 in 10 appearances. The 22 year old was a starter for Rochester in 1956. and George Schultz was 8-7 in 44 appearances. Nebraska Minor League Baseball Home