Nebraska Minor League Baseball
American Association
1958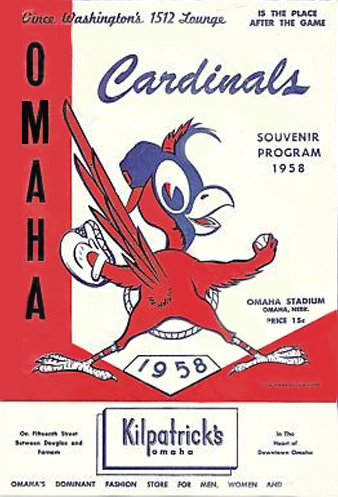 American Association
Standings 1958
President:Edward S. Doherty

Standings
Wins---
Losses-
GB
Attendance
Manager
Charleston
89
62
--
162,914
Bill Norman/Bill Adair
Wichita
83
71
7.5
101,371
Bill Geraghty
Minneapolis
82
71
8
152,553
Gene Mauch
Denver
78
71
10
228,262
Andy Cohen
Omaha Cardinals
80
74
10.5
157,715
Johnny Keane
Indianapolis
72
82
18.5
162,565
Walker Cooper
St. Paul
70
84
20.5
132,120
Max Macon
Louisville
56
95
33
96,883
Del Wilber

---

BA:Gordon Windhorn, Denver, .328
Runs:Wayne Terwilliger, Charleston, 103
Hits:Willie Tasby, Louisville, 174
RBIs:Earl Hersh, Wichita, 98
HRs:John Callison, Indianapolis, 29
Wins:John Gabler, Denver, 19
SOs:Bob Blaylock, Omaha, 193
ERA:Jerry Davie, Charleston, 2.45
Omaha's home for the 1958 season was Municipal Stadium (now called Rosenblatt). The stadium had a capacity of 13,150 and admission would set you back $1.20 for general admission ($2.00 for box; $1.65 for reserved, 70 cents bleachers, 50 cents for children). Fence distances were 343 ft. right/left and 420 ft. center.
Don Hill announced the opening game on April 15th for KBON. The Cardinals opened in Wichita in an exciting 12 inning contest. Jim Frey's home run in the ninth sent the game into extra innings and Ron Plaza's triple in the 12th led to the Cards 2-1 victory. The Cards swept their opening series 3 games to 0 over Wichita.
After losing three games in Indianapolis Omaha opened at home on April 22nd. The weather was cold as the Cards lost their home opener 5-2. Game two of the series sees Curt Flood and ron Plaza hitting home runs and ace pitcher Bob Blaylock shutting down Wichita with a 5 hitter as Omaha evens the series.
Cards go into a tailspin in late April losing 5 straight before taking both ends of a double header from Lousiville. Bob Gibson pitches a three hit shutout on May 8th against Charleston. In late May, Omaha puts together a six game winning streak to move into the first division in the league standings. By the end of June, the Cards were still in the first division, 4 games out of first.
Denver sweeps a series in early July and Omaha drops a July 5th game to the Millers with over 7,000 fans in the stands in Omaha. By the end of July, Omaha has dropped to fifth with a 54-53 record.
August 4th sees Frank Barnes pitch a no hitter for Omaha. He struck out 11, walked 3 and faced only 29 batters in pitching this gem. This was the first no hitter by an Omaha player in the American Association.
Omaha end the season on September 7th, splitting a double header with St. Paul. The team winds up in 5th place a half game behind Denver and 10 ½ games out of first place. They were first in fielding and second in team batting for 1958.
Roster:
Prentice "Pidge" Browne was a 29 year old lefty who held down the first base position for Omaha in 1958. He was a perennial minor league all star including 1953 with the Class "A" Omaha Cardinals, 1954 with Denver and 1956-57 with Houston. He hit .267 in the 154 games he played with Omaha in 1958.
Ron Plaza from Passaic New Jersey was a 24 year old prospect who played 145 games for Omaha and averaged .238. He was an excellent defensive infielder at second base but his light bat held him back. Ron was a retail clothing salesman in the off season.
Third base for the 1958 Omaha Cardinals was held down by Ben Valenzuela. The 25 year old from Mexico started the year with the parent Cardinals but after 10 games was shipped to Omaha. He batted .284 for the year.
Lee Tate was born in Arkansas and lived during the off season in Mississippi. He played in 1957 with Dallas and in 1958 averaged .292 for Omaha.
Behind the mask in 1958 was Chris Cannizzaro . The 19 year old California lad started slow for Omaha and had a .240 average at the end of June. He tore up the league during the hot days of July with a .397 average bringing his season average to .290. A groin injury slowed his progress in August and he finished the season with a .272 average.
Backup catcher for the Cardinals in 1958 was William Queen . He played in 90 games and averaged .192. He also played for Omaha in 1957. The Gastonia North Carolina native had a three game major league career with Milwaukee in 1954.
Outfield:
Curt Flood started the year in Omaha. He played in 15 games and averaged .340. He had been acquired from the Reds after the 1957 season. He was promoted to the parent Cardinals and went on to a multi year all star career with the Cardinals.
Bobby G. Smith played 131 games for Omaha and averaged .315 for the year. The 24 year old had spent most of the 1957 season with the parent Cardinals and he also played 28 games with the parent club in 1958. The Oregon born outfielder played seven seasons in the major leagues.

Jim Frey was the Texas League batting champ with Tulsa in 1957 and was purchased by the Cards and sent to Omaha for the 1958 season. The 26 year old lefty averaged .283 for Omaha in 1958. Jim lived in Cincinnati during the offseason. He was an all star at Evansville in 1952, Jacksonville in in 1954 and Tulsa in 1957. He was also voted most popular player by the fans in 1950, 51, 53 and 1954.

Ev Joyner was a 30 year old who averaged .293 in 127 games with Omaha in 1958. The Mississippi born outfielder lived in Shreveport with his wife and two children in the off season. He played in Columbus in 1952 and 53. In 1957 he started the season in Wichita but spent most of the season in Atlanta where he averaged .285.
Ben Mateosky a 25 year old from Uniontown Pennsylvania had a few nicknames. Known as the "Mighty Ox-sky" or the "Powerful Pole", he split time in 58 between Charleston and Omaha. He played in 99 games in Omaha in 58 and averaged .280 with 10 home runs. He was a crowd favorite, having hit home runs in his first two "AAA" league at bats. In the service he was a paratrooper and had over 100 jumps to his credit.
Pitchers:
Albany Georgia was the off season home of Phil Clark. He was sent down to Omaha at the beginning of the 1958 season. The tall right hander had 44 appearances, a 10-6 record and a 2.89 ERA in 1958. The 25 year old played in 7 games for the parent St. Louis Cardinals in both 1958 and 1959.
Omaha native Bob Gibson split time in 1958 between Omaha and Rochester. In Omaha he was 3-4 in 13 games. The future Hall of Famer played 13 games in the majors in 1959. Of course, his 1.12 ERA in 1968, with 28 complete games stands as the best pitching performance of all time.
Frank Barnes split his pitching between St. Louis and Omaha in 1958. He was a 30 year old veteran who started in the Negro American League. In 1958, he had a 7-6 record for Omaha with a 2.58 ERA.
The Cardinals were led by pitcher Bob Blaylock. He led the league in strike outs. In 33 games he had a 8-14 record for Omaha but his strike out ability was legendary. The Chatanooga Oklahoma native lost two fingers on his left hand in a farm accident as a child. He played both at Omaha and with the St. Louis Cardinals in 1959. He played in a total of 17 games for St. Louis.
David Benedict was a 27 year old southpaw from Sparta Wisconsin. He was purchased from Louisville at the end of the 57 season. In 1958 he appeared in 39 games and had a 2-7 record.
Harry Byrd pitched in 16 games in 1958 for Omaha and had a 1-2 record.
Don Choate was a 19 year old who spent the 1957 season in Billings Montana where he had a 19-8 record. The Potosi Missouri native pitched in 25 games for Omaha and had a 7-7 record in 1958. His major league career consisted of playing in four games in 1960 in San Francisco.
Boyd Linker played in 1957 with Omaha where he had a 5-9 record. The Tupelo Oklahoma native appeared in 30 games with Omaha in 1958 and had a 3-4 record.
Robert Mabe was a late addition to the Omaha roster in 1958. He started the season with the St. Louis Cardinals but was moved to Omaha during the seaosn. He appeared in 10 games with Omaha in 1958 and had a 6-1 record. He was traded to the Reds for 59 and played in 1960 in the Baltimore organization.
William G. Smith appeared in 37 games in 1958 and the southpaw had a 13-9 record. The 6'6", 23 year old pitched eight shutouts in the South Atlantic League in 1957. He was also the most valuable player at Winnepeg in 1954. He was promoted to the parent St. Louis club in September where he appeared in 2 games. He also had a cup of coffee with the parent Cards in 1959 and was a regular with Philadelphia in 1962.
Nebraska Minor League Baseball Home