Nebraska Minor League Baseball
American Assocation
Omaha Royals 1988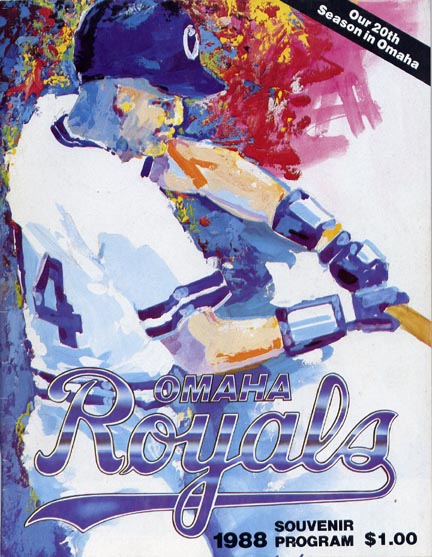 American Association
Standings
President:Ken Grandquist

East Standings
Wins---
Losses-
GB
Attended
Manager
Indianapolis Indians
89
53
--
293,721
Joe Sparks
Nashville Sounds
73
69
15
317,695
Jack Lind/Wayne Garland/Jim Hoff/George Scherger/Frank Lucchesi
Buffalo Bisons
72
70
17
1,147,651
Rocky Bridges
Louisville Redbirds
63
79
26
574,852
Mike Jorgensen
West Standings
Omaha Royals
81
61
--
287,096
Glenn Ezell
Iowa Cubs
78
64
3
266,845
Pete Mackanin
Denver Zephyrs
72
69
8.5
357,003
Duffy Dyer
Oklahoma City 89ers
67
74
13.5
260,363
Toby Harrah

---

BA:Lavell Freeman, Denver .318
Runs:Billy Moore, Indianapolis, 88
Hits:Luis delos Santos, Omaha, 164
RBIs:Luis delos Santos, Omaha, 87/German Rivera, Denver, 87
HRs:Van Snider, Nashville, 23
Wins:Dave Johnson, Buffalo, 15
SOs:Norm Charlton, Nashville, 161
ERA:Dorn Taylor, Buffalo, 2.14
---
Omaha Royals 25th Anniversary Team

Luis Delos Santos led the American Association in hits and RBI's in 1988. He was named to the Triple-A All Star Team and was named the American Association Most Valuable Player. He made his major league debut in 1988 with the Kansas City Royals. In all he played in 39 games in the majors. He played for the Omaha Royals for four years from 1987-1990.

Buddy Biancalana returned to the Royals for the 1988 season. He had played in Omaha in 1982 and split time between Omaha and Kansas City in 1983 and 1984. He played for Kansas City in 1985 and 1986. In 1987 he was traded to Houston then released by Houston at the end of the season. He signed as a free agent and played for Omaha in 1988. He was fighting back problems all season but still averaged .248 and helped lead the Royals to the division championship.

After a strong 1987 season it was predicted that Gary Thurman would spend the 1988 season with Kansas City. After a stumble in spring training, he wound up splitting his time between Omaha and Kansas City in 1988 and 1989. In 1988 he played in 106 games in Omaha and averaged .251.
---
Nebraska Minor League Baseball Home