Nebraska Minor League Baseball
American Association
Omaha Royals 1994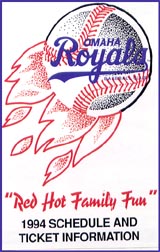 American Association 1994
Final Standings

Team
Affiliation
W
L
GB
Attended
Indianapolis
Reds
86
57
-
338,834
Nashville
White Sox
83
61
3.5
300,827
New Orleans
Brewers
78
66
8.5
186,806
Louisville
Cards
74
68
11.5
573,174
Iowa
Cubs
69
74
17
485,734
Omaha
Royals
68
76
18.5
447,079
Oklahoma City
Rangers
61
83
25.5
327,044
Buffalo
Pirates
55
89
31.5
982,493
&nbsp
Omaha started the 1994 season with 3 wins a loss and two rain days. The next seven games were an indication of things to come as they lost six of the seven outings. They never reached .500 ball for the season. The club averaged almost three transactions a week, either putting someone on the DL, moving someone up to KC or moving someone to/from Memphis.
Omaha was second in the league in batting with a .273 average. They were fifth in pitching and sixth in fielding. Thirty six players put on the Omaha uniform during the season with 18 pitchers and 18 fielders taking the field for at least one game.
Regulars:
First base for the Royals in 1994 was Glen Davis . He played the position for 70 games and another 58 games as the DH. He averaged .282 for the season.
---
American Association All Star


First base Joe Vitiello played 66 games at first and 98 total games. He averaged an American Association leading .344. He was also first in on base percentage.
---
Jose Mota played in 100 games for the Royals and averaged .257.
Curtis Wilkerson played second base for 23 games and was in 27 total games. He averaged .253.
At the hot corner was Joe Ronda . He averaged .275 for the Royals.
Shortstop for most of the 1994 season was Rico Rossy . He averaged .235.
Outfield:
Mike Tuckerplayed in 132 games and averaged .276.
Tom Goodwin averaged .309 in 113 games
---
American Association All Star


Dwayne Hosey averaged .333 in 112 games for the Royals. He was second in the league in batting average, first in the league in slugging percentage, second in runs scored and tied for second in home runs.
---
Kevin Koslofski played in 93 games and had a .215 average.

Catcher for the Royals in 1994 was Russ McGinnis . He averaged .282 for the Royals. Pitchers:

---
American Association All Star


Dennis Rasmussen was named to the American Associaion All Star team for 1994. The Creighton University grad was a fan favorite in Omaha. He was 10-7 for the Royals with a 3.24 ERA.
---
Dennis Moeller was 7-6 in 50 appearances.
Rod Nichols was 5-10 in 33 games.
Chris Haney was 8-7 in 18 appearances.
Mike Fyhrie was 6-5 in 18 games.
Jerry Kutzler was 5-7 and pitched for 102 innings.
Steve Shifflett was 3-5 in 45 appearances.
Doug Simmons was 5-8 in 17 games.
Jose DeJusus was 4-4 in 30 games.
Enrique Burgos was 1-4 in 57 appearances. This list is 10 of the 18 players who pitched for Omaha in 1994.