Nebraska Minor League Baseball
Missouri, Iowa, Nebraska, Kansas League (MINK)
Auburn Athletics 1910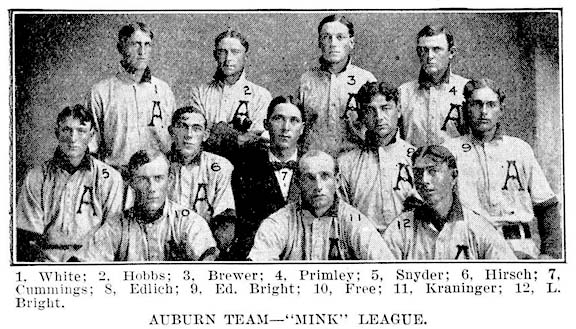 The Auburn Athletics was one of the original franchises in the MINK league. They were a consistent first division club.
It should be noted that hitting in the MINK league in 1910 was pretty dismal. The leading team only averaged .232 for the year with six of the teams averaging under .220 and two under .200. An average above .220 was considered to be a good average in this league.
Roster:
Steve Brewer was a regular at first base for Auburn for 1910. He averaged .241 in 97 games. He played for Auburn for three years. He also played for Peoria, Dubuque, Freeport and Grand Island.
In the dirt at second for Auburn was Ed Bright was one of the two Bright brothers from Johnson Nebraska. . He played in 91 games and averaged .294.
Short stop in 1910 was held down by John White He played in 97 games and averaged .135.
Towards the end of the season Ledger "L.D." Free took over the position. He played in 55 games and averaged .184.
The hot corner was handled by Les Bright. He averaged .205.
Outfield:
Jacobus averaged .111 in 17 games
Davidson averaged .180.
Harry "Ratter" Reynolds, from Tecumseh averaged .134.
Philip Primley averaged .239 in 26 games.
Ray Beaver played in 38 games and averaged .221.
Jake Kraninger was the regular catcher for Auburn in 1910. He averaged .226 for the year.
Pitchers:
John Edlich was 15-7.
Verne Hirsch was 25-19.
Gill was 5-12.
Klepser was 2-6.
William "Bud" Lacey of Everest Kansas was one of the first players signed by Auburn in 1910. He was 1-4.
Herndon was 0-5
Shutts was 0-6.