Nebraska Minor League Baseball
Nebraska State League
Beatrice Blues 1928; 1932-1938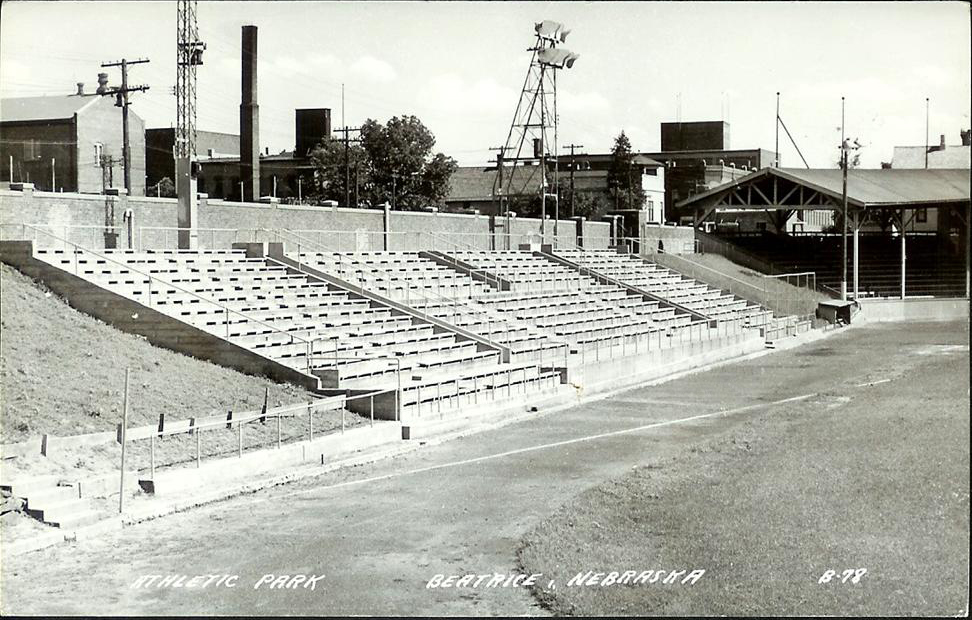 Beatrice stadium after lights installed.
The third iteration of the Nebraska State League saw Beatrice as one of the charter teams in the league. They had participated in the league starting in 1913 when they took over the Seward franchise. They also were part of the second league attempt in 1922-23. Beatrice was a town of about 10,000 population during this time.
In 1928 they came in third in the league seven games behind the McCook Generals. Although they were in the first half of the standings they were at the tail end of the box office, only Fairbury had less fans in the stands. They averaged 180 fans on weekday games and 407 on Sundays. They lost the franchise at the end of the season and 1929 saw the team move to Norton Kansas.
In 1932 they reentered the league. It was now a six team league. Norfolk won both halves of the season so the league decided on a unique playoff format. Beatrice beat Lincoln for the right to meet Norfolk then they beat Norfolk four games to three to be the champions of 1932.
The league contracted to four teams in 1933. Beatrice won the second half of the season, met Norfolk in the playoffs again and once again defeated Norfolk in the playoffs.
The next two seasons saw Beatrice at the bottom of the league. They finished the 1936 season in fourth place as two of the six teams did not finish the season. The team folded at the end of the 1938 season with the league moving to become the Western League in 1939. The 1938 season was to be the last season of minor league baseball in Beatrice. Although there was some work done after World War II to enter the NSL of 1956 they were not successful.
---