Nebraska Minor League Baseball
MINK League
Falls City Colts 1910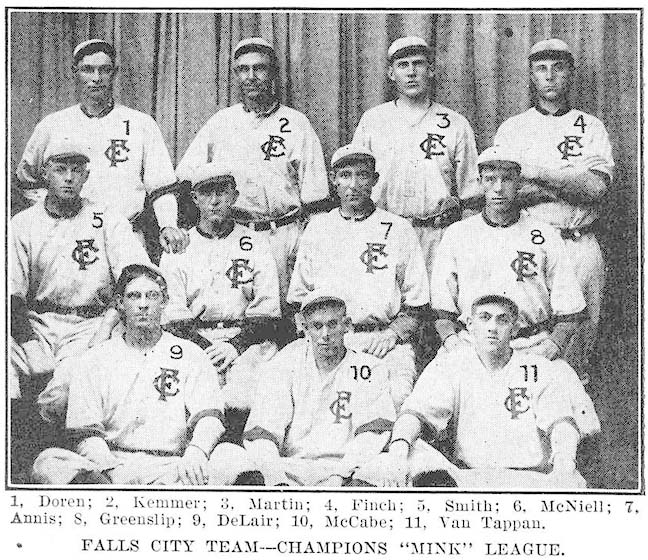 The Falls City Colts was one of the original franchises in the MINK league in 1910. The Falls City Journal urged the town to support the Colts in their initial campaign. Forty business houses closed early on May 19th in support of the team. The school dismissed early so the kids could attend the game.
The work of buiding the grandstand was directed by Milt Bohrer. The grandstand was 100 feet long and had seating for 500. Bleachers were extended along both baselines to increase the capacity to more than 1,000.
Mayor Keeling threw the ceremonial first pitch and the MINK season was underway. McCabe pitched the first game in front of 1101 fans and the Colts defeated Nebraska City 3-0.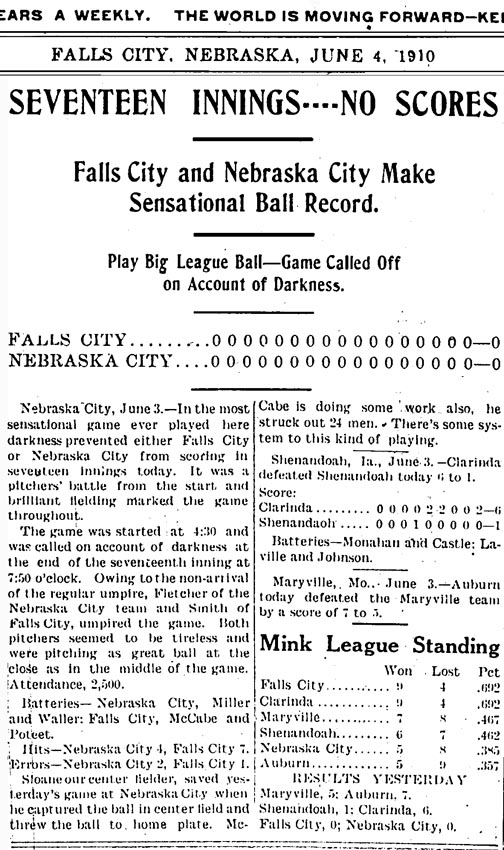 In June the team was involved in a 17 inning game against Nebraska City. The game was called on account of darkness with the score tied 0-0.

The July 4th game drew 1119 fans for a doubleheader against Maryville.

The team was well organized and won the initial league championship in 1910 with a 59-40 record.

Roster:
W. E. McBride was a regular at first for 1910. He was from Highland Kansas and averaged .156 for the season.

Bill Kemmer was an alternate at first base for the Colts in 1910 and averaged .225. The 36 year old started his career in Norfolk in 1901. in 1910 he played 32 games for Falls City and 11 games for Oklahoma City.

W. Van Tappen was from Kansas City. He played a number of games at second, short and third for the league champions. He played for Falls City for its entire three year history.

William Annis was a reglar at short during the 1910 season. He played in 72 games and averaged .230. The 31 year old started his career with St. Paul in 1901 and played from 1907-1910 with Wichita.

Andrew McNeil was also a regular player in the infield in 1910. He averaged .259.

Poteet was the regular catcher for the Colts. He averaged .285 in 42 games.

R. Greenslip was the alternate catcher in 1910.. He also played in the outfield and averaged .215 in 57 games..

Outfield:
Greenslip was in the outfield whenever he was not catching. Others in the outfield were:
E. Martin was a regular in the outfield. From St. Joseph, he played in 95 games and averaged .237.

Lewis Summa averaged .161.

Millard Sloanwas from Imboden Arkansas. Originally he tried out as an infielder but wound up playing in the outfield and averaged .216 for the season.

Jack Sarver averaged .208

Pitchers
J. Finch was 14-5 for the Colts in 1910.

Ed Duren was 15-13.

Del Delair was 5-2.

Robert McCabe was 7-2 for the year.

Ray Miller was 2-10 in 12 games.

Nebraska Minor League Baseball Home