Nebraska Minor League Baseball
Fremont Pathfinders
1910-1913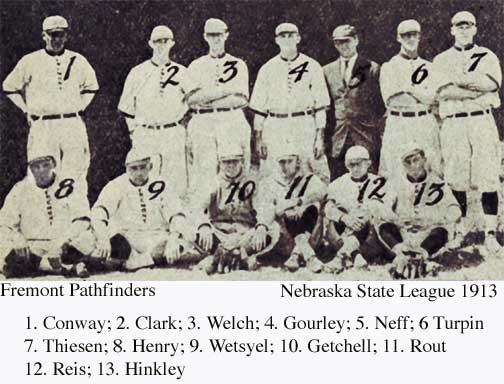 Fremont's first and only attempt at professional baseball was with the Nebraska State League from 1910 to 1913. In 1914 they lost their franchise as it moved to Norfolk.
The Nebraska State League was a class "D" league which started in 1910. The league had a salary limit of $900.00 per month and a player limit of twelve after late May.
In 1910 the population of Fremont was about 8,000 and by 1915 the population was close to 9,000. The town boasted four hotels (Dexter, Baltimore, Eno and Brunswick) and five garages. The speed limit in town was 12 miles per hour and the Lincoln Highway Guide of 1915 states that the speed limit was not enforced.
Although Fremont's tenure in professional baseball was a short one it was also pretty successful. They won the league championship in its first year of 1910 behind the pitching of Harry Smith. In 1911 they were second, 1912 they tied for first in a year filled with bruhaha's over various decisions made by the league president. Their last year was 1913 where they were fourth in the league with a 56-56 record.
| | |
| --- | --- |
| Year by year review | |