Nebraska Minor League Baseball
Nebraska State League
Hastings Giants 1956
Excitement was high in Hastings as the 1956 Nebraska State League season began. The Giants had 632 season ticket holders and hopes of a competitive team. The team and town suffered through a terrible season with a final record of 15-48 and a last place finish. The town supported the Giants with 28,713 paid fans in the stands for the year. The home field for Hastings was Duncan field. The field was originally called Pershing Field. It was renamed for Donald Duncan shortly after his death in 1948.
Manager Gene Thompson met with a bevy of young rookies as the season began. He was not able to be competitive as the team was last in batting, fielding and pitching during the year. They tried nine different pitchers during the 63 game season and only one managed a winning record. They had a number of players who struggled with the Mendoza line during the season. Of course the Mendoza line did not exist in 1956. In the 1800's they would be called "tapperitis hitters". In the old Nebraska State League these players would be the Yannigans for other teams. Buttercup hitter was another moniker dropped on poor hitters. But I think you get the point. A lot of players, with a lot of holey bats. They did not have an all star selection for the year. Gene was replaced as manager in 1957.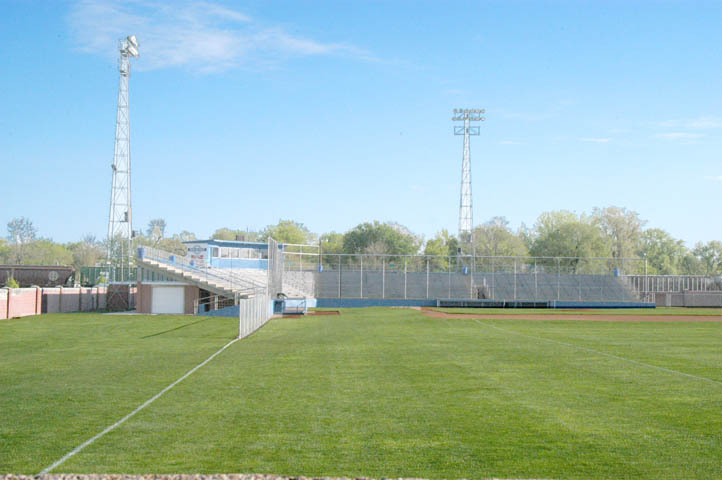 The Giants played their games at Duncan Field. The field was a pitchers dream with its long distances to the outfield fences.
Roster:
Robert Pleasant was their regular first baseman. The left handed slugger managed a .290 average. Lawrence Mallory also played some games at first and averaged .224.
Second base was split between Nicholas Popravak who averaged .231 in 47 games and Ron Perry who also spent time in the outfield and averaged .182.
Joe Sparks was a regular at third base and averaged .255 for the year. A West Virginia native who attended McComas High School, he led the league in assists and tied for the top in double plays. In 1958 he had 14 home runs playing for Danville in the Carolina League. In 1959 he played for Eugene and had 17 home runs and in 1960 he batted .308 for Eugene. 1961 saw him in Springfield in the Eastern League where he also hit .308. He also played for two seasons with Tacoma in the Pacific Coast League. In 1970 he began his managing career with Duluth-Superior in the Northern League. He was manager of the year in the Midwest League in 1971. In 1980 he returned to Omaha as manager of the Omaha Royals. He was manager of the Royals through the 1983 season and managed the Royals to a Western Division championship in 1981 and 1982.
Dominick Tursellino averaged .229 as an alternate in the infield.
In the dirt at short was Eugene Fischer who was one of their better hitters with a .277 average.
The outfield saw Douglas Shrader as their best player. The lefty averaged .305 in 24 games.
Lawrence Mallory played in 25 games and averaged .224.
Those below the Mendoza line included: Ron Green, Catcher, 16 games, .143 average; Ron Mauro, Catcher, 46 games, .163 average; Norman Watson, Outfield, 50 games .175 average; Roy Mallane, 14 games .190 average; Leon Franklyn, 24 games .211 average.
Pitchers:
William Griffith made 18 appearances and had a 3-6 record.
Norbert Kowalkowski 12 appearances 1-3 record.
Adrian Rodgers 12 appearances, 3-2 record.
Robert Perkins was a 17 year old from Leon Florida made 11 appearances, 1-4 record.
Ron Johnson 16 appearances, 1-4 record.
Robert Wales 11 appearances, 0-8 record.
Francis Gertschen 17 appearances, 2-3 record.
James Tucker 14 appearances, 1-8 record.

Nebraska State League Standings 1956