Nebraska Minor League Baseball
Nebraska State League
Kearney Kapitalists 1910-1915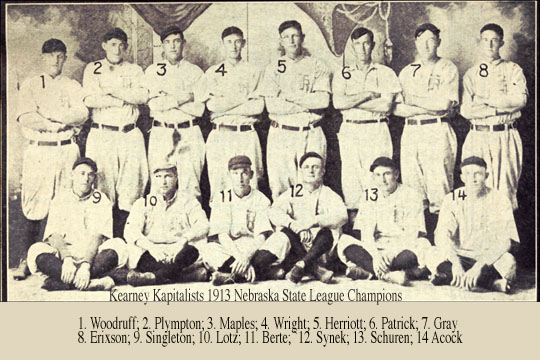 Kearney Nebraska was one of the charter members of the original Nebraska State League in 1910. In 1910 the league set a salary limit of $900 and a player limit of twelve after May. They were league champions in 1913 and their franchise lasted through the entire run of the league. Kearney played their games at Athletic Park.
In 1910 Kearney had a population of about 5,500 and by 1915 the population was over 6,500 (census) and the Lincoln Highway Guide for 1915 had the population of Kearney at 8,000. The town boasted four hotels. The Midway Hotel offered 100 rooms from 2 to 3 dollars a night. You looked for the "electric L" to find the hotel. The town had seven schools, an electric works, public parks, the Kearney Military Academy, the State Normal School and 140 general business places.
Nebraska Minor League Baseball Home