Nebraska Minor League Baseball
Lincoln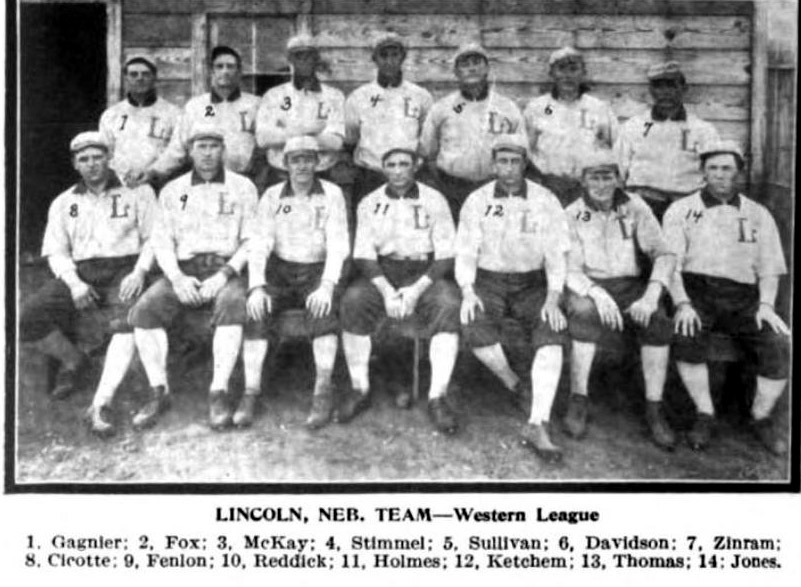 Western League Standings 1907
President:
Standings
Wins-----
Losses---
GB
Omaha Rourkes
84
63
--
Lincoln Tree Planters
79
63
2 ½
Des Moines Champions
76
63
4
Denver Grizzlies
68
75
14 ½
Pueblo Indians
66
74
14 ½
Sioux City Packers
56
91
27 ½

---

HRs: John Thomas, Lincoln, 9
Games Pitched: Jones, Lincoln, 47
Games Pitched: Ed Cicotte, Lincoln, 39
Games Pitched: Thompson, Omaha 39
This was to be the year of the Rourkes. Pa Rourke's sterlings as the Omaha paper called them rode a late August win streak to take the league pennant. In mid August Des Moines was holding on to first by two games. By the end of August both the Rourkes and the Lincoln Tree Planter moved past them.
Omaha then went on a winning streak, leaving their archrival in second place.
Roster:
Jack Thomas was a regular at first in 1907. He played for Omaha from 1902-1905. He moved to Lincoln and stayed there through the 1911 season. In 1912 he played for Des Moines. He averaged .243 in 147 games.
Bill Fox averaged .246 in 149 games. He had a 4 game stint with the Washington Senators in 1897 and played in 43 games for the Reds in 1901.
Ducky Holmes played in 89 games in 1907. He was in his second year as manager in 1907. He averaged .261.
Ed Gagnier played for Lincoln from 1906-1911. He played in the Federal League in 1914 and 1915. He averaged .265 in 145 games.
Wallace Reddick played for Denver and Lincoln in 1907. He averaged .258.
Frost played in 10 games in 1907.
Steen played in 19 games and averaged .132.
Jim Sullivan put on the tools of ignorance 90 time for Lincoln in 1907. He averaged .242.
Bill Davidson tended the garden for 150 games and averaged .244. He had a cup of coffee with the Cubs in 1909 and played for Brooklyn in 1910 and 1911.
Art Fenlon averaged .298 in 138 games.
Harmes played in 14 games. He played for Lincoln and Pueblo.
Fred Ketcham averaged .271 in 150 games. The Cortland NY native played in 85 major league games, 63 in 1899 and 22 in 1901.
was the catcher for 79 games and averaged .217. Ed Cicotte moved from Des Moines to Lincoln for the 1907 year. He had helped Des Moines to a first place finish in 1906 and in 1907 he pitched in 39 games for Lincoln and was 21-14. He wound up pitching for the Red Sox in 1908. They traded him to the White Sox where he was one of the eight players involved in the infamous Black Sox scandal.

John Jones pitched for Lincoln in 1907, 1908 and 1909.

Reeve McKay played in 64 games in 1907.

Archie Stimmel played in 31 games in 1907. He played part time for the Reds from 1900 through 1902.

George Zackert played in 26 games in 1907. He had a short time with St. Louis in 1911 and 1912.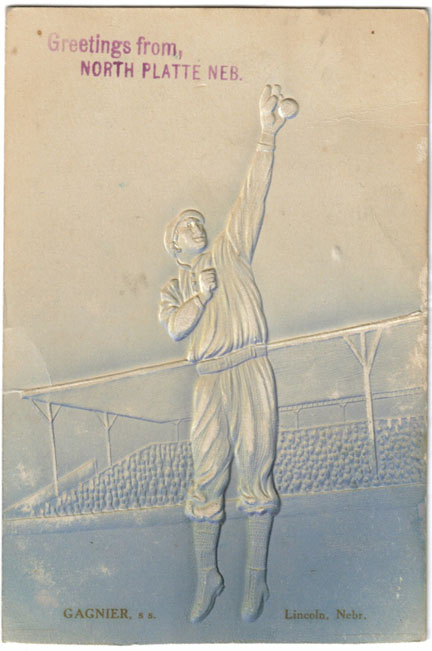 Image courtesy Dan Bretta