Nebraska Minor League Baseball
Lincoln Greenbackers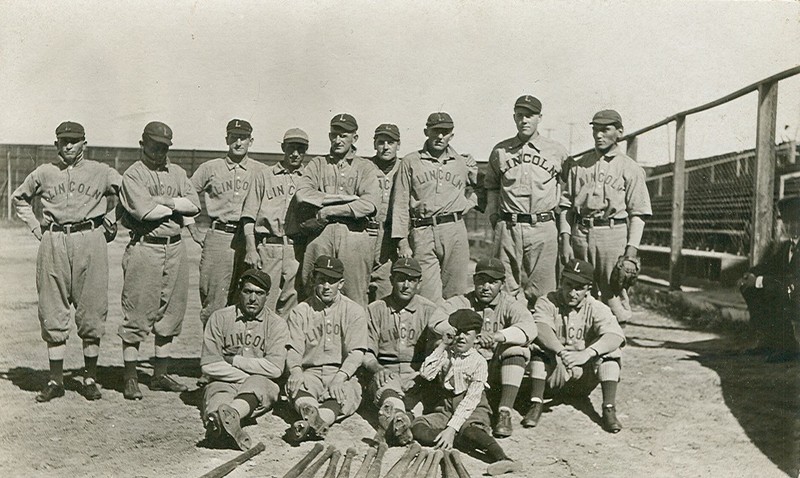 Image courtesy Dan Bretta
Western League Standings 1907
President:
Standings
Wins-----
Losses---
GB
Sioux City Soos
88
57
--
Omaha Rourkes
86
59
2
Lincoln Greenbackers
74
73
15
Denver Grizzlies
72
74
17 ½
Pueblo Indians
62
79
23
Des Moines Boosters
54
94
35 ½

---

Avg: Harry Welch, Omaha, .362
Avg: Autrey, Omaha, .320
Hits: Harry Welch, Omaha, 180
Pitching: Regan, Omaha, 29-7, .800
Stolen BasesJim Austin, Omaha, 97
Lincoln could not catch a break in 1908. They made a number of roster changes in early June trying to catch Omaha and Sioux City. They hovered around 500 ball for the season. They were missing one great pitcher or one great man with the bat. They had the fielding and in general above average personnel.
Roster:
Frank Jude tended garden and averaged .282. The 23 year old Libby Minnesota native started in 1904 with Carlisle in the Pennsylvania League. He played for Lincoln for three seasons then moved to Mobile for the 1911 season. He played through the 1923 season.
Bill Fox managed the Greenbacker, played 2nd base and averaged .305 with the wagon tongue. The 36 year old started his career with Matthews in the Western Association in 1901. His last year was 1914 with Racine.
Howard Murphy averaged .261. The 26 year old from Birmingham Alabama started his career with Memphis.
Bill Davidson was a regular in the outfield. He averaged .259 for the year. He was originally from Lafayette Indiana. After his playing career he settled in Lincoln.
Jack Henry was their regular catcher. He averaged .237.
Jim Sullivan was their backup catcher and utility man. He averaged .216 for the season. He was born in San Francisco. He played in Lincoln from 1907-1910 inclusive.
Jesse Pritchett was at the hot corner and averaged .214.
Ed Gagnier was the regular at short. He averaged .211. Ed played for Lincoln from 1906 through 1911.
Charles Mills was picked up in a grade in June. The former Illinois Semi-Pro player from Mt. Vernon averaged .209.
Ed Zinram played in 101 games and averaged .195.
Arthur Fenlon started the season in the outfield for Lincoln. He was traded to Decatur in the III league in June for some pitching help.
Gus Bonno was their top pitcher with a 23-17 record. (question spelling as the ink on my copy of the record in not good).
Chief Johnson was 19-16. He was born in Winnebago Nebraska on the reservation. The 22 year old was a six foot righty. He played for Lincoln in 1908, Sioux City in 1909, St. Joseph for three years then moved to the left coast and played in the PCL for three years. After his playing days he settled in Des Moines.
W. Wasson was 7-7.
Claude Hendrix was signed in June to help with the pitching chores for Lincoln. The 19 year old from Olathe Kansas native was 6-5 for the year.
George Zackert was 3-4.