Nebraska Minor League Baseball
Lincoln Greenbackers 1909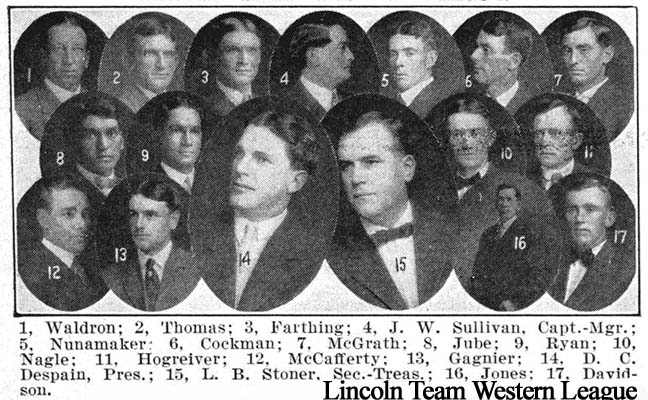 Western League Standings 1909
President:
Standings
Wins-----
Losses---
GB
Des Moines Boosters
93
59
--
Sioux City Soos
94
60
--
Omaha Rourkes
84
68
9
Topeka Jayhawks
76
73
15 ½
Wichita Jobbers
71
82
22 ½
Denver Grizzlies
69
82
23 ½
Lincoln Greenbackers
61
89
31
Pueblo Indians
58
93
34 ½

---

Avg: Harry Welch, Omaha, .372
Avg: Kane, Omaha, .315
Hits: Harry Welch, Omaha, 196
&nbsp
The Greenbackers were not very competitive in 1909. Although they had impressive pitching, their hitting did not keep them in the hunt for the pennant. During one stretch the Lincoln team won six consectutive shutouts. They started the record run on September 10th defeating Denver 5-0 and 3-0 in a double header. They followed that with a September 11th double header shutout of Pueblo 5-0 and 6-0. On September 14th they beat Des Moines 7-0 and on the 15th they beat Des Moines 3-0. During the second game on the 15th, Des Moines scored 3 runs to break the shutout streak but still lost to the Greenbackers 5-3.
Madden and Stewart's book called the franchise the Greenbackers, Baseball Reference calls them the Railsplitters. Jim Sullivan was the manager of the team. Originally from San Francisco, he was in Lincoln for three years from 1908-1910.
The league was successful and Lincoln was financially successful.
Roster:
Jack Thomas was a regular at first base. In 149 games he averaged .298. Jack played for Omaha from 1902-1906. He then moved to Lincoln from 1907-1911 and his final year of organized ball was with Des Moines in 1912.
Kohl handled the second base postion in 1909.
Ed Gagnier was the shortstop for 133 games. The 27 year old from Paris France made it to the major leagues in 1914 and had a two year major league career in the Federal League. He played for Lincoln from 1906-1911.
Jim Cockman played third base for 39 games. He had a cup of coffee with the Yankees in 1905. The 36 year old also played 111 games for St. Paul in 1909.
Les Nunamaker spent most of the year as the catcher for Dubuque in the "Three Eye" league where he averaged .241. He also played the position for 26 games with Lincoln where he averaged .278. He had a long career in the major leagues, starting with Boston. .
Jim Sullivan put on the mask for 77 games. He was also the manager of the team and played in a total of 94 games.
John Misse was a 24 year old from Highland Kansas. He had a one year major league career with St. Louis in the Federal League. He played in 13 games and averaged .234.
George Hogriever batted .265 in 139 games. He played in 54 games in the major leagues in 1901. He was picked up from Pueblo and after his one year stay in Lincoln he played for three years for Appleton.
Outfield:
Irv Waldron was a regular in the garden for Lincoln and averaged .300 for the season. He had a one year career in the majors splitting the 1901 season with Milwaukee and Washington.
Frank Jude played 118 games in the outfield. The 24 year old from Libby Minnesota played for the Reds in the National League in 1906. After stints in Toledo and Columbus he came to Lincoln where he played form 1908-1910. He then played for Mobile, Syracuse, Albany, Peoria, Dubuque, Marshalltown, Dubuque, Winnipeg, Saskatoon, Ottumwa, New Rockford-Carrington and Valley City before hanging up his spikes after the 1923 season.
William Davidson was in the outfield for 150 games and had a .295 average.
Pitchers:
Bernard McGrath went to the mound 12 times and had a 6-5 record. He played for Lincoln in 1910 and 1911 and wound up pitching for Beatrice in the Nebraska State League in 1914.
John Jones appeared in 32 games and had a 10-15 record.
George "Chief" Johnson was from Winnebago Nebraska. After starting his professional career with Lincoln in 1908 he managed a 15-19 record playing for both Lincoln and Sioux City in 1909. He made it to the show in 1913 with the Reds. He played in the majors through the 1915 season.
George Farthing was 12-13 in 30 games.
Forrester was 1-5 in 8 games.
James Nagle was in 23 games and had a 4-9 record.
Gus Bonno was 4-7 playing for Lincoln and Pueblo in 1909.
Charles McCafferty was a 25 year old flinger from Memphis Tennessee. He had a 10-17 record in 1909. He played for Omaha in 1910.
W. Wasson was 5-12 playing for both Denver and Lincoln in 1909.