Nebraska Minor League Baseball
Western League
Lincoln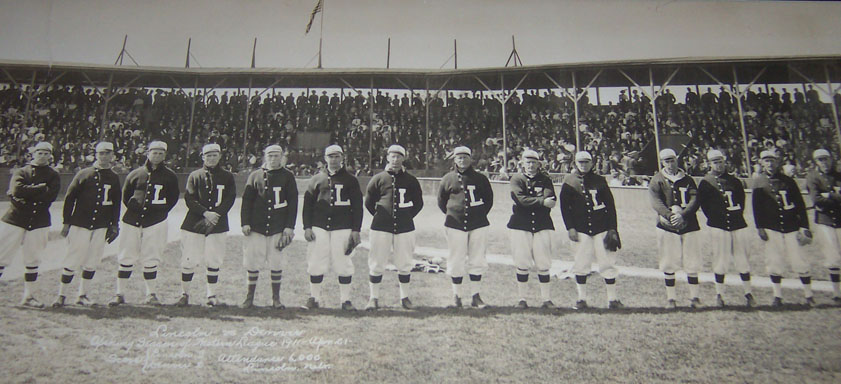 Opening day 1911
Antelope Park
Image Courtesy Dan Bretta
1911 Final Standings
Western League
Name
W
L
%
GB
Denver Grizzlies
111
54
.673
St. Joseph Drummers
93
72
.564
18
Wichita Jobbers/Pueblo Indians
92
75
.551
20
Sioux City Packers
85
80
.515
26
Omaha Rourkes
85
80
.515
26
Lincoln Railsplitters
84
81
.509
27
Topeka Kaws
60
104
.365
50 1/2
Des Moines Boosters
49
113
.302
60 1/2

---


Wichita moved to become the Pueblo Indians May 22.
Lincoln was one of the favorites during the hot stove season in the winter of 1910-1911. They had a good returning nucleus of players and president Don Despain had spent the off season trying to improve the team in key areas. While the official nickname for the team was the Railsplitters, the local papers called them the Lopes or Antelopes as they played their home games in Antelope Park.

Since Wichita still had Sunday laws that prevented baseball on Sunday the Jobbers were last in attendance. The franchise moved to Pueblo in order to play Sunday ball.

Most pundits predicted Lincoln to give Denver a run for the league championship. The start of the year saw the typical parade and ceremonial tossing of the first pitch. The governor had just vetoed the Sunday baseball bill and decided to skip the ceremonies. In his place, state senator Henry Bartling was chosen to toss the first pitch. The senator from Otoe county had introduced the Sunday baseball bill in the legislature and had come within six votes of overriding the veto.
Lincoln played their home games at Antelope Park. For Sunday games they would move the chairs to Capitol Beach and play their games there.
Lincoln started strong and was in contention well into August. On August 15th they were in second place and it was still possible for them to catch streaking Denver. The next month was a disaster as the Railsplitters dropped from second to sixth in four weeks.
Roster:

Manager for the Railsplitters was Robert Unglaub. He was a thirty year old veteran from Baltimore. His parents had settled in Maryland after immigrating from Germany just before Robert was born. He had played for New York, Boston and Washington in the American League. He also played for a number of minor league clubs including Milwaukee, Worcester, Williamsport and Sacramento. He lived in Williamsport in the off season. He averaged .302 for the Railsplitters in 123 games. Marty Payne has written an excellent biography of Robert as part of the SABR biography project.
1910 American Caramel(E91)
Image courtesy Bob Payne
Bob Unglaub
T206-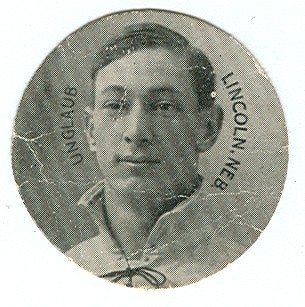 Image courtesy Dan Bretta
First base for the Railsplitters was anchored by Jack Thomas He was a veteran at first for the Lincoln club and averaged .295 in 140 games.
Other veteran players in the infield included James Cockman at third and Edward Gagnier at short. James was from Guelph Ontario Canada and 1911 was his second full season with the Lopes. He averaged .248 for the year. He had a cup of coffee with the Yankees in 1905. Ed was in his fifth year with the Lincoln team in 1911 and played in 156 games for the Railsplitters. Ed was born in Paris France and played for the Brooklyn Tip Tops in 1914 and 1915 in the Federal league. Gus Dundon played second for 90 games. He played in a total of 139 games and averaged .238. The Ohio player was with the White Sox in 1904-1906.
Outfield:
Bill McCormick was a regular in the outfield for 1911 and 1912. He had many nicknames including "Big Bill", "Blunderbuss" and "Packy". He had experience with Duluth, Oklahoma City and New Bedford Mass. before coming to Lincoln in 1911. He averaged .298 for the year.
Willis R. Cole was in centerfield for the Lopes in 1911. He had a short stint with the White Sox at the end of 1910 but returned to Lincoln for 1911 and 1912. Willis averaged .277 in 160 games.
Paul Cobb , brother of Ty Cobb held down the other outfield position in 1911. He had played in Kalamazoo and Joplin before coming to Lincoln. He averaged .306 for Lincoln in 168 games.
Catcher for the Lopes was Milo Stratton. Born in Dixon Illinois, the right hander had prior experience with New Orleans and Wheeling West Virginia clubs before coming to Lincoln for the 1911 season. He averaged a meager .168 for the year. McGraw was the second catcher for the Railsplitters in 1911. He averaged .190 for the year.
Pitchers:
Zerah Zequiel Hagerman was a twenty three year old from Lyndon Kansas. He had pitched in 13 games for Chicago (NL) in 1909. In 1914 he was back in the majors with Cleveland where he played for three years. The 6' 2" right handed pitcher had played with Louisville before coming to Lincoln.
John Fox was a pitcher from Reading Pennsylvania who had played for the Reading minor league team before coming to Lincoln.
Levi Knapp who spent his off season in Fisher's Eddy New York was a right handed pitcher for the Lopes in 1911. He had an 11-11 record in 36 appearances.
Fredrerick Applegate from Williamsport Pennsylvania was a 6'2" pitcher. He had a brief appearance in the major leagues in 1904 and was 1-2 with Philadelphia in the American League. The 32 year old pitcher had stops at Altoona Pennsylvania, Charlotte North Carolina, Newark, Memphis, Toronto, Williamsport and WilkesBarre before coming to Lincoln. He was 15-9 for the lopes in 1911.
Harry Smith was one of the best pitchers in the Nebraska State League in 1910. He split his time in 1911 between Lincoln and Fremont. He had a 6-3 record in 13 games in 1911.
Wolverton was 13-8 in 39 games.