Nebraska Minor League Baseball
Western League
Lincoln Athletics 1947
Minor league baseball came back to Nebraska in 1947 as the Western League was resurrected as a Class "A" league. After a lapse of 15 years, six teams formed the new league in a meeting in Omaha in November of 1946. Senator Ed C. Johnson of Colorado was elected president of the league and his son-in-law Robert Howsam was named executive secretary. Each of the six clubs had major league affiliation.
The Lincoln Link's last year in the old Western League was 1927. The city had teams in the Nebraska State League during from 1928 until 1936 when the team folded.
The playoffs saw Sioux City defeating Omaha 3 games to 1 and Pueblo taking Des Moines by the same tally. Pueblo then defeated Sioux City 4 games to 1 in the finals.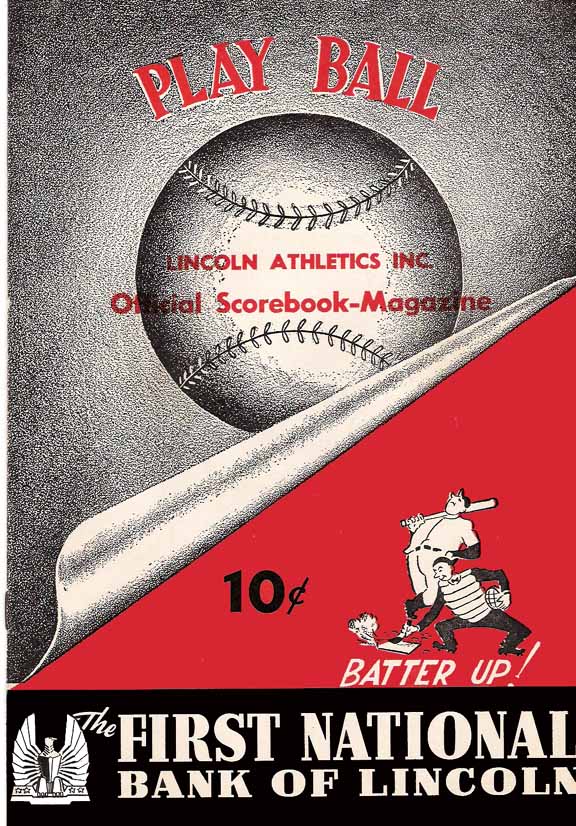 Program Image
Courtesy of: Dan Bretta
Western League 1947
President:

Standings
Wins---
Losses-
GB
Attendance
Manager
Sioux City Soos (NYG)
81
49
--
113,036
Joe Becker
Des Moines (Cubs)
75
52
4 ½
152,027
James Keesey
Pueblo (BRK)
70
58
10
80,163
Walter Alston
Omaha Cardinals (STL)
67
62
13 ½
138,308
Ollie Vanek
Denver Bears (NYY)
54
75
26 ½
124,923
Marty McManus
Lincoln Athletics (PHA)
38
89
41 ½
43,464
Herman Schulte

---

BA: Edmund Lewinski, Omaha, .346
Runs: Preston Ward Pueblo, 120
Hits: Michael Conroy, Omaha, 190
RBI's: Preston Ward, Pueblo, 121
HRs: Tony Jaros, Sioux City, 24
Wins: Sam Webb, Sioux City, 19
SOs: Charles Bishop, Omaha, 133
ERA: Herb Chmiel Des Moines, 2.23
The Lincoln Athletics started their spring training in Savannah Georgia. The Philadelphia Athletics had increased their number of farm teams from 3 in 1946 to 12 in 1947, causing a lot of confusion. The team practiced at Grayson stadium in Savannah. The parent Athletics had budgeted $2.50 per night per player for away games and they were suprised when room rates in Denver and other cities were higher than their budget.
In Lincoln, work on the new ballpark at 1st and South Street was being completed. Lights and the roof on the new stadium were being built in early April. George Rohkar, contractor for the park, predicted that it would be ready for the home opener on May 7th.

Box seats, four seats to a box, were available for $50.00 for the season. Individual admission was 90 cents per person. In other words, each box seat holder had to pay 90 cents admission to the game in addition to the $50.00 to reserve the box for the year.

Individual grandstand seats cost 90 cents per person and 65 cents would get you into the bleachers. The Athletics managed to draw 43,464 fans during the year, last in the league.

Present view of
Sherman Field
Lincoln Nebraska
Lincoln opened at Denver. They lost their first game and remained in last place for the entire season. They finished over 40 games out of first place, one of the worst records in Western League history.
The week of the home opener featured an old timers banquet and sound movies of the 1946 world series. Clarence Mitchell , a former major league pitcher who was living in Aurora Nebraska and Bill Rumler , one-time Browns first baseman were featured at the banquet. The first game almost did not happen as someone left the sprinkler system on in the infield and flooded the new turf. The grounds crew worked overtime to replace the soaked turf and dry out the infield dirt.
Lincoln spent most of the year in last place. They were not competitive. On July 13th Pueblo beat the Athletics 24-1, the worst loss in Western League post war history. In August, Bob Alexander of Denver pitched both ends of a double hitter against Lincoln and he shut them out in both games. Bob went on to have a cup of coffee with Baltimore in 1955 and Cleveland in 1957. Lincoln was the worst hitting team in the league and had only 23 home runs for the entire team for the season. This post war Western League record included hitting only four home runs at home. Sioux City had a 19-7 record against Lincoln, Omaha and Denver were 17-7 and Des Moines was 18-5 against the Links.
Roster:
The Athletics went through a lot of players during the season. The Athletics farm system was in disarray. During the season Lincoln had 42 different players participating in league contests. They tried 22 different pitchers during the year, four catchers, nine infielders and seven outfielders.
---
All Star
Charlie "Bubba" Harris was the only Lincoln player named to the Western League All Star team in 1947. Charlie was one of the few bright spots for the Athletics as he led the league with 3 shutouts. He appeared in 23 games and had a 10-11 record. The Sulligent Alabama native was 21 years old and his performance led him to the big league training camp the next year. He pitched for the Athletics from 1948, 1949 and 1951. In all the pitched in 87 major league games.
---
Infielders:
Walt Mahoney was an example of the revolving door the Athletics had in 1947. He appeared in a total of 11 games and averaged .172.
Herman Schulte was the manager for the club in 1947. He also played over 80 games at second base for the Athletics. He led the Athletics with a .289 average.
Francis Powell played 30 games at short and averaged .250.
Joe Yurkovich played 106 games at first for Lincoln in 1947. The lefty averaged .242.
Johnny Morris played 46 games at short for Lincoln in 1947. He played in 95 games total and averaged .209.
Harry Jenkins was a regular at third. He was one of the only infielders to play over 100 games at the same position for Lincoln in 1947. He had an anemic .204 batting average.
Earl Lentz played short for 18 games for Lincoln. He played in 35 total games and averaged .242.
Manuel Allegue played 32 games at short. He played in 35 games total and averaged .205.
Wilber Heinsz was in 16 games and averaged .220.
Catchers
Bill Peterman was listed as the catcher in 65 contests. He played in 79 games total and averaged .233. The Philadelphia native had a one game one at bat career with Philadelphia in 1942. Unlike the field of dreams story, Bill had a hit in his one at bat leaving him with a batting average of 1000 during his major league career. World War II then interrupted his baseball career and he was in the army from late 1942 through 1945.
Jack Tanner on the first day roster according to the Lincoln paper but not in the Sporting News Guide.
Jim Devlin put on the mask for 20 games and averaged .115.
Tom Tyson was behind the mask for 56 games and averaged .142.
Outfielders:
Willie Skeen was a regular in the outfield for Lincoln. The port sider played in 83 games and averaged .278.
Johnny Vernillo was another regular in the outfield in 1947. He was one of a few players who played in over 100 games. He averaged .276 for the Athletics.
Ed Kobesky tended the garden for 55 games in 1947 and averaged .285
Calvin McIrvin put on the spikes for 100 games. The lefty averaged .252.
Sheldon Bender played in 49 games and averaged .186. He was primarily a pitcher for the Lincoln franchise in 1947.
Andrew Adams played in 21 games. He was another of the many Lincoln hitters who never reached the Mendoza Line as he averaged .179. Carl Walker was in 10 games and averaged .171
Bill James was in 23 games and average .164.
Julian Samocki averaged .231 in 15 games for the Athletics.
Walter Evans was in 30 games and averaged .172.
Pitchers:
Fred Wells appeared in 15 games and had a 6-6 record.
Cal McIrvin was 5-11 in 21 games.
Andy Adams was 4-9 in 20 games.
Jim Reidy appeared in 20 games and was 0-4.
Gilbert Miller was 0-8 in 13 games.
Ed Burtschey was 4-3 in 16 games.
Sheldon Bender was 4-12 in 29 games. He had a 13-5 record with St. Cloud in 1946 which led to his promotion to Lincoln. He was a long term executive with the Reds, most of his work was in developing minor league players for the Big Red Machine.
Tom Clyde was in 23 games and had a 1-11 record.
According to the LIncoln paper the following individuals were also pitchers for Lincoln at some time during the 1947 season. I have not found them in the Sporting News Guide for that year. Either they did not appear in enough games to be listed or my old eyes missed the listing.
George Kemp
Hal Stewart
John Woebse
Hal Wagonhurst
Bill Angstadt
John Van Wyck III
Manley Benmark
Zemeny Beeam
Gordon McRoberts
Dave Lowman
Fred Wells
Charley Harris
Walter Evans
Al Hooper
Harold Rogers

Nebraska Minor League Baseball Home