Nebraska Minor League Baseball
Western League
Lincoln Athletics 1948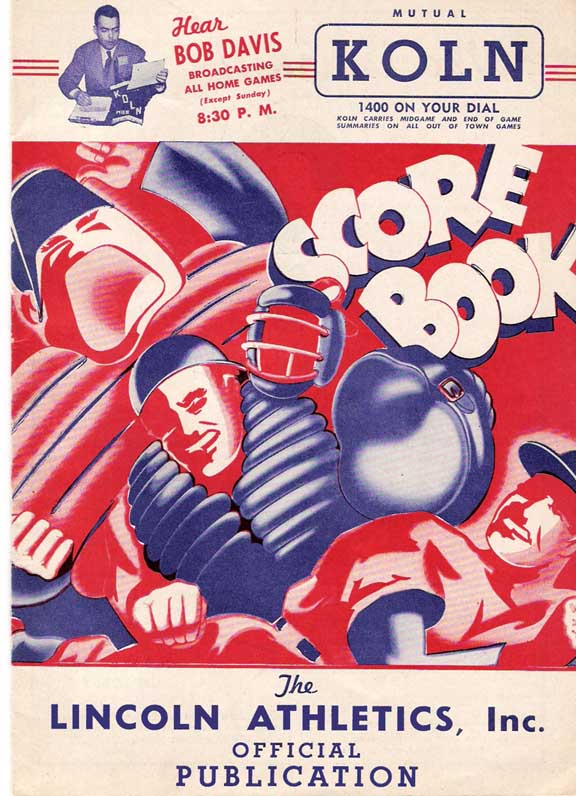 Program Image
Courtesy of: Dan Bretta
Western League Standings 1948
President:Senator E.C. Johnson
Standings
Wins
Losses
GB
Attendance
Manager
Affiliation
Des Moines Bruins
76
64
--
232,038
Stan Hack
Chicago Cubs
Denver Bears
70
67
4 ½
283,377
Michael Gazella
none
Lincoln Athletics
69
68
5 ½
127,462
James DeShong
Philadelphia Athletics
Sioux City Soos
69
68
5 ½
112,381
Joe Becker
New York Giants
Pueblo Dodgers
69
70
6 ½
116,304
John Fitzpatrick
Brooklyn Dodgers
Omaha Cardinals
62
78
14
147,130
Ollie Vanek
St. Louis Cardinals

---

BA: Leon Treadway, Des Moines, .352
Runs: George Genovese, Denver, 119
Hits: Nellie Fox, Lincoln, 179
HRs: Carl Sawatski, Des Moines, 29
Wins: Bobby Shantz, Lincoln, 18
SOs: Bobby Shantz, Lincoln, 212
ERA: Tony Jacobs, Des Moines, 2.72
Lincoln and Sioux City played a one game playoff for third place with Lincoln winning 6-0. Lincoln won the first round of playoffs against Des Moines 3 games to 2 then lost to Sioux City in the finals 4 games to 2. Total attendance for the league in the regular season was 1,018,692 with another 77,630 fans at the playoffs.
Lincoln played their home games at Sherman Field. The field was named after Cy Sherman, a long time sports writer for the Lincoln papers. The field is still in existance and is currently being used for local legion teams.

Present view of
Sherman Field
Lincoln Nebraska
Jimmmy DeShong was the manager of the Lincoln A's in 1948. He started his pitching career in the Blue Ridge League in 1928. He pitched for Harrisburg in 1929 and 1930. He moved to the west coast and pitched for Sacramento in 1932 where he was 19-6. He was picked up by the Athletics at the end of the 1932 season and appeared in 6 games with the major league team. He pitched in Newark in 1933 then with the Yankees in 1934 and 1935. He was traded to the Senators where he pitched until 1939.

The noise in Lincoln was over the anticipation of a few hot prospects for 1948. Nellie Fox, who had been signed by the Athletics as a free agent when he was 16 years old in 1944 and Bobby Shantz who was signed in early 1948 were expected to help the Lincoln Athletics improve on their dismal 1947 record. Fox had played a few games for Philadelphia in 1947 and was considered to be a sure thing for baseball stardom. Tom Kirk was another hot prospect who had played for the Athletics for one game in 1947. The team went from last to third place. Attendance almost tripled as the yearly total went from 43,000 to 127,000.

Bobby Shantz was known for his amazing control. On April 27th he pitched 7 2/3 innings of hitless ball. On May 31st, he had only 17 called balls, with no batter having more than 2 balls during his at bat.

Nellie Fox, Bobby Shantz and Bob Wellman (utility) made the all star team from Lincoln. Of course Nellie went on to a hall of fame career with the White Sox.

&nbsp

Roster:

---
Hall of Fame

| | |
| --- | --- |
| | Nellie Fox led the league in hits and averaged .311 for Lincoln. His performance for Lancaster in 1947 earned him the promotion to Lincoln for 1948. The 20 year old second baseman was promoted to the Athletics at the end of the season. Nellie also led the league in sacrifice bunts. In 1950 he was sold to the White Sox and he was named to twelve all star teams and the major league Hall of Fame. |
| Topps 1956 | |
---
| | |
| --- | --- |
| Bobby Shantz was a 21 year old lefty who led the league in wins and strikeouts. He had 212 strikeouts in 214 innings. He compiled an 18-7 mark with the Lincoln Athletics in 1948. In 1949 he made the majors with the A's and had a 6-8 record. In 1952 he was named the Most Valuable Player in the American League and was 2nd in complete games, 3rd in strikeouts and had the 3rd best ERA in the league. He played through the 1964 season. His control was legendary and was the main reason he had such longevity in the majors. His Topps cards indicate that he calls Lincoln Nebraska home. | |
| | 1953 Topps |
| | |
| --- | --- |
| | |
| Courtesy Don Bretta | Courtesy Don Bretta |
| | |
| --- | --- |
| | Bob Wellman was a 22 year old Ohio boy who was a Western League All Star in 1948. He played for Martinsville in 1947 and averaged .302 for Lincoln in 1948. The 6' 4" Wellman was called up to the Athletics at the end of the season and he made his major league debut in September where he played in four games. He was back in the minors in 1949 but returned for a cup of coffee in 1950. In all he played in 15 major league games. |
| 1952 Topps | |
Lou Limmer played first base for Lincoln in 1948. His professional career began at Lexington, NC in 1946. He was a power hitter and used his home run power to get to Lincoln in 1948. He hit 28 home runs, batted in 93 runs and averaged .288 as a team-mate of Bobby Shantz, Nellie Fox, Earle Brucker Jr. and Bob Wellman who were also future Athletics. That year while sliding into third base, a freak accident took place. Limmer suffered a head injury resulting in temporary blindness. He recovered to have an outstanding season, returning to Lincoln in 1949 to lead the league with 29 home runs. He made it to the Philadelphia Athletics in 1951. He played in '51 and '54 for the Athletics. In all he played in 209 major league games. He hit the last homerun in Philadelphia Athletics history and had 246 total home runs in his professional career. In 1957 he was assigned to Omaha in the American Association where he batted .263 with 18 home runs.
Tom Kirk was a 20 year old native of Philadelphia. He played for Lancaster in 1947 and had a one game major league career. On June 27th 1947 he played in one game and had one at bat. Almost a Moolight Graham career. The southpaw managed a .285 average in 131 games while tending the garden for Lincoln in 1948. . He returned to Lincoln for 1949.
Ed Boehm averaged .235 for Lincoln in 1948. The Lowell Mass. outfielder averaged .319 for Lancaster in 1947 and was promoted to Lincoln for the 1948 season. He returned to Lincoln for the 1949 season.
Ray Zimmerman averaged .299 as a regular in the outfield in 1948.
Joseph Aliperto averaged .268 in 112 games. The St. Paul Minnesota native played for Niagara Falls in 1947. He returned to Lincoln for the 1949 season.
George "Juke" Suder was promoted from Federalsburg to Lincoln for the 1948 season. The Allquippa Penn. native averaged .271 in 41 games. His brother was "Pecky" Suder, an Athletics and Kansas City A's regular from 1941 until 1955.
George Lebedz was a 20 year old from Mansville New Jersey. The infielder played for Moline in 1947. In 1948, he averaged .230 in 94 games.
Robert Kennedy averaged .280 in 42 games.
Walter Novick was the opening day catcher for Lincoln in 1947. He averaged .249 in 121 games. The Walpole Mass. native played for Lancaster in 1947 and returned to play for Lincoln in 1949. Walt started his professional career with Alexandria in the Evangeline League in 1939. In 1940 and 1941 he was with New Iberia. In late 1941 he was promoted to Shreveport in the Texas League. He spent four years in the infantry during World War II. After the war he had stints in Louisville, Utica and Lancaster. He hit .325 for Lancaster in 1947 and was promoted to Lincoln. He averaged .297 in 1949 and in 1950 he moved to Buffalo in the International League. He was a player manager at Yakima in 1953 then Superior in the Northern League was his home for the next two years. He managed at Wausau, Minot and Dubuque through the mid 1960's.
Earle Brucker, son of Earle Brucker averaged .344 in 12 games in 1948.
Aldo Arconti from New York played in 10 games and averaged .200.
Wilmer "Billy" Shantz was listed on the opening day roster for 1948. He made it to the majors in 1954 with Philadelphia and caught for the Philadelphia and Kansas City Athletics and the New York Yankees. He was the brother of pitcher Bobby Shantz.
James Vojesik played in 21 games and averaged .213.
Pitchers:
Along with All Star Bobby Shantz the A's had a strong pitching staff in 1948.
John Wells was 15-11 in 1948 and returned for 1949. He was listed as Fred Wells by the Lincoln paper and the paper said he was June City Kansas.

Robert Palash was 9-7 in 1948. He also played for Lincoln in 1949 and 1950.

Francis Bernardi was 7-12 in 1948.

Albert Bower played for Niagara Falls in 1947 and was promoted for Lincoln in 1948. He was 10-12 for the season.

Ticket Image
Courtesy of: Dan Bretta
Richard Donahue was 4-10 for the year.
Anthony Busco was a 24 year old from the Bronx in 1948. He played for Niagara Falls in 1947, was 5-6 for Lincoln in 1948 and returned to Lincoln for the 1949 season.
Jim Reidy played for Lincoln in 1947 and was listed on the opening day roster for 1948. The Lincoln paper indicated that he was recovering from off season knee surgery and the year end record does not show any appearances for him in 1948.
Jeff Warren was also listed on the opening day roster for 1948 but had no appearances for Lincoln in 1948.