Nebraska Minor League Baseball
Western League 1950
Lincoln Athletics
The Western League in 1950 was a class "A" league. There were three "AAA" leagues, two "AA" leagues and four class "A" leagues in 1950.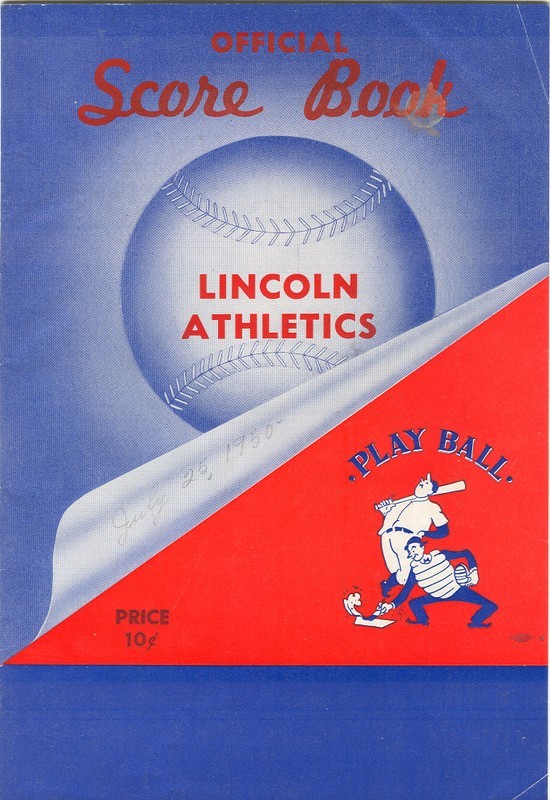 Image courtesy Dan Bretta
Western League Standings 1950
President: Senator E. C. Johnson
Standings
Wins
Losses
Games
Back
Affiliation
Attendance
Manager
Omaha Cardinals
96
58
--
St. Louis Cardinals
218,393
Al Hollingsworth
Sioux City Soos
89
65
7
New York Giants
143,237
Hugh Poland
Des Moines Bruins
84
70
12
Chicago Cubs
147,549
Charlie Root
Wichita Indians
77
77
19
St. Louis Browns
126,729
Joe Schultz
Denver Bears
75
79
21
Boston Braves
379,180
Earl Browne
Colorado Springs Sky Sox
72
82
24
Chicago White Sox
107,264
Buddy Hassett
Lincoln Athletics
69
85
25
Philadelphia Athletics
68,884
James Deshong
Pueblo Dodgers
54
100
42
Brooklyn Dodgers
91,299
Ray Hathaway

---

Playoffs:
Wichita beat Omaha 3 games to 0.
Sioux City beat Des Moines 3 games to 2.
Sioux City won playoffs over Wichita 3 games to 1.

---

BA: Bill Taylor, Sioux City .346
Runs: Danny Holden, Denver, 131
Hits: Chuck Tanner, Denver, 195
RBI's: Tim Whisenant, Denver, 119
HR's: Pat Seerey, Colorado Springs, 44
Wins: Robert Mahoney, Omaha, 20
SO's: Robert Mahoney, Omaha, 162
ERA: Vern Fear, Des Moines, 2.83
Lincoln's Sherman Field was flooded during May. The Athletics had to move a number of their games in response. Attendance fell from 150,000 in 1949 to just about 69,000 in 1950
James Deshong was the manager of the Athletics. He had a tough job with a few good players and a lot of weather adversity. The team wound up in seventh place in the league. They were 6th in hitting, better in fielding and they had two good starters in a four man rotation.
Tom Hamilton set a Western League record with 3 errors in one game and Walt Kellner lost 11 games in a row setting another Western League record.
Roster:

Tom Hamilton led Western League in fielding for a first baseman. The port side slugger was the leading hitter for the Athletics as he batted .294 in 150 games.
George Moskovich also led the Western League in fielding for second basemen. On June 2nd he hit for the cycle. He averaged .282 for the year.
Bob Stewart set a Western League record for short stops with 325 put outs during the season. He batted .245 in 139 games.
Robert Gardner was a regular at the hot corner for 1950. He batted .250 in 155 games.
Putting on the mask for the Athletics in 1950 was Wilmer Shantz. He caught 106 games and averaged .228.
Alternating with Shantz was Robert Day. He played in 94 games and averaged .231.
Outfield:
Thomas Kirk was a regular in the garden for the Athletics. The port sider hit .267 in 155 games.
Another regular in the outfield was Frank Niedowicz. He averaged .276 in 112 games.
Ed Boehm played in 154 games and averaged .263.
Robert Betz tended the outfield for 100 games and averaged .265.
&nbsp
Pitchers
Lincoln had two ironmen pitchers in 1950. John Kucab and Mason Bowes were one two in complete games pitched and in innings pitched. Mason was the only Athletic named to the all star team from Lincoln in 1950. He pitched both ends of a double header against Omaha on September 9th. He won both games, 4-3 in the first and 9-8 in the second game in 10 innings. Mason played for three years with the Athletics from 1949-1951. He was present in 2001 to see the return of professional baseball to Lincoln with the Northern League Saltdogs. He was interviewed for an NETV Statewide broadcast. In 1950 he managed a 15-15 record. Kucab averaged .245 at the plate and had a 16-12 record as a pitcher.
Walt Kellner set a Western League post war record with 11 losses in a row. He wound up with an 8-14 record.
Richard Blauman was 3-4 for the Athletics while Robert Palash was 3-6.
Lewis Fauth pitched in 28 games and had a 9-13 record.
James MacFaden pitched in 37 games and had a 7-9 record and Elwood Carey flung from the port side and had an 11-8 record.
Nebraska Minor League Baseball Home