Nebraska Minor League Baseball
Western League 1952 Lincoln Athletics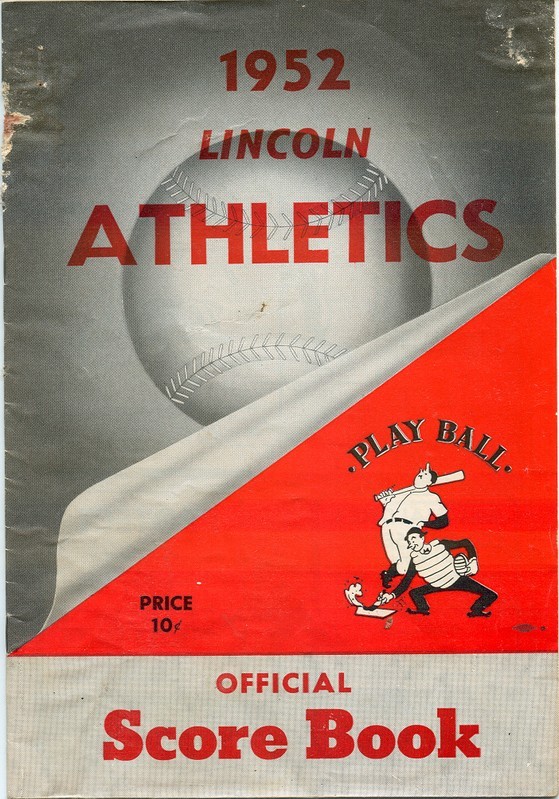 Image courtesy Dan Bretta
The Western League was a class "A" league in 1952. In 1952 the Pacific Coast League was classified as an "Open" league in anticipation of it becoming a third major league. Of course the moves of the Dodgers to Los Angeles and the Giants to San Francisco stopped the move of the PCL to major league status. There were two "AAA" leagues, two "AA" leagues and four class "A" leagues in 1952.
Western League 1952 Standings
President: Senator Edwin C. Johnson
Standings
Wins
Losses
Games
Back
Affiliation
Attendance
Manager
Denver Bears
88
66
--
Pittsburg Pirates
471,419
Andy Cohen
Colorado Springs Sky Sox
87
67
1
Chicago White Sox
170,041
Don Gutteridge
Omaha Cardinals
86
68
2
St. Louis Cardinals
137,378
George Kissell
Sioux City Soos
83
71
5
New York Giants
103,004
Ray Mueller
Pueblo Dodgers
81
73
7
Brooklyn Dodgers
122,746
William McCahan
Wichita Indians
67
87
21
Cleveland Indians
116,703
Ralph Winegarner
Lincoln Athletics
67
87
21
Philadelphia Athletics
61,483
Les Bell
Des Moines Bruins
57
97
31
Chicago Cubs
62,597
Harry Strohm

---

Denver beat Sioux City 3 games to 1.
Omaha beat Colorado Springs 3 games to 1.
Denver beat Omaha in the finals 3 games to 0.

---

BA: Ed Phillips, Omaha, .320
Runs: Ken Landenberger, Colorado Springs, 112
Hits: Ken Landenberger, Colorado Springs, 183
RBI's: Ken Landenberger, Colorado Springs, 133
HR's: Bill Pinckard, Denver, 35
Wins: Alberto Osorio, Denver, 20
SO's: Connie Johnson, Colorado Springs, 233
ERA: Jim Singleton, Sioux City, 2.73
Lincoln was a class "A" farm club of the Philadelphia Athletics in 1952. Les Bell was named manager of the Lincoln Athletics in 1952. He had a nine season major league career from 1923 to 1931.
The Chiefs played at Sherman Field on 2nd and South Street in Lincoln.
For the season, Lincoln was second to last in batting and last in fielding. They wound up in seventh place, 21 games out of first. They only had one player Ed Hrabcsak named to the all star team.
Roster:
First base for the Athletics was held down by Joseph Mangini . The southpaw played in 154 games for Lincoln and averaged .265.
James Trew played in 71 games in the infield for Lincoln. The port side hitter averaged .244 for the year.
Third base was held down by Robert J. Williams . He played in 66 games and averaged .208.
In the dirt at short stop for the Athletics was Robert Gardner . He played at short, second and third for the Athletics and avearaged .270.
Others who played some games in the infield were Gerald Schypinski who played in 18 games and averaged .271, Tom Butts who never was above the Mendoza line at .170 and Don Davis who averaged .184.
Lewis Richardson played in 65 games. He split his time between catcher and the infield. He averaged .214.
Behind the mask for the Athletics was Wilmer "Billy" Shantz . The Pottstown Pennsylvania born catcher averaged .246 for the year. He made it to the majors in 1954 with the Philadelphia Athletics and moved with the team to Kansas City for 1955. He also had a brief stint with the Yankees in 1960.
Outfield:
Bill Stewart was the leading hitter on the team with a .290 average.
Fleming Reedy played 133 games in the outfield. The left handed hitter averaged .281 for the Athletics. Magliolio also played in the outfield garden at Landis field.
Pitchers:
James Bell appeared in 20 games and had a 9-10 record.
Ed Hrabcsak was the only Athletic to make the all star team in 1952. He appeared in 27 games had a 13-8 record and pitched 3 shutouts during the year.
Allen "Dutch" Romberger played in 39 games for the Athletics and had a 13-18 record. The Pennsylvania born flinger appeared in 10 games for the Philadelphia Athletics in 1954 and managed a 1-1 record.
John Michael "Mike" Kume was a 26 year old from Premier West Virginia. He appeared in 27 games and had an 8-11 record. In 1955 he played in six games with the Kansas City Athletics and had a 0-2 lifetime major league record.
Oscar "Ozzie" Van Brabant pitched in 37 games and had a 14-10 record in 1952. The Canadian made it to the majors in 1954 with the Philadelphia Athletics. He also moved with the team to Kansas City in 1955. Overall he appeared in 11 major league games and had a 0-2 record.
William Hockenbury pitched in 19 games for Lincoln and had a 4-8 record. He also played some in the field and averaged .267
Mason Bowes who was an all star in 1950 and 1951 could not repeat in 1952. He appeared in 26 games and had a 2-12 record.
Nebraska Minor League Baseball Home