Nebraska Minor League Baseball
Western League 1953 Lincoln Chiefs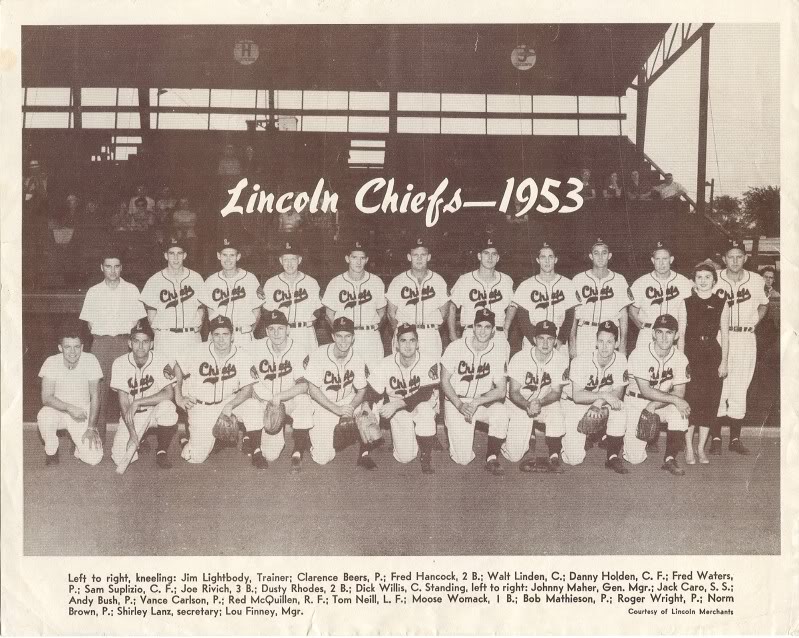 The Western League was a class "A" league in 1953. In 1953 the Pacific Coast League was classified as an "Open" league in anticipation of it becoming a third major league. Of course the moves of the Dodgers to Los Angeles and the Giants to San Francisco stopped the move of the PCL to major league status. There were two "AAA" leagues, two "AA" leagues and four class "A" leagues in 1953.

Western League 1953 Standings
President: Senator Edwin C. Johnson
Standings
Wins
Losses
Games
Back
Affiliation
Attendance
Manager
Colorado Springs Sky Sox
95
59
--
Chicago White Sox
141,117
Don Gutteridge
Denver Bears
94
60
1
Pittsburg Pirates
322,128
Andy Cohen
Pueblo Dodgers
78
77
17 ½
Brooklyn Dodgers
103,878
George Pfister
Des Moines Bruins
77
78
18 ½
Chicago Cubs
98,972
Kemp Wicker
Omaha Cardinals
74
80
21
St. Louis Cardinals
115,512
George Kissell
Lincoln Chiefs
71
83
24
Milwaukee Braves
87,615
Lou Finney
Sioux City Soos
70
84
25
New York Giants
45,412
Ray Mueller
Wichita Indians
58
96
37
St. Louis Browns
68,683
Mark Hausmann

---

Des Moines beat Colorado Springs 3 games to one.
Denver beat Pueblo 3 games to 0.
Des Moines beat Denver in the finals 3 games to 1.

---

BA: Kent Pflasterer, Pueblo, .350
Runs: Len Johnston, Colorado Springs, 133
Hits: Glen Gorbous, Pueblo, 204
RBI's: Jerry Crosby, Colorado Springs, 115
HR's: Jerry Crosby, Colorado Springs, 25
Wins: Norman Brown, Lincoln, 21
SO's: Karl Spooner, Pueblo, 198
ERA: Walt Montgomery , Omaha, 2.43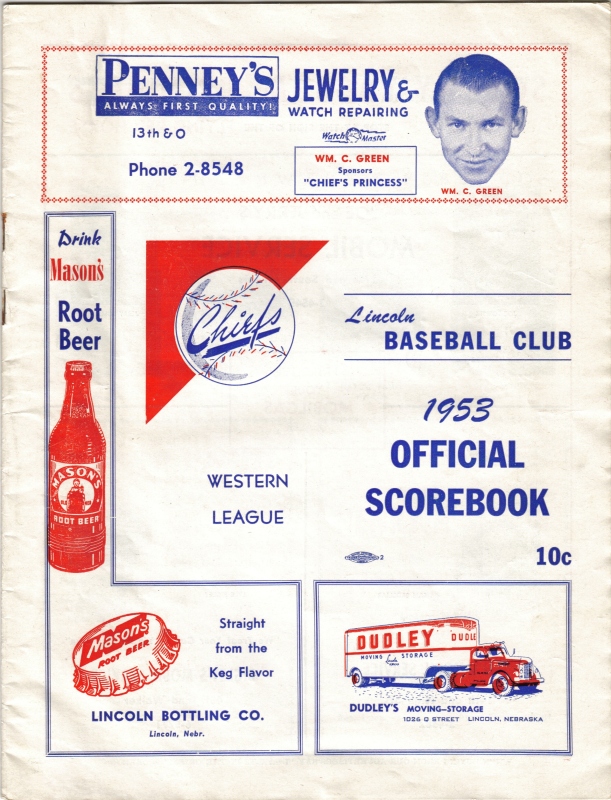 Image courtesy Dan Bretta
The Lincoln franchise was in flux in 1953. The Philadelphia Athletics were in debt. The team was sold in 1954 and moved to Kansas City. The baseball boosters in Lincoln sold stock in the club and they acquired a working relationship with the Milwaukee Braves. Each share cost $10.00.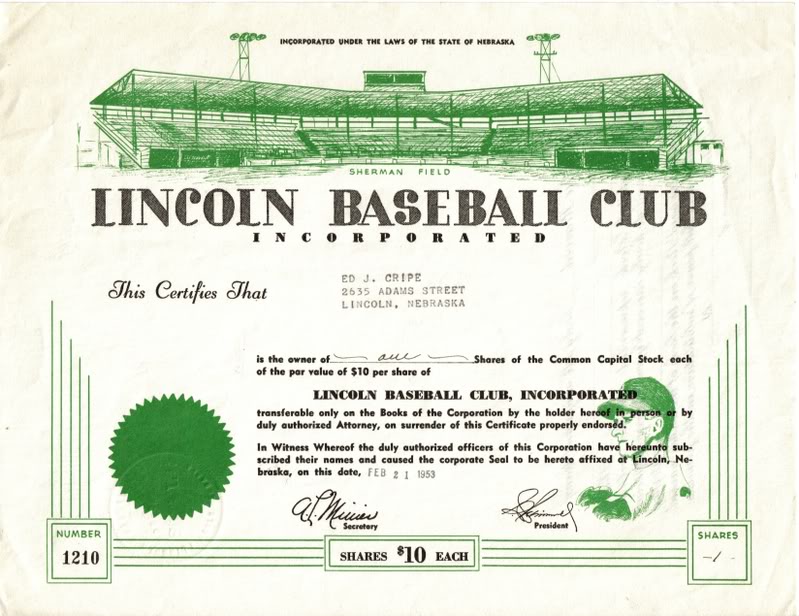 Image courtesy Dan Bretta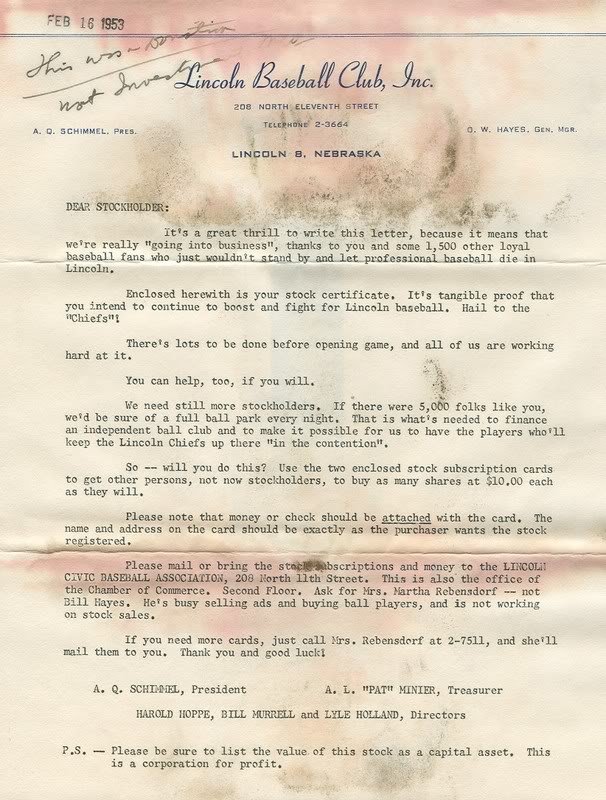 Image courtesy Dan Bretta
Spring training for the 1953 Lincoln Chiefs was held in Victoria Texas with a seven game exhibition schedule in San Antonio, Longview and Tyler.

The team nickname changed from the Athletics to the Chiefs. The team had a contest in January to pick the new nickname. There were 366 entries with 16 year old Jim Walters having the winning recommendation.

Bill Hayes was named general manager for the chiefs. Bill played in the Yankees farm system in 1936 but turned to umpiring in 1938. After serving in World War II, he was in the Boston Braves front office. He then had a succession of managerial positions with Hartford, Milwaukee, St. Petersburg, Muskegon and Temple. He was named minor league executive of the year by the Sporting News after the 1951 season. Lincoln was to be a big challenge for the Chiefs general manager.

Courtesy Dan Bretta
Lincoln Chiefs 1953
Louis Finney started the year as manager of the Lincoln team. Louis was a 42 year old who spent his offseasons in Buffalo Alabama. He played for eleven years in the major years with Philadelphia, the St. Louis Browns and Boston. He was an all star selection in 1940 with the Boston Red Sox.
He was replaced in August by Walter Linden. Walter had a three game major league career with the Boston Braves in 1950.
Very few of the players who started spring training with the Chiefs actually became regulars for the Chiefs. None of the individuals listed in the spring 1953 official roster were regulars for the season.
&nbsp
Roster:
The Chiefs regular at first base was Dallas Womack. A good fielder he batted .228 for the season.
Fred Hancock was in the dirt at second for the Chiefs. He averaged .269 for the year. He had a cup of coffee with the White Sox in 1949.
The hot corner for 1953 saw Joseph Rivich. He played in 135 games and averaged .234.
Jack Caro played short stop and averaged .221.
The three regulars in the outfield saw lefty Thomas Neill who averaged .278. The Hartselle Alabama native had a two year major league career with the Boston Braves in 1946 and 47. He started with the Fort Smith Giants in 1937 and spent time with more than 15 minor league teams.

Daniel Holden averaged .268. in the 125 games he was in.

Glen McQuillen had the leading average on the team with a .284 average. Perhaps this is the same Glen McQuillen who played for the Browns from 1938-1947.

Image courtesy Dan Bretta
| | |
| --- | --- |
| | Catching for the Chiefs in 1953 was Walter Linden . He caught 74 games and averaged .220. He had a three game major league experience in 1950 with the Boston Braves. Alternating with Walter was Tom Willis who averaged .231 in 56 games. Tom was a 25 year old from Stockton California. He spent the 1952 season with Evansville. He was one of the few non pitchers who was listed in the Chiefs original roster. |
| - | |
Pitchers:
Norman Brown was the leading pitcher for the Chiefs. He pitched in 38 games, had 28 complete games and a 21-11 record. He led the league in wins with 21 for the year. He also averaged .254 at the plate. The 34 year old from Bennetsville South Carolina was with Montgomery where he had a 16-7 record.
Robert Mathieson pitched in 27 games and had a 7-10 record. The 22 year old righty was from Fairhaven Mass.
| | |
| --- | --- |
| | Roger Wright had a 2.85 ERA. The 30 year old righty pitched in 46 games and had a 10-10 record. The Dyersburg Tennessee native pitched for Columbia in 1952 and had a 7-6 record. He started in 1940 with Bowling Green. He also played for Hopkinsville, Danville, Canton, Greensboro, Lynn, Scranton, New Orleans, Charleston. Tampa, Columbia, Mobile, Pueblo, Macon and Thomasville. |
| Image courtesy Dan Bretta | |
William Denney , 23 games and an 8-8 record.
Anderson Bush , was a 33 year old Kentucky native. He pitched in 26 games and had an 11-10 record. He played for Hagerstown in 1952.
Lefty Fred Waters had a 10-10 record in 30 games. The 25 year old was from Benton Mississippi. He made it to the majors with Pittsburg in 1955 and played in 25 games during his two years at Pittsburg.
Vance Carlson had a .273 batting average and a 0-3 record in 19 appearances.
Nebraska Minor League Baseball Home