Nebraska Minor League Baseball
Western League 1954 Lincoln Chiefs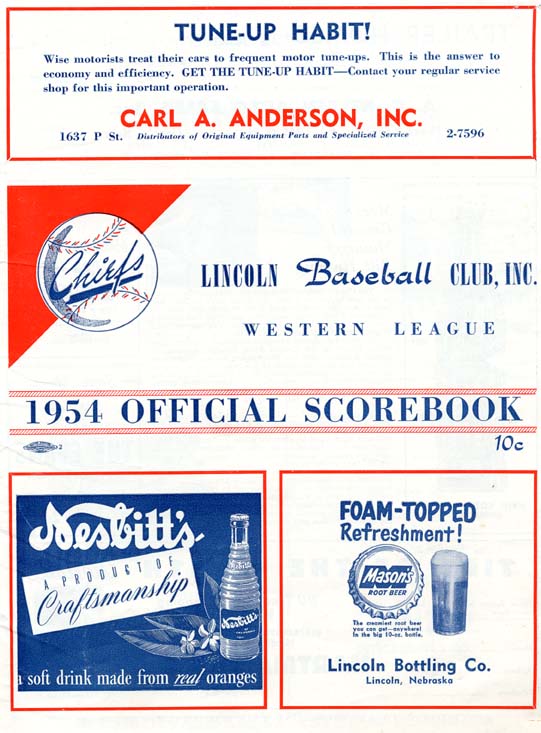 The Western League was a class "A" league in 1954. In 1954 the Pacific Coast League was classified as an "Open" league in anticipation of it becoming a third major league. Of course the moves of the Dodgers to Los Angeles and the Giants to San Francisco stopped the move of the PCL to major league status. There were two "AAA" leagues, two "AA" leagues and four class "A" leagues in 1954.
Western League 1954 Standings
President: Senator Edwin C. Johnson
Standings
Wins
Losses
Games
Back
Affiliation
Attendance
Manager
Denver Bears
94
56
--
Pittsburg Pirates
232,686
Andy Cohen
Des Moines Bruins
88
66
8
Chicago Cubs
113,691
Les Peden
Omaha Cardinals
83
68
11 ½
St. Louis Cardinals
150,131
Ferrell Anderson
Pueblo Dodgers
79
74
16 ½
Brooklyn Dodgers
80,768
Goldie Holt
Sioux City Soos
78
75
18 ½
New York Giants
69,333
David Garcia
Wichita Indians
76
77
19 ½
Baltimore Orioles
87,854
Herb Brett
Lincoln Chiefs
62
88
32
Milwaukee Braves
80,660
Whitey Wietelmann
Colorado Springs Sky Sox
48
104
47
Chicago White Sox
59,606
Mickey Livington

---

Denver beat Pueblo 3 games to 1.
Des Moines beat Omaha 3 games to 1.
Des Moines beat Denver in the finals 3 games to 1.

---

BA: Joe Kirrene, Colorado Springs, .343
Runs: Bobby Prescott, Denver, 137
Hits: Reno DeBenedetti, Denver, 183
RBI's: Rocco Ippolito, Denver, 131
HR's: Bill White, Sioux City, 30
Wins: Bob Clear, Omaha, 20
SO's: Robert Garber, Denver, 173
ERA: Hy Cohen, Des Moines, 1.88
For 1954, the Lincoln Chiefs were a class "A" farm club of the Milwaukee Braves. The club played their home games at Sherman Field and the games were carried on KOLN with Jack Hyland as their play by play announcer. Sherman field is on 2nd and South Street and was subject to flooding in the spring and early summer.
In February the Baseball Association of Lincoln started a drive to raise $25,000 to maintian support for the Lincoln team. Supporters included W.F. Hoppe Lumber Company, the Cornhusker Hotel, Guenzel Heating, Olson Construction, Nebraska Neon, Roberts Dairy and Midwest Steel Works.
The Lincoln team was locally owned and many of the local service clubs participated in a ticket drive before the season with a goal of collecting $10,000 for the club. Season box seats went for $79.50 and season reserved seats for $69.50. The Lions and Sertoma clubs sponsored a welcome back lunch for the team before their first home game and the local Jaycees organized the community wide ticket drive.
Whitey Wietelmann was named manager for the franchise. The Ohio native had been in professional baseball since 1937, playing the entire infield and even doing some pitching. Whitey started at Beaver Falls in the PSA league in 1937. In '38 he played in the Three "Eye" league with Evansville and in '39 he moved to Hartford in the Eastern League. In September of '39 he made his big league debut with Boston Bees (N). He played in Boston, Hartford, Louisville, Pittsburgh, Sacramento, San Diego and Wichita Falls. His last stop as a player was in the Big State League with Wichita.
General Manager for the 1954 season was Bill Herring. Bill graduated with a law degree from Wake Forest but put off entering the law profession to pitch for Portsmouth VA in the Piedmont League. In 1939 he was player-manager of Kinston in the Coastal Plain League. In 1940 he pitched for the Milwaukee Brewers and later Montreal of the International League. In 1941 and 1942 he was president-manager of Wilson N.C. in the Coastal Plains League. In 1943 he started with Portland in the Pacific Coast League and was then called into the Navy. He returned to Goldsboro as manager and general manager in 1946. Pensacola was home in 1949, 1950 and 1951. He joined the St. Petersburg team in 1953 and came to the Lincoln Chiefs in 1954.
Stubs courtesy of
Dan Bretta
The Lincoln team started the season with only one player who started the 1953 season and the lack of experience showed throughout the season. The opening night crowd of 3,466 saw the Chiefs topple Omaha in their home opener.
Roster:
Infield:
John P. Jones was a lefty at first base for the Chiefs in 1954. He averaged .284 for the year.
Second base was held down by Fred Hancock . He played in 62 games and averaged .297. Playing in 41 games at second was Burton Greenstein . He averaged .273. William Wietelmann rounded out the trio of players who tried to play second. He was at the post for 23 games and also played a number of games at third.
Orinthal Anderson had a most unique year with the Lincoln team in 1954. He played for Denver in 1953 and was purchased by the Chiefs to bolster thier outfield for the 1954 season. He was a regular at either third base or the outfield for the season and averaged .277 in 150 games. He claim to fame however occured on September 10th. The 28 year old was chosen to pitch the first game of a double header against Omaha. He pitched a no hitter, with three strikeouts and no walks. He lost the game one to nothing on two errors a sacrifice and a fielders choice. For the year he pitched in two games and had a 0-1 record with a no hitter.
Short stop was another rotating position in 1954. Melvin Rue played 63 games at third and some at second in 1954. He averaged .237. Laurence Neal had played for Denver in 1951 and in 1954 he averaged .229 in 21 games. Carlos Santiago averaged .233 and George Wegerek averaged .128 and John Concannon averaged .190 while alternating at short.
Catchers
Walter Linden played the position for 81 games and in 108 games total. He averaged .260.
Ted Laguna averaged .194 while catching in 46 contests.
Frank Calo averaged .300 while putting on the mask for 32 games.
Outfield:
James "Glen"McQuillen led the Western League with 41 doubles during the season. He played in 145 games and averaged .318.
Thomas Neill averaged .282 while swinging from the port side.
Billy Smith played in 118 games and averaged .258.
A part time player in the garden Joe Christian played in 31 games and averaged .284.


Pitchers:
Anderson Bush was Lincoln's top pitcher in 1954. He was 19-10 in 30 games with 142 k's and a 3.24 ERA. The Kentucky native also had a .265 batting average.
Norman Brown returned for the 1954 season. The right hander from Bennetsville, South Carolina played in 29 games and managed an 8-13 record.
Vance Carlson also returned for the 1954 season. After getting bombed with an 0-3 record in 1953 he improved to 9-11 in 37 games.
Frank Stewart pitched in 12 games and had a 4-5 record.
Noel Oquendo appeared in 22 games and had a 6-6 record. Noel started the season with the Atlanta Crackes in the AA Southern Association. He was the pitcher who Nat Peeples pinch hit for as Nat broke the color barrier in the league. Yes, it was 1954 before any team in the Southern Association was integrated.
Charles Griffith was 4-6 in 12 games, and Ron Stokes was a lefty who had a 1-7 record in 17 games.
Robert Mathieson was a 23 year old from Fairhaven Mass. appeared in 10 games and had a 1-2 record.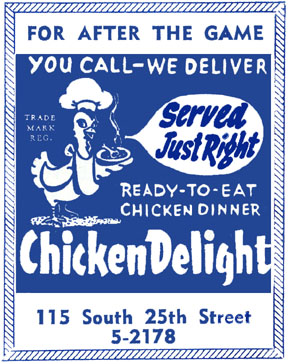 '
Nebraska Minor League Baseball Home