Nebraska Minor League Baseball
Western League 1955 Lincoln Chiefs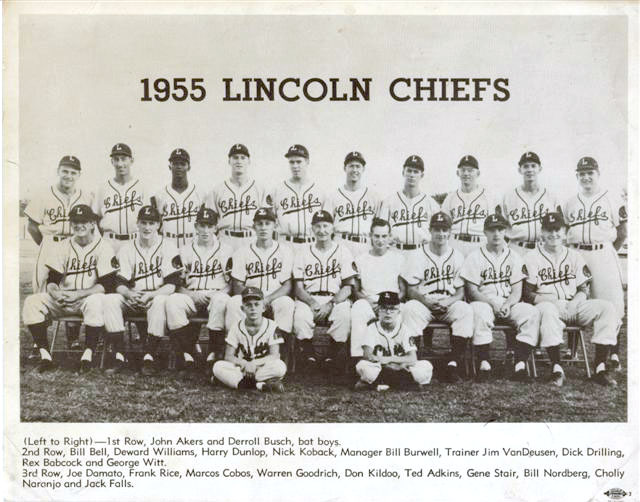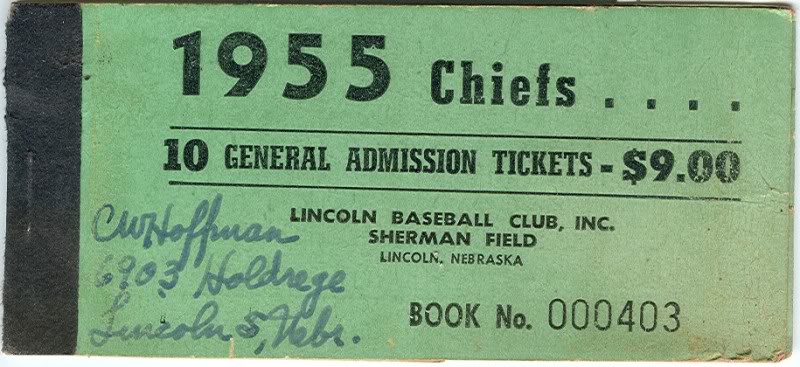 Image courtesy Dan Bretta
The Western League was a class "A" league in 1955 With Denver and Omaha moving up to "AAA" ball in the American Association the Western League contracted to six teams. In 1955 the Pacific Coast League was classified as an "Open" league in anticipation of it becoming a third major league. Of course the moves of the Dodgers to Los Angeles and the Giants to San Francisco stopped the move of the PCL to major league status. There were two "AAA" leagues, three "AA" leagues and three class "A" leagues in 1955.
Western League 1955 Standings
President: Governor Edwin C. Johnson
Standings
Wins
Losses
Games
Back
Affiliation
Attendance
Manager
Colorado Springs Sky Sox
81
69
--
Chicago White Sox
87,527
John Conway
Pueblo Dodgers
79
71
2
Brooklyn Dodgers
73,941
Goldie Holt
Wichita Indians
78
73
3 ½
Baltimore Orioles
94,862
Buddy Bates
Des Moines Bruins
77
74
4 ½
Chicago Cubs
88,181
Les Peden
Sioux City Soos
69
81
12
New York Giants
62,902
John Davenport
Lincoln Chiefs
67
83
14
Pittsburg Pirates
90,024
Bill Burwell

---

Wichita defeated Des Moines 21-3 for third place.
Des Moines beat Colorado Springs 3 games to 1.
Wichita beat Pueblo 3 games to 2.
Wichita beat Des Moines in finals 3 games to 0.

---

BA: Sam Hairston, Colorado Springs, .350
Runs: Willie Kirkland, Sioux City, 117
Hits: Clarence Moore, Pueblo, 194
RBI's: Ron Cooper, Colorado Springs, 117
HR's: Willie Kirkland, Sioux City, 40
Wins: Joe Stanka, Des Moines, 17
SO's: Bob Harrison, Wichita, 270
ERA: Dick Hall, Lincoln, 2.24
Bill Burwell was the manager of the Chiefs in 1955. Originally from Jarbalo Kansas he had played in the majors in the late 20's. The Chiefs changed from being a farm team of the Braves to Pittsburg in 1955.
The league contracted to six teams as Omaha and Denver moved to the American Association. Lincoln had a great season weather wise as the club had no home rainouts during the season. The Chiefs lock on the cellar was secure for most of the season as they combined subpar hitting with some terrible luck.
In April, Lincoln stranded 16 runners during a game on the 28th and stranded 15 runners the next night as they lost both games to Wichita and set a Western League record for stranded runners.
In June, Lincoln won a game against Wichita. Lincoln had 2 hits and Wichita 1 setting a Western League record for fewest hits by both clubs in a nine inning game. Lincoln won 5-0.
In July Sioux City pitcher Don Zanni hit two home runs against Lincoln and in in August Ted Adkins was hit by a pitch three times against Sioux City.
Roster:
First base for 1955 was held down by Ted Adkins . The lefty had a .292 average for the Chiefs. He was hit three times in one game setting a post war Western League record.
Rex Babcock was a regular at second base for the Chiefs in 1955. He averaged .237 for the year.
The hot corner was split between Howard Padgett,(.243) and Figard Neither was in the top 8 in fielding the position.
The regular at short stop for the Chiefs was Warren Goodrich . He averaged .253 for the season.
Three different players put on the catcher's mask for the Chiefs during the 1955 season. Harry Dunlop averaged .232, Marcos Cobos split the position with Dunlop and averaged .290. Marcos was a regular in Lincoln in 1956 through 1958. Nick Koback played in 30 games and averaged .223 for the Chiefs. The 19 year old from Hartford also played in a few games for Pittsburg in 1955. His major league debut was in 1953. He was 17 years old.
Outfield:
Francis Rice was a regular in the outfield for the Chiefs in 1955. He averaged .291 for the year. Frank led the league with 41 doubles, matching a Western League record set by Red McQuillen in 1954. He also led the league in fielding and in 1953 set a Western League fielding record while playing for Denver.
Jack Falls averaged .262 in 131 games.
Joe Christopher was an 18 year old from Frederiksted, V.I. He averaged .239 in 28 games. He played for Mexico City in 1957, Salt Lake City in 1958a nd Columpus in 1959. He made it to the Pirates in 1959 and had an eight year major league career. The Baseball in the Virgin Islands web site has an excellent biography of Joe.
H Eugene Stair averaged .259 for the Chiefs in 1955.
Pitchers: One of the highlights for the Chiefs in 1955 was the performance of Dick Hall. He led the league with a 2.24 ERA. He had a 12-5 record in 1955. The St. Louis native was signed by the Pirates in 1953. He also pitched in 15 games with the Pirates in 1955. He had a 16 year major league career, appearing in 495 games as a pitcher. He also played in the outfield and averaged .302 in 73 games.
Bill Nordberg had a 12-11 record for the season.
Richard Drilling was 12-12 in 1955.
Paul Almonte was 3-3 in 22 games.
George Witt was 2-10 for Lincoln in 1955. The 21 year old from Long Beach California also averaged .276 as a hitter. He made it to the major league Pirates in 1957 and had a six year major league career.
Gonzalo "Cholly" Naranjo was a 20 year old Cuban. He had a 3-4 record for the Chiefs in 1955. He had a cup of coffee with the Pirates in 1956.
Ben Daniels was 4-4, John M. Brown was 4-10 in 22 games and Deward Williams was 3-5 for the Chiefs in 1955.
Nebraska Minor League Baseball Home