Nebraska Minor League Baseball
Western League 1956 Lincoln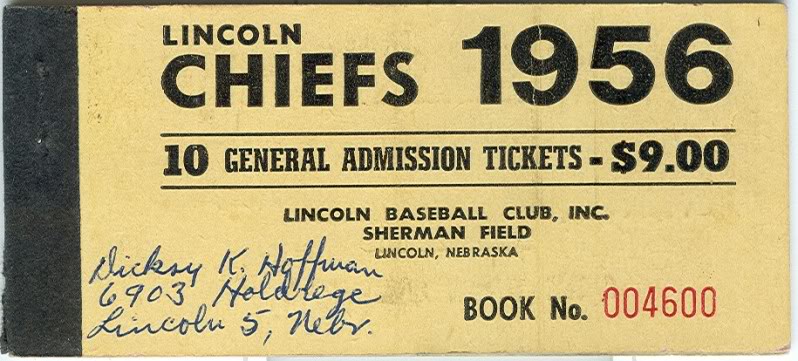 Image courtesy Dan Bretta
The Western League was a class "A" league in 1956. The league expanded back to eight teams with Amarillo and Albuquerque being added to the league. Topeka, which had been a member of the Western Association until that league folded entered the Western League. Wichita moved to the American Association. In 1956 there were only 27 minor leagues left, compared to 58 leagues in 1950.
In 1956 the Pacific Coast League was classified as an "Open" league in anticipation of it becoming a third major league. Of course the moves of the Dodgers to Los Angeles and the Giants to San Francisco stopped the move of the PCL to major league status. There were two "AAA" leagues, three "AA" leagues and three class "A" leagues in 1955.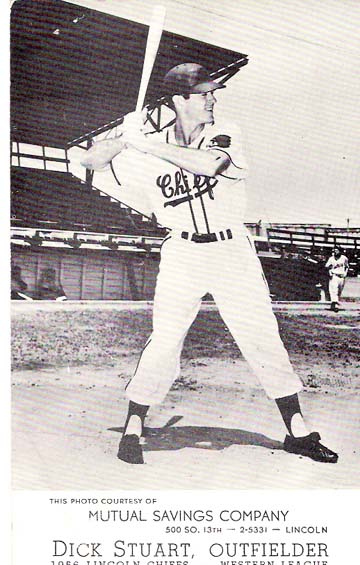 Photo Image
Courtesy of: Dan Bretta
Western League 1956 Standings
President: O'Neill M. Hobbs
Standings
Wins
Losses
Games
Back
Affiliation
Attendance
Manager
Amarillo Gold Sox
38-49
32-20
14
none
77,628
Charles Stevens
Lincoln Chiefs
45-39
27-27
--
Pittsburg Pirates
92,554
Larry Shepard
Des Moines Bruins
35-37
36-31
--
Chicago Cubs
67,973
Lou Klein
Topeka Hawks
44-26
28-40
Milwaukee Braves
103,938
Buddy Bates
Pueblo Dodgers
39-29
32-38
Brooklyn Dodgers
51,496
Ray Hathaway
Colorado Springs Sky Sox
34-32
36-36
--
Chicago White Sox
59,282
John Conway
Albuquerque Dukes
26-33
44-37
New York Giants
94,176
Bob Swift
Sioux City Soos
22-27
48-43
St. Louis Cardinals
40,734
Harold Ort

---

Lincoln defeated Amarillo 4 games to 1 to win the playoffs.

---

BA: Art Cuitti, Amarillo, .364
Runs: Art Cuitti, Amarillo, 132
Hits: L. Vande Hey, Albuquerque, 197
RBI's: Dick Stuart , Lincoln, 158
HR's: Dick Stuart , Lincoln 66
Wins: Marshall Bridges, Topeka, 18
SO's: Marshall Bridges, Topeka, 213
ERA: John O'Donnell, Topeka, 3.32
The 1956 season started with great expectations for the Western League. After completing the 1955 season as a six team league they expanded back to an eight team league. The season was not all roses however as the Sioux City franchise created a number of problems for the league. In June Sioux City threatened to quit the league on July 1st unless three demands were met. These included a demand for a split season, some good players for their team and $10,000 in ticket sales from the Sioux City fans. The league directors met at the Cornhusker Hotel in Lincoln to discuss the demands of the Soo's.
After discarding the idea of making the Soo's a road team for the rest of the season the league gave in to their demands and decided to split the season. The Soo's were able to manage a winning record for the second half of the season, but attendance was still terrible as they only drew 40,000 fans for the season. Their ball park was not up to Western League standards and having the park near a dump and its associated odors had a negative impact on attendance. The Soo's dropped their affiliation with St. Louis at the end of the season and became an independent club for the 1957 Western League season.
Lincoln won the first half of the split season with 45 wins. Amarillo won the second half with 49 wins. Lincoln then won the playoffs four games to one. In one of the playoff games Jackie Brown had 21 strike outs. Since it was in a playoff game it did not enter the Western League record books.

Lincoln was sixth in the league in batting and second in fielding. Dick Stuart led the Western League in a lot of hitting categories and his slugging was a key to their winning. Lincoln led the Western League with 934 runs scored. The team hit 208 home runs, breaking Tulsa's record of 202 set in 1929. On May 16th and 17th Lincoln won two games 22-10 and 20-16, setting a postwar Western League record for runs scored in two games. They also set a Western League record with 996 strike outs in 1956. On May 16, Dick Stuart hit three home runs and Frank Rice hit 2 in a win over Amarillo. On June 24th the team hit 8 home runs in one game with Stuart hitting three home runs in the game. The team led the Western League with 105 steals. Their pitching was above average and also helped their success.
Roster:
William Jackson played 113 games at first and averaged .263. He was first in fielding in the Western League at his position.
Second base was held down by Kenneth Toothman. The 21 year old was known for his speed and his glove. In 1955 he played at Williamsport for 16 games and played most of the season in the class "B" Big State League with Waco Texas, where he averaged .294. The Arcadia California native started his career in 1954 with Phoenix in the class "C" Arizona Texas League. He was a lefty in the batting box and a right handed thrower. He was second on the team with an average of .327. He had 33 stolen bases for the year. He led the Western League in fielding percentage for second basemen.
Third base and short was split between four players during the season. Sammy Miley played 71 games at third. He led the Lincoln team with a .343 average. He had 44 walks and 21 stolen bases. Sam had played his rookie season at class "B" Waco in 1955 and averaged .322.

John McDevitt started 54 games at third and 55 games at short. He averaged .260 for the year. This was his first year back in organized ball after serving a stint in the army.

Al Stringer was in 24 games at third and 54 games at short and averaged .265. Ray Swarts played 31 games at short and averaged .244. In 1955 he was an outfielder at New Orleans and there was an attempt to move him to the infield with Lincoln. He played the 1954 season in Phoenix wehre he averaged .357. He played his college ball at Stanford.

A number of players were in the outfield garden for the Chiefs.

Dick "Dr. Strangeglove" Stuart played 108 games in the outfield along with 36 games at first. He was the best home run hitter in the league with 66 home runs. This set an all time Western League record, breaking the record of 49 by Guy Sturdy of Tulsa in 1926. He had a league leading 158 RBI's setting a postwar Western League record. He averaged .298 for the year and had 88 walks. He also struck out 171 times, setting another Western League postwar record. He hit three home runs in a single game three times in 1956 and had a home run every 7.9 at bats. In 1955 he batted .309 in class "C" ball resulting in his promotion to Lincoln. The Lincoln team held a Dick Stuart night to honor his home run record and governor Vic Anderson named him an admiral in the Nebraska Navy. He was given a golf cart, a camp cooler, a camera, an electric razor, a clock radio and several gift certificates from various Lincoln businesses. He was 25 when he made it to the parent club Pirates in 1958 and played until 1969. He averaged .264 in his ten seasons in the majors.

Reginald Grenald was in the outfield for 115 games and had a .301 average.

Howard Goss started 102 games in the garden and averaged .242.

Catcher for the year was Joe Zavattaro for 90 games and had a .223 average. He was promoted from class "C" where he batted .254 for St. Johns in the Provincial League. He was backed up by Marcos Cobos who caught 59 games and averaged .240.
Pitchers:
Bennie Daniels was 15-3 in 30 games as a pitcher. The 24 year old from Alabama played in a total of 56 games and had a .325 batting average. He led the Western League with four shutouts and had a no hitter on August 12th against Amarillo. He made it to the Pirates, the Chiefs parent club in September 1957. He played for nine seasons and had a 45-76 lifetime major league record.
Don Rowe was a twenty year old lefty from California. He was 13-7 in 29 games. He pitched a no hitter for the Chiefs against Amarillo on August 9th. He had a cup of coffee with the Mets in 1963. Don Williams was 11-8 in 44 appearances in 1956.
Andrew Olson was a left handed pitcher for the Chiefs. He had a 2-1 record in 15 games.
William Nordberg was 6-10 in 39 appearances and Myron Hoffman was 7-5 in 34 games.
Dewey Williams was 10-6 in 26 games. He was the opening day pitcher for Lincoln in 1956. Domingo Rosello was 7-7.

Nebraska Minor League Baseball Home