Nebraska Minor League Baseball
Western League 1957 Lincoln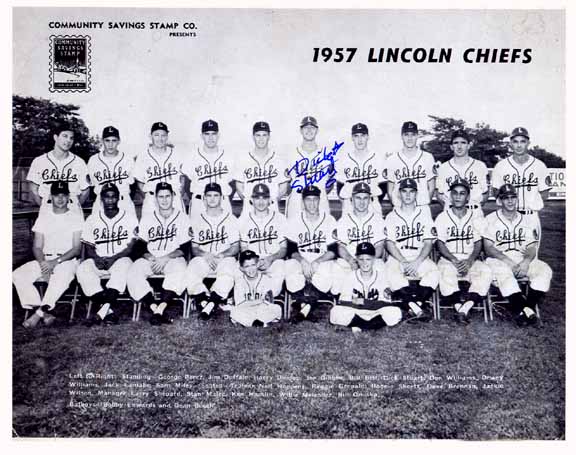 Things began to go downhill for the Western League in 1957. Three of the teams did not have major league affiliation and attendance was down as people stayed at home and watched the game of the week.
This was Lincoln's year as the Chiefs won the regular season championship. Sammy Miley hit .374 to lead the league in batting. Don Williams was their top releiver with 60 appearances and 15 wins.
Western League 1957 Standings
President: O'Neill M. Hobbs
Standings
Wins
Losses
Games
Back
Affiliation
Attendance
Manager
Lincoln Chiefs
98
56
--
Pittsburg Pirates
100,190
Larry Shepard
Amarillo Gold Sox
97
57
1
none
102,210
Charles Stevens
Topeka Hawks
87
64
9 ½
Milwaukee Braves
88,014
Buddy Bates
Sioux City Soos
71
82
26 ½
None
46,851
Harold Ort
Colorado Springs Sky Sox
68
86
30
Chicago White Sox
45,184
John Conway
Albuquerque Dukes
66
88
32
None
92,236
Bob Swift
Pueblo Dodgers
66
88
32
Brooklyn Dodgers
40,887
Ray Hathaway
Des Moines Demons
60
92
37
Chicago Cubs
79,965
Lou Klein

---

BA: Sammy Miley, Lincoln, .374
Runs: Ray Webster, Amarillo
Hits: Charles Coles, Albuquerque, 208
RBI's: Alfred Pinkston, Amarillo, 133
HR's: Leonard Williams, Topeka, 43
Wins: John Stadnicki, Topeka, 23
SO's: David Stenhouse, Des Moines, 184
ERA: Hugh Blanton, Amarillo, 2.86
The Chiefs opened the season with high hopes. They had won the first half of the season in 1956 and the playoffs in 1956 under Larry Shepard's management. With Larry Shepard back to manage the Chiefs in 1957 the team looked forward to another pennant winning year. Sherman field had undergone a transformation during the offseason, with new sod, new lights, new fences and new dirt in the infield.
Opening day saw 21 year old Paul Susce as the pitcher for the Chiefs. Paul was the son of major league star George Susce and brother to George Jr. a pitcher for Red Sox. Paul was a rookie and had attended Auburn University. Paul had suffered an attack of Polio at age three which affected his left leg. He was 49-9 in college for Auburn and that record led to him being given a chance with the Chiefs.
The Chiefs were in a hot battle for the flag throughout the 1957 season. They drew over 100,000 fans to Sherman field for the season and the fans were rewarded with a second straight pennant. Although the Chiefs were the best team in the league they only placed one player on the Western League All Star Team for 1957. They were seventh in batting, last in fielding and had the best pitching staff in the league. This was their second pennant in a row, the first repeat in the league since Omaha did it in 1950-1951.
Roster:

| | |
| --- | --- |
| First base for the Chiefs in 1957 was Dick "Dr. Strangeglove" Stuart . After hitting 66 home runs in 1956 he managed another 31 in 1957. He averaged .264 for the year. He played 80 games in 1958 with Salt Lake in the PCL and averaged .311, he was promoted to to the Pirates for part of the 1958 season and played in the majors until 1969. | |
| | Topps 1961 |
Mike Solomko split his time between first base and the outfield in 1957. He batted 53 .289 for the season. He played for the Osaka Tigers in Japan in 1960, one of the "Gaijin" players in the Japanese major leagues. From 1961-1963 he played for Hanshin and then played for the Tokio Orions in 1964 and 1965.
Al Griggs played in 27 games and averaged .241.
Second base for the '57 season saw Wilfredo Melendez . He played in 123 games and averaged .288. He set an all time Western League record for fielding with a .983 fielding percentage. He moved to Salt Lake City for the 1958 season along with a number of the Chiefs of 1957.
David Brennan split his time between second base and the outfield. He avearaged .307 for the year.
Sammy Miley led the league in batting average in 1957. He averaged .374 in 112 games and set a post war Western League record. In 1958 he was promoted to Salt Lake City in the "AAA" Pacific Coast League where he averaged .334.
In the dirt at short stop for 1957 was Ken Hamlin . He averaged .254 for the season. The 22 year old Detroit born infielder was promoted to Pittsburg for a few games during the season. In 1958 he played in Mexico City and averaged .268. He had a cup of coffee again with Pittsburg in 1959 and became a regular with the Kansas City Athletics in 1960. He played for four different major league teams in his seven major league seasons.
Roberto Sanchez was at short stop for 48 games and averaged .245 and Malcom Walton averaged .255 in 36 games.
Catcher for the Chiefs in 1957 was port side hitter Harry Dunlop . He caught 67 games and played in a total of 87 games. He averaged .198 for the season. On July 25th against Colorado Springs, Harry hit for the cycle, the first for a Lincoln player since 1950. Harry started his pro career at 19 years old with Bristol. He was the catcher of Ron Necciai's 27 strike out game in 1957.
William Onuska played in 77 games and averaged .240. Joseph Canuso caught in 24 contests and averaged .235.
Outfield:
Stan Malec was a regular in the garden in 1957 and averaged .272. He started the 1958 season with Columbus in spring training but returned to Lincoln for the 1958 season. He led the Western League with 35 stolen bases in 1958.
W. Jack Wilson played in 146 games. He averaged .310 while batting left handed. He set a record by being hit by a pitch 24 times during the season.
Reginald Grenald returned in 1957 to his outfield position for the Chiefs. He averaged .268 in 107 games. He started the 1958 season in Mexico City and averaged .331 in 35 games.
Joe Christopher averaged .296 in 38 games.
Pitchers:
George Perez pitched in 30 games, had a 15-6 record, a 2.96 ERA and 138 strike outs. The 19 year old from San Fernando managed to make it to the show for a short time in 1958. He pitched in four games and had a 0-1 record for the Pirates.
| | |
| --- | --- |
| | John Lamabe was originally signed by Philadelphia in 1956. He started his professional career with Wilson in the Carolina League. He was 3-7 in 1956 and he was released at the end of the 1956 season. He was picked up by the Pirates organization and assigned to Lincoln. The 20 year old from Farmingdale New York appeared in 28 games had a 13-7 record, a 3.18 ERA and 168 strike outs. In 1958 he too played in Salt Lake where he was 4-7 in 21 appearances. He had minor league stops in Denver, Gastonia, Columbus and Savannah. He was 25 when he made it to the Pirates in 1962. He pitched for seven seasons in the majors with seven different teams. |
William Bell had made his major league debut at 18 years old in 1952. He also had a cup of coffee with the Pirates in 1955. In 1957 he pitched in 32 games had an 11-4 record and 151 strike outs.
Don Williams was a 25 year old right hander from Floyd Virginia. He appeared in a league leading 60 games, had a 15-6 record, 135 strike outs and a 2.98 ERA. He appeared in 2 games for Pittsburg in 1958, but spent most of the year in Salt Lake with a number of his ex Chiefs. He was 8-5 in 43 games for Salt Lake in 1958. He was given another try in 1959 with Pittsburg and appeared in six games. He also had 3 outings with the Kansas City Athletics in 1962.
Robert Anderton had a 7-1 record in 12 appearances.
James Duffalo had a 9-9 record in 30 games. He made his major league debut in 1961 with the Giants. The Helvetia Pennsylvania native had a five year major league career.
| | | |
| --- | --- | --- |
| | Hickory Mississippi was the home of Joe Gibbon . The 6' 4", 22 year old port side flinger was 9-4 in 17 games. He led the Western League with four shutouts in just 17 appearances. He was the only Chief named to the Western League All Star Team in 1957. In 1958 he was promoted to "AAA" Columbus in the International League. He remained in Columbus in 1959. He made his major league debut in Pittsburg in 1960 and had a 12 year career in the majors. | |
| 1963 Topps | | 1964 Topps |
&nbsp
Ronald Sheetz appeared in 38 games and had a 7-3 record.
Deward Williams was 7-6 in 17 games.
Dave Wickersham spent most of the season with Beaumont in the Big State League. He was promoted to Lincoln and had four starts for the Chiefs with a 2-1 record. He played for Lincoln again in 1958 and was 16-9. He made it to the majors in 1960 with the Kansas City Athletics.

Nebraska Minor League Baseball Home