Nebraska Minor League Baseball
Western League
Lincoln Chiefs 1958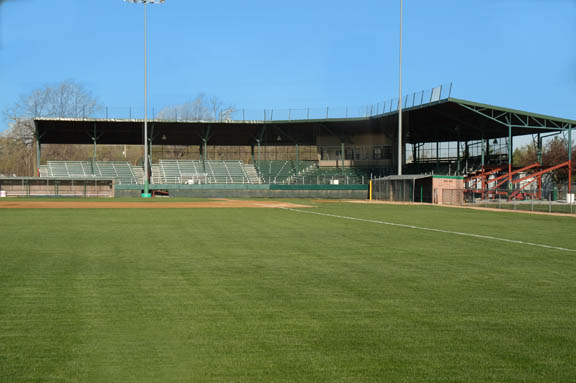 Present view of
Sherman Field
Lincoln Nebraska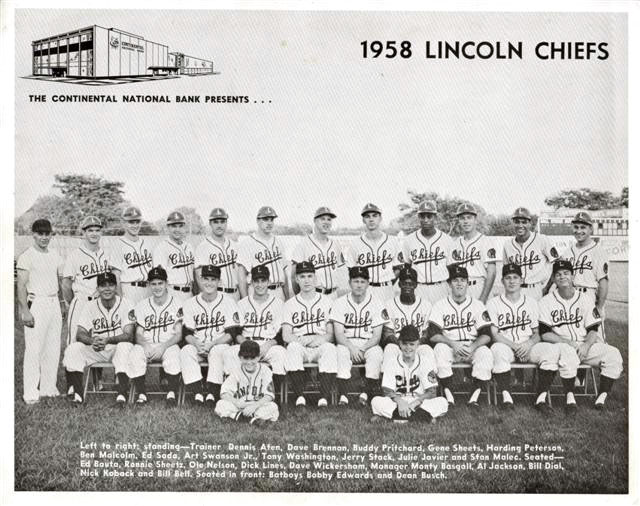 Image courtesy Dan Bretta
This was the last year for the Class "A" Western League. Omaha and Denver moved to the American Association in 1955. The baseball game of the week and the typical cyclical nature of baseball attendance led to attendance declines. The loss of working agreements with Major League Baseball also hurt the talent, reputation and financials of the teams.
Western League 1958 Standings
President: O'Neill M. Hobbs
Standings
Wins
Losses
Games
Back
Affiliation
Attendance
Manager
Colorado Springs Sky Sox
87
60
--
Chicago White Sox
61,091
Amarillo Gold Sox
84
63
3
none
89,931
Lincoln Chiefs
75
71
11 ½
Pittsburg Pirates
67,604
Pueblo Dodgers
73
74
14
Chicago Cubs ???
39,179
Albuquerque Dukes
71
75
15 ½
Cincinnati Reds
81,702
Sioux City Soos
69
77
17 ½
None
55,921
Topeka Hawks
65
82
22
Milwaukee Braves
43,686
Des Moines Bruins
61
83
24 ½
Los Angeles Dodgers
35,039

---

BA: William Hicks, Colorado Springs, .381
Runs: Stanley Johnson, Colorado Springs, 120
Hits: Stanley Johnson, Colorado Springs, 204
RBI's: Alfred Pinkston, Amarillo, 126
HR's: Daniel Lynk, Sioux City, 37
Wins: Hugh Blanton, Amarillo, 20
SO's: Pedro Carrillo, Albuquerque, 177
ERA: Al Jackson, Lincoln, 2.07
After winning the league in 1957, hopes were high for 1958. The Chiefs wound up in third place. The team did not have the power hitting of Dick Stuart for 1958. They wound up in 6th place in batting and did not have anyone in the top ten in hitting in the league. They did have two of the top base stealers in the league, but their speed was not enough to overcome the lack of hitting and lack of pitching depth. The Chiefs were also the lowest rated fielding club in 1958.

Sherman field was the home field for the Chiefs. Box seats were $1.50, Reserved seats were $1.30, general admission cost $1.10 and the bleachers would set a fan back 90 cents.
Managing the team in 1958 was Monte Basgall. He did a great job given the personnel losses from 1957. The Pfeifer Kansas native was signed by the Dodgers in 1942 and played for the Valdosta Trojans in 1942 in the class "D" Georgia Florida league. He made his major league debut in 1949 with Pittsburg. He also played for Pittsburg in 1949 and 1951. He was a coach with the Dodgers from 1973-86.
After the collapse of the league Lincoln moved to the III (Three Eye) League for the 1959 season.
Roster
All Stars:
In 1958 two of the Chiefs were named to the Western League All Star team. Al Jackson was a southpaw pitcher for Lincoln in 1958. The 22 year old from Waco Texas had been signed by the Pirates in 1955 as an amateur free agent. He was first in the league with a 2.07 ERA and second in the league with 18 wins against 9 losses. He was second in the league with 230 innings pitched, third in complete games with 16, had four shutouts and 162 k's. He made his major league debut with the Pirates in 1959 and pitched in majors through the 1969 season.
Dick Lines was signed by the Pirates as an amateur free agent in 1957. After pitching for Clinton in 1957 he was assigned to Lincoln in 1958. The 20 year old lefty was third in the league with a 3.15 ERA. He had a 10-6 record and 4 shutouts. He then played for Columbus, Salt Lake City, San Diego, Asheville and Hawaii before the Canadian made his major league debut in 1966. He was 5-2 for Washington in 1966 and had a 2.28 ERA. He played for two years in the major leagues.
Regulars:
First base in 1958 was split between Jerome Stack who played in 65 games and averaged .229 and Anthony Washington who averaged .300 for the year.
Ray Looney played 13 games for Lincoln at first base and the port side swinger averaged .270.
Second base was the home of Manuel Javier who was first in the league in stolen bases for 1958 and averaged .230 for the year.
Harold "Buddy" Pritchard played his college ball at Southern Cal. He was signed as a bonus baby by the Pirates in 1957. He played 23 games with the Pirates in 1957 and was sent down to Lincoln for the 1958 season. In 1958 he was a fixture in the infield splitting time between short and second. He managed a .268 average.
A few players were tried at the third base position. M. Eugene Sheets handled the hot corner for 63 games and averaged .294. Earl Fackler was in 38 games and the lefty batted.252.
Short stop for the 1958 Chiefs was Ed Sada In 1957 Ed was a member of the Edmonton Eskimos In 1958 he averaged .293 as a regular at short stop.
The primary catcher for the Chiefs in 1958 was Nick Koback . He broke into the majors at 17 years old in 1953 with Pittsburg. He had a cup of coffee with the Pirates in 53, 54 and 55. In 1958 he was a 22 year old veteran. Originally from Hartford CT. he caught 68 games and averaged .240.
Marcos Cobos caught 44 games and played in a total of 62 games. He played in Lincoln in 1956 also. He averaged .284.
Harding Peterson was a 28 year old catcher from New Jersey. He made his major league debut in 1955 and played in 30 games in 1957 with the Pirates. In 1958 he caught 28 games for Lincoln and averaged .276. He caught 2 games for Pittsburg in 1958 and also had a cup of coffee with the Pirates in 1959.
Outfield:
Stan Malec was back as a regular in the Chiefs garden in 1958. Stan played football and baseball for Western Michigan University. In 1955 he played for Clinton and had 43 stolen bases. In 1956 he moved up to Beaumont, where he averaged .282 and had 21 stolen bases. In 1957 he led Lincoln and the Western League with 35 thefts. In 1958 he played in 108 games and averaged .278.
Anthony Washington was 5th in the league in home runs with 25 for the year. He was also fourth in stolen bases with 19. .300
Elmo Plaskett played in 18 games at third base and had 11 errors. The 20 year old from the Virgin Islands played in a total of 64 games and averaged .253. Signed by the Pirates in 1957 he played in 7 major league games in 1962 and 10 in 1963.
Dave Brennan was another regular in the garden for the Chiefs. He averaged .288 in 131 games.
C Bennett Malcolm split his time between the outfield and the pitchers mound. He averaged .278 for the year. As a pitcher he was 4-7 in 18 games.
James Aldredge had a .250 average in 29 games.
Pitchers:
Eduardo Bauta was a 23 year old from Cuba. He appeared in 48 games and had a 7-6 record. He had been signed by the Pirates in 1956. He was traded to the Cardinals in 1960. He played in the majors from 1960 through the 1964 season.
William Dial appeared in 41 games. The port side slinger had a 4-8 record.
David Wickersham was a 22 year old pitcher from Erie Pennsylvania. He appeared in 32 games for the Chiefs and had a 16-9 record. He started in 1955 with Burlington and spent 1956 with Grand Forks in the Northern League. In 1957 he played most of the year with Beaumont and played in four games for Lincoln. He split his time between Gastonia in the Sally League and Salt Lake City in the PCL in 1959. After pitching in 69 games with Shreveport in 1960 he made it to the majors with the Athletics late in the season and had a ten year major league career.
Leon Hurst appeared in 12 games and had a 4-5 record. Olof Nelson was in 12 games and had a 3-4 record and Art Swanson made his major league debut as an 18 year old in 1955 with the Pirates. The Baton Rouge native appeared in one game in 1955, nine games in 1956 and 32 games in 1957. In 1958 he appeared in 7 games with the Lincoln Chiefs and wound up with a 3-3 record.
Nebraska Minor League Baseball Home