Nebraska Minor League Baseball
Lincoln Chiefs
1959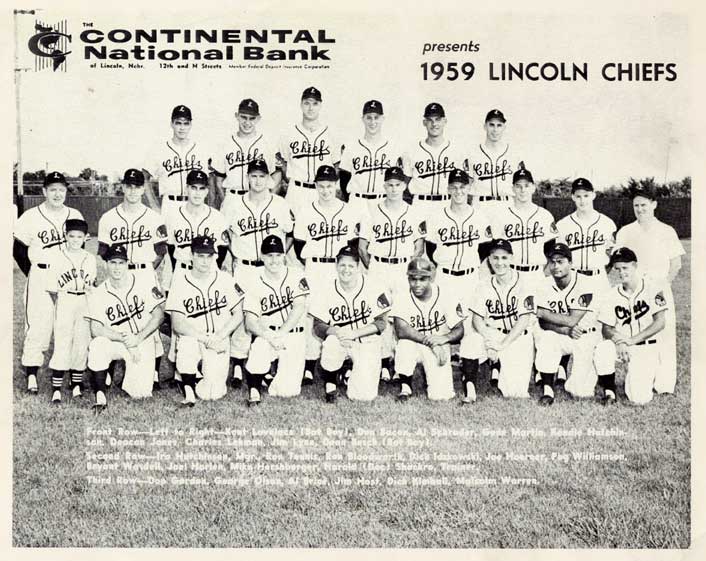 III League Standings
Class "B"
1959

Name
Wins
Losses
Attendance
Des Moines Demons (PHI)
78
48
86,923
Green Bay Bluejays (LA)
74
51
41,107
Topeka Reds (CIN)
69
56
59,803
Appleton/Fox City Foxes (WAS)
59
67
51,004
Lincoln Chiefs (CWS)
58
68
44,783
Sioux City Soos (KC)
58
68
38,332
Burlington Bees (CUB)
54
72
53,536
Cedar Rapids Braves (MIL)
53
73
70,039

---

Des Moines won second half of season.
Green Bay won first half of season.
Green Bay won the playoffs 3 games to 1 over Des Moines.
BA:Hernan Valdes Vila, Appleton, .330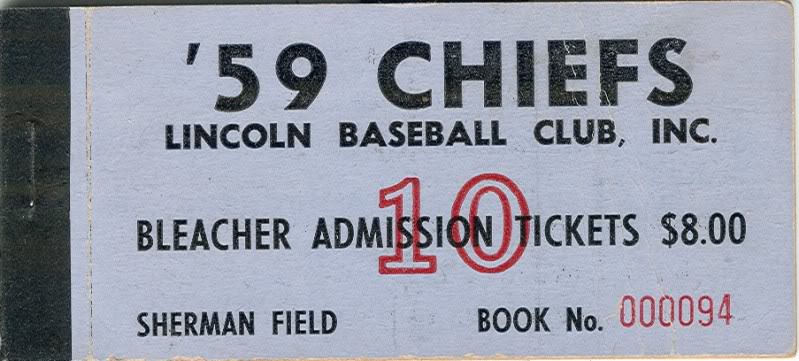 Image courtesy Dan Bretta
The Lincoln franchise went from being aligned with the Pirates to having a working agreement with the Chicago White Sox. Attendance which was as high as 100,000 in 1957 dropped to under 45,000 in 1959. General admission tickets cost 90 cents in 1957 and dropped to 80 cents in 1959.
Lincoln Chiefs 1959
All Stars
James O. Lynn was selected to the Three-I league all star team in the outfield. He was the only Chief named as seven of the players came from either Green Bay or Des Moines. He played in 126 games and averaged .300 for the season.
Regulars
First base for 1959 was handled by Grover "Deacon" Jones . The left handed batter averaged .299 for the year. Signed as a free agent in 1957, he made it to the White Sox in 1962 for 18 games. He also had a cup of coffee with the Sox in 1963 and 1966. He also served in the Baltimore organization as coach and scout for a number of years.
In the dirt on second base was handled by Charles Lehman. He averaged .267 in 95 games.
Short stop in 1959 ws held down by Don Bacon . The port side swinger averaged .279 in 124 games. He had 105 walks and 30 stolen bases for the season.
The hot corner was handled by Herman Williamson . He aveeraged .292 in 116 games.
Putting on the tools of ignorance in 1959 was Eugene Martin . He played in 70 games a catcher and in 101 games total and averaged .251. M.Allan Schrader played the position for 53 games. He played in 91 games total and averaged .218 for the season.
Outfield:
Mike Hershberger was a 19 year old outfielder for the Chiefs in 1959. He averaged .269 for the season and led the III league with 21 triples. He spent 1960 with Charleston and 1961 saw him in San Diego. He made his major league debut in 1961 with the White Sox. The Massilon Ohio native had a ten year major league career with four different clubs.

Don Gordon played in 68 games and averaged .242.

Topps 1964
Pitchers:
---

American League All Star

Joe Horlen was 1-9 with Lincoln in 1959. The San Antonio native was signed by the Chicago White Sox as a free agent in 1959 after attending Oklahoma State University. After spending 1960 in Charleston he had a break out year in 1961 with San Diego in the PCL winning 12 games and having a 2.51 ERA. That earned him a promotion to Chicago at the end of the season and the Texan was a regular with the Sox for a number of years. He was a member of the Sox from 1961 through 1971 and spent one year with Oakland in 1972.

---

Topps 1963
Alan Brice was signed by the Sox as a free agent in 1956. He was 12-8 in 24 appearances. He had a cup of coffee with the Chicago White Sox in 1956.
Ron Teunis was 9-6 in 26 games.
Malcome Warren was in 11 games and the lefty had a 2-6 record.
Bryant Wasdell was another lefty who was 4-6 in 20 games.
Richard Kimball was 5-5 in 15 games.
Philip Groth was a port side slinger who managed a 5-7 record in 23 games.
Ronald Bloodworth was 10-15 in 29 games.
Florian "Fritz" Ackley was signed by the White Sox as an amateur free agent in 1954. The Hayward Wisconsin native (Hayward, home of the giant fish sculpture as a tourist attraction) was a lefty who managed a 4-5 record in 12 games. He was a right handed batter. He played for the Sox in 1963 and 1964 and played in a total of 5 games in the majors.
Nebraska Minor League Baseball Home