Nebraska Minor League Baseball
Nebraska State League
McCook Generals 1928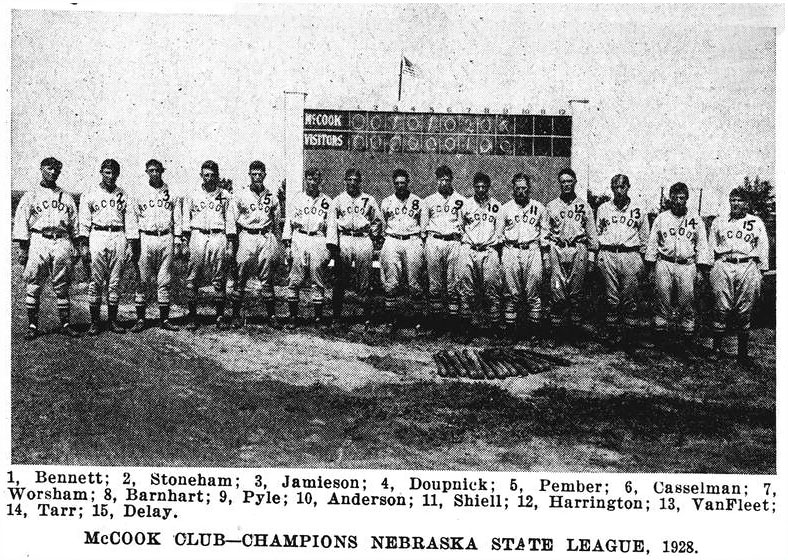 McCook pretty much led the league from start to finish. The Generals started building their franchise with Elmer "Doc" Bennett as their manager. Doc built a team of strong hitters and quality pitchers. His McCook teams went on to win three straight league championships under his direction. After the first ten games they were 7-3 and in first place.
Second place was contended by Lincoln, North Platte and Beatrice. Lincoln had a lock until a disasterous road trip late in the season. North Platte could have challenged but they lost both ends of a double header to McCook in early September.
McCook had four players who averaged over .340 and a team batting average of .309. Combined with Harlan Pyle's twenty win season the McCook Generals were the 1928 Nebraska State League Champions.
McCook also rated first at the box office in 1928 with an average attendance of 257 on weekdays and 663 on Sundays.
On May 9th McCook manager "Doc" Bennett and club president Barney Polye met forty candidates at the Red Willow county fairground ball park. The fairgrounds grandstand had been recently remodeled and had a capacity of 2,000.
In early June a cyclone/tornado ravaged the west edge of McCook. In typical McCook fashion, hard work and cooperation led to the quick rebuilding of the town.
Winning the championship in 1928 was a financial boon for the players as the league awarded a $500.00 bonus to the team. The second place team received $300.00 and third received $200.00.
The McCook Chamber of Commerce held a banquet to honor the champions at the Keystone Hotel.
Roster:

---
Nebraska State League All Star

Victor Schiell played first base for the Generals in 1928. He was named to the all star team and averaged .365 in 121 games. He was in the top five in eight offensive categories.
---
Second base for McCook in 1928 was held down by Herb Pember. He averaged .341 in 121 games and led the league with 172 hits and 116 runs. He was an all star honorable mention.
George "Pie" Anderson played the hot corner for the Generals in 1928. He was a second team all star and averaged .283.
Short stop in 1928 was held down by Herb Pember . Herb was a rookie from Kenesaw Nebraska. He batted .341 in 1928 and after batting .400 for McCook in 1929 in 117 games he was promoted to Kansas City. He played for Kansas City and Springfield in the III league during his five year professional career.
Herb Pember
-
Behind the mask for McCook in 1928 was Harold Jameson . He averaged .223.
Right field in 1928 was held down by John Doupnick (Douprich in some papers).
---
Nebraska League All Star

In left field was 19 year old John Stoneham . He went by the name of Seaman according to the Lincoln paper. He averaged .396 in 96 games. A native of Wood River Illinois, he played for McCook in 1928 and 1929. In 1930 he moved to Columbia in the South Atlantic League. He then played for Wichita and Tulsa in the Western League. In 1932 he was a Western League All Star playing for Tulsa. He had a cup of coffee with the White Sox in 1933. He played for Indianapolis in 1935 and Mission in the PCL in 1936. He then spent five years in the Texas League with a variety of teams.
---
Left field Morris Novack
Center garden was tended by Maurice Casselman. He averaged .341 in 106 games in the garden.
Pitchers:

---
Nebraska State League All Star

Harlan (Firpo) Pyle was a first team all star selection. The twenty three year old from Burchard or Liberty Nebraska was McCooks ace pitcher during their title run. He led the league with 20 wins. He completed 24 of 27 games started and pitched both ends of a double header on two different occasions. He was sold to the Reds at the end of the season. According to a Sporting News he hooked up with the club in St. Louis. Manager Jack Hendricks told Firpo to go to the bullpen and warm up. "Hell no" shrieked the kid from Nebraska, "I'm too scairt to pitch before this crowd.". The next week the Reds were in Philadelphia and about 200 fans were in the stands. "I can pitch here" said the rookie. "This is a smaller crowd than we had in the Nebraska State League".
He had a short time with the Reds in September, pitching for four outs in two games. Firpo was in the III league with Peoria for the 1929 season. After his playing career he settled in Beatrice where he lived the rest of his life.
---
Leslie Barnhart was 10-11 in 34 games and a second team all star. The Norcatur Kansas native led the league with 7.8 strike outs for every 9 innings pitched.
© 2010 Bruce Esser
Nebraska Minor League Baseball Home