Nebraska Minor League Baseball
Nebraska State League
North Platte Indians 1956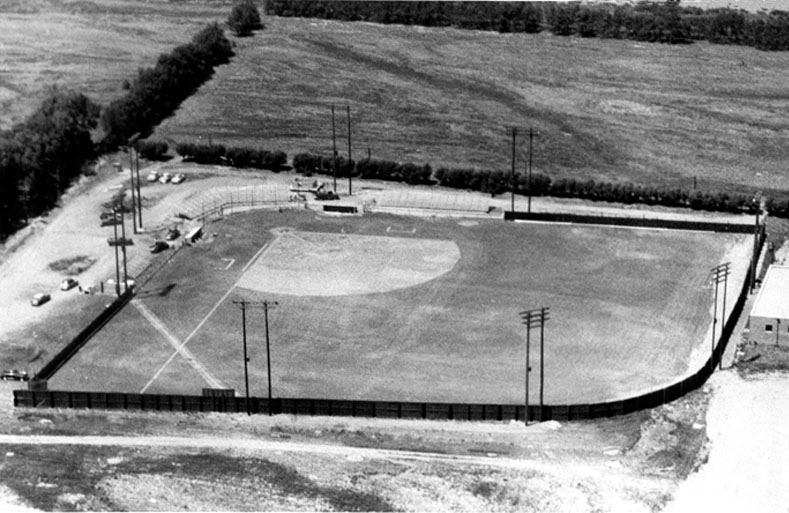 1956 Photo before the sod was installed
-

North Platte sold 673 season tickets in anticipation of the 1956 season. The town supported the Indians by putting 28,578 fans in the stands for the season.
North Platte had a problem as the season drew near. Their long time baseball stadium at 7th and Jeffers burned down in 1955, leaving the town without a field to play on. The town replied to the challenge by putting together a field at Cody park. The ball field was built at 18th and Jeffers near the National Guard building. Fund raising for grand stands exceeded $6,000 and the park became a reality.
The infield at Cody Park was sodded in the spring of 1956 leaving only three parks in the league without a grass infield. Today the ball field is called Bill Wood field.
The rookies were met by manager Spencer Harris. The manager, who was born in Duluth was in his 50th decade and played in the major leagues for four years during the 20's.
Roger Harms a North Platte school boy was signed by the Indians and assigned to North Platte, making him the first person to play in his own home town in the league.
Opening day for North Platte was against McCook. Rookie Jim Perry was on the mound for North Platte. He put down 21 McCook batters in a row with 16 k's. He finished with a three hit performance in front of 1,216 fans.
The Indians were not competitive during 1956 and fell to seventh place. They finished the season 17 games out of first. Spencer was replaced by Rudy York in 1958.
The Indians were 7th in batting and in fielding.
Roster:
Barry Parse was a 17 year old infielder from Worcester Mass. He played 42 games at first for the Indians. He spent most of the year below the Mendoza line and averaged .212 for the year.
Kenneth Kraynak , a switch hitter, split his time between first base and the outfield. He averaged .296 in 1956.
Another regular in the infield was Dennis Weiss . He alternated between 2nd and third and averaged .271.
Marvin Gallego played 29 games at 2nd and 11 at short stop. He was the only Indian named to the All Star team in 1956. He averaged .292 for the year.
Lawrence Spires , from Jacksonville Florida, played 34 games in the dirt at short stop and managed .199 average.
Catching chores for the year was split between Joseph Alekshun who caught 48 games and averaged .273 and Eugene Gnidovec who caught 18 games and was one of many Indians below the Mendoza line at .115. He was an 18 year old from Joliet Illinois.
Outfield:
Gary Dodd was an 18 year old prospect from Cherleston Heights S. C. He led the regulars in batting with a .317 average while swinging from the port side of the plate.
William Palka was a regular for the Indians. He played 40 games at third and 15 in the outfield. He was second on the team in batting with a .314 average.
Don LeStourgeon played in 30 games in the garden and averaged .226. He was identified in some of the papers as Bert instead of Don. He was 18 years old and played for Medina High School in Lerrville Texas.
Frank Dellosso played in 45 games and averaged .248. John Farrell played in 23 games and averaged .150 and Clem Pfaehler had a .185 average in 12 games.Ken Keene had a .221 average in 17 games.
Roger Jordan from Franklin Mass. played in 14 games and averaged .385 in his 13 at bats. Ken Harper played in 17 games and had a .300 average.
Pitchers:
Bob Allen was signed by Cleveland as an amateur free agent in 1956. He led the Indians with a 7-5 record in 1956. The 18 year old lefty recorded 132k's in his 17 appearances. The Tatum Texas native (some bio's list his home as Henderson Texas) was 12-9 at Fargo in 1957. He played for Reading and Burlington in 1958. He was in Reading and Mobile in 1959. He was 16-11 for Mobile in 1960 and made it to the major league Indians in 1961. He pitched in five different seasons and had an overall 7-12 record.
---

Major League All Star

James Perry was another free agent signing in 1956. The 6'4" 20 year old from North Carolina made 16 appearances on the mound and had a 7-8 record. He made it to the show in 1959 with the Cleveland Indians. He played for 17 years with four teams. He was an All Star in 1961, 1970 and 1971. He had a lifetime 215-174 record.

---

Gerald Lis , a 17 year old pitcher from Detroit, was 3-6 in 15 appearances. He also helped himself at the plate with a .296 batting average.

Julius Grant was a 19 year old pitcher from Lecoochee Florida. He pitched in 17 games and had 2-7 record as a left handed pitcher. He played in a total of 28 games and had a .286 average.
Nebraska State League Standings 1956
© 2004 Bruce Esser