Nebraska Minor League Baseball
Nebraska State League
1911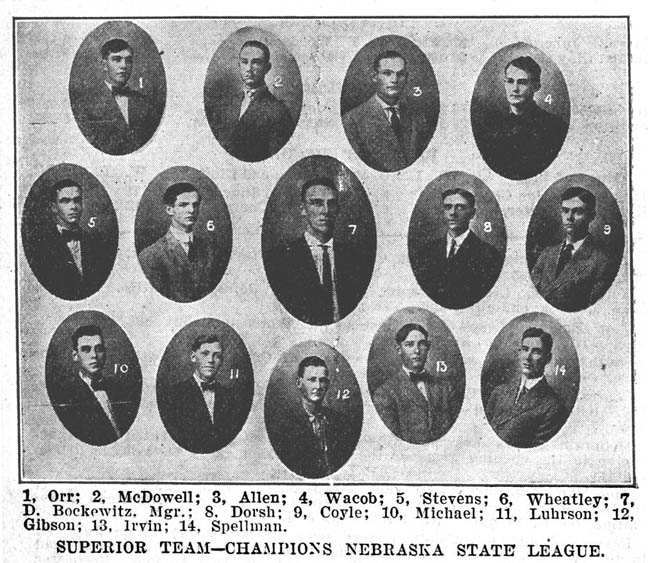 The first Nebraska State League started in 1910 and disbanded in 1915. It was a class "D" league. During this time there were classes "A", "B", "C" and the lowest class was class "D". There were 49 minor leagues in existance in 1911.



Nebraska State League
Standings 1911
President: Henry Sievers

Standings
Wins---
Losses-
GB
Superior Brickmakers
70
40
--
Fremont Pathfinders
69
43
2
Hastings Third Citys
54
58
17
Seward Statesmen
53
57
17
Grand Island Collegians
52
60
19
Columbus Discoverers
52
60
19
Kearney Kapitalists
48
64
23
York Prohibitionists
48
64
23

---

BA:Norm Coyle, Superior Brickmakers, .354
Runs:C. G. Allen, Superior Brickmakers, 95
Hits:Norm Coyle, Superior Brickmakers, 153
HRs:George Harms, York Prohibitionists, 21
SBs:L. Bennett, Fremont Pathfinders, 91
Wins:Emery Orth, Hastings Third Citys, 23
SOs:Harry Smith, Fremont Pathfinders, 235
Pct:George Stevens, Superior Brickmakers, .750, 18-6
York replaced Red Cloud in 1911. The York franchise was nicknamed the "Prohibitionists" by a Fremont writer and the nickname stuck.
The league rules stipulated that teams could carry no more than twelve players exclusive of the manager after May 28. The league schedule included 112 games and the teams were restricted to a payroll of $900.00.
The league board of directors decided to sign a contract to use Spalding (spelled Spaulding in the Fremont paper) baseballs. For that Spalding furnished two baseballs free for every game and two dozen baseballs to every team for practice.
Each team in the league was required to provide a $30.00 expense money to the visiting team for every game played. There was considerable discussion over paying the guarantee if the game was not played but the directors decided that only games that were actually played required the payment.
Before the season began, Hastings sold 1,000 booster buttons for $1.00 each. These buttons allowed fans to attend any of the first eight home games of the season. Opening day saw great crowds for the Nebraska State League games. Grand Island reported a crowd of 2,500 for opening day although official records show a paid attendance of 1,300. Other opening day crowds saw 1,100 at Kearney, 1,060 at Columbus and 1,015 at Fremont.
The end of the season saw a real bruhaha between Fremont and the league. The league president Henry Sievers, from Superior made some rulings that hurt Fremont's chances to repeat as champions. The Fremont papers were very open in their criticism of Siever's rulings stating "he (Sievers) has used mighty poor judgement ... every fan in Fremont believes to be the worst of his exceedingly rotten management." Fremont seriously considered leaving the league at the end of the season but stayed in for two more years before leaving the league.
The league had a first in August of 1911 as on one day two pitchers threw no hit games. Joe Sindelar of Hastings and Irvin of Superior tossed no hitters on the same day.
Harry Smith led the league in strikeouts. Went on to pitch for Lincoln in 1912 and made it to the major leagues in 1913.
Joe Sindelar played for Hastings. He pitched two no hit games during the year. At the end of the season he went to Omaha to play for Pa Rourkes Western League club.
Cooke of Hastings and R. H. Maples of Kearney were drafted by Cleveland in the American League at the end of the season. Each team received $300.00 from Cleveland for the rights to their player. As far as I can tell, neither ever made it to the major league. Maples was still pitching for Kearney and was a big part of their winning the pennant in 1913.
Johnny "Jack" "Chick" Farrell was the Prohibs third baseman for the year. The nineteen year old infielder from Chicago was acquired by Omaha and given a tryout with the Rourkes. He played for York again in 1912 and batted .297 in 110 games. In 1913 he played for Chicago in the new independent Federal League. In 1913 the Federal League was considered to be a minor league. In 1914, the Federal League declared itself to be a major league, Farrell played in 156 games for Chicago in 1914 and batted .235. In 1915 he batted .216 in 70 games for Chicago.
Columbus right fielder, Meixell had a .324 batting average and was sold to Sioux City at the end of the season.
Emery Orth was a twenty year old pitcher from Plymouth Nebraska. He led the league in wins pitching for the Hastings team. More than one of the league scribes indicated suprise when he was not drafted to a higher league at the end of the season.