Nebraska Minor League Baseball
Nebraska State League
1929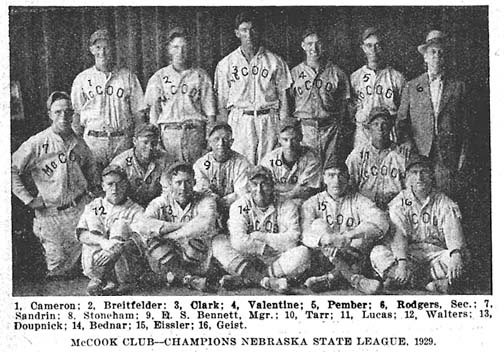 The Nebraska State League was resurrected in 1928. It was a class "D" league. Minor league structure during this time included "AA", "A", "B", "C" and "D" leagues.
For the 1929 season the Beatrice franchise moved to Norton Kansas. Beatrice would reacquire a franchise in 1932 as York moved to Beatrice.
Nebraska State League
Standings 1929
President: James Beltzer

Standings
Wins---
Losses-
GB
Manager
McCook Generals
74
42
--
Elmer S."Doc" Bennett
Fairbury Jeffersons
70
51
6 ½
Preston Gray
Lincoln Links
68
51
7 ½
Robert E. Browne
York Dukes
61
53
12
Art Rasmussen
Norton Jayhawks
54
60
19
Hal Brokaw
Grand Island Islanders
54
62
20
Clay Schoovover
Norfolk Elks
43
73
31
J. L. Wilkes
North Platte Buffaloes
42
74
32
Joe Pizer

---

BA: John Stoneham, McCook, .410
Runs: Herbert Pember, McCook, 117
Hits: Herbert Pember, McCook, 194
HRs: Joe Smith, Norfolk, 15
Wins: Andy Bednar, McCook;
Stanford Primm, Fairbury; 21
SOs: Vito San Filippo, Fairbury, 201
ERA: Jean Jones, Norton, 2.15
During the hot stove season the league magnates met and voted to continue the unique revenue sharing plan initiated in 1928. The only team to drop out of the league was Beatrice but Norton Kansas had asked for admission before Beatrice dropped and the Kansas team was added to the league. Most of the managers from 1928 returned in 1929 giving the league some stability.
McCook repeated as champions in 1929. With Elmer "Doc" Bennett as manager the Generals acquired their second of three straight championships under his direction. With John Stoneham once again leading the league in batting average and Herbert Pember repeating as league leader in runs and hits, McCook was the best hitting team in the league. Andy Bednar came through for Doc Bennetts squad and led the league with 21 wins. John Stoneham's contract was purchased by Pittsburg for the 1930 season. With the best pitching and hitting in the league McCook was the best team of 1929.
Vito San Filippo led the league with the Fairbury Jeffersons in strikeouts in 1929 with 201. In 1930 he led the league in wins with 23 and strike outs with 243.
Andy Bednar was a 20 year old pitcher from Streator Illinois. He was the leading pitcher for McCook in 1929 and led the league with 21 wins. He pitched a no hit game against Lincoln during the season and caught the eye of the Pirates. He pitched 1.3 innings for the Pirates in 1930. They optioned him to Wichita and Fairmont. The next year he had a four inning stint with the Pirates. They optioned him to Fort Worth then Galveston. He also played for Dubuque, Marshalltown, Syracuse and Fort Smith. He pitched for Tulsa for two years. In 1932 he led the Western League with a 22-4 record in 33 games. He wound up his career with St. Joseph in 1934. He died in an auto accident in Texas in 1937. He was 28 years old.
John Stoneham repeated as an All Star in 1929. He led the Nebraska State League in batting. In 1932 he was a Western League All Star playing for Tulsa. He had a cup of coffee with the White Sox in 1933. Born in Wood River Illinois, he attended Washington University in St. Louis.
John Stoneham and Andy Bednar were two Western League All Stars in 1932. According to minorleaguebaseball.com the Oilers were one of the top 100 minor league teams in history.
Nebraska Minor League Baseball Home