Nebraska Minor League Baseball
Western League "D"
1939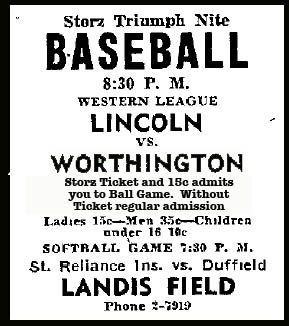 The Nebraska State League changed its name to the Western League as the Western league folded. It was a class "D" league like the NSL while the former Western League was a class "A" league. Roy Carter, president of the NSL in 1938 was the president of this league. Worthington Minnesota joined the league as Grand Island folded, Mitchell replaced Beatrice in the six team league.
The league allowed squads to have 20 players on their rosters until the end of May. On June 1st the rosters were required to be at 15 players.
In 1939 Norfolk was the league champion, but Sioux City won the playoffs four games to two while Lincoln defeated Sioux Falls four games to two. Sioux City then defeated Lincoln in the finals four games to two.
Western League (NSL)
Standings 1939
President: Roy Carter

Standings
Wins---
Losses-
GB
Norfolk Elks (NYY)
75
44
--
Sioux Falls Canaries (CUB)
66
52
8 ½
Sioux City Cowboys (DET)
63
52
10
Lincoln Links (STB)
64
55
11
Mitchell Kernels
49
69
25 ½
Worthington Cardinals (STL)
36
81
38 ½

---

BA: Howard Conners, Sioux Falls, .365
Runs: Bob Dillinger, Lincoln, 139
Hits: Wendell Finders, Norfolk, 167
RBI's: Ted Kakaloris, Lincoln, 114
HRs: William Morgan, Norfolk, 17
Wins: John Miller, Lincoln, 21
SOs: John Miller, Lincoln, 208
ERA: Lawrence Kempe, Sioux Falls, 3.02
Manager Elmer (Doc) Bennett led the Elks to the pennant in 1939. This was his third season with the Elks and he also led them to the pennant in 1938. In all he had four championship teams in his six years as manager for various Nebraska State League clubs.
Doyle "Porky" Lade was a pitcher for the Mitchell Kernels. He was born in Fairbury Nebraska and made it to the major leagues in 1946 after serving in WW2. He had a 25-29 lifetime major league record in 126 games. He also pitched for Oklahoma City, salina, Shreveport and Los Angeles (PCL) in a careeer that went from 1939-1954.
Dusty Boggess was a first year umpire in the NSL in 1939. He started his pro career when he was 16 years old with Cleburne. He subsequently lost his high school eligibility. He played minor league ball through 1933 and in three games played every position on the field. He went on to be a long time major league umpire and received a number of awards. In his book "Kill the Ump" he relates one story from his 1939 experiences. Future major leaguer Bob Dillinger was at the plate. They were playing in Norfolk. The first two pitches were close to the edge of the plate and Dusty called them both strikes. Bob then stepped back, took off the thick rimmed glasses that he wore and handed them to Dusty. Dusty calmly took off his mask, put on the glasses and said play ball. Bob could not see without his glasses and Dusty could not see while wearing Bob's glasses. Dusty waited until he heard the ball hit the catchers mitt and called strike three.
Bob Dillinger was a 19 year old rookie from Glendale California. He averaged .307 for the year and led the league with 139 runs scored. Bob also had 61 stolen bases for the year. He made it to the Browns in 1946 and had a six year major league career.

Bob Dillinger
1950 Bowman
Photoshopped :-)