Nebraska Minor League Baseball
Omaha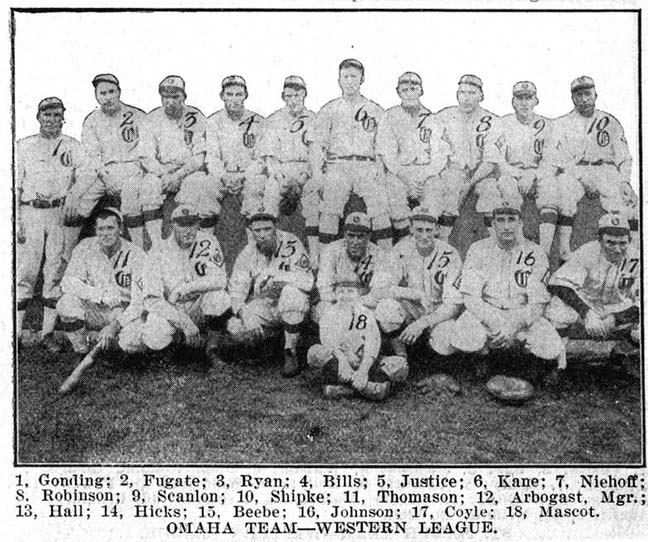 1912 Final Standings
Western League
Name
W
L
%
GB
Denver Grizzlies
99
63
.610
St. Joseph Drummers
94
72
.566
7
Omaha Rourkes
92
71
.564
7 1/2
Des Moines Boosters
82
80
.506
17
Lincoln Railsplitters
83
81
.506
17
Sioux City Packers
74
85
.466
23 1/2
Wichita Jobbers
75
89
.458
25
Topeka Jayhawks
51
109
.318
47

---



BA: Babe Borton, St. Joseph, .364
Runs: Ray Powell, St. Joseph, 139
Hits:Hy Myers, Sioux City, 224
HRs:John Beall, Denver, 18
Wins:Mark Hall, Omaha, 25
SO's:Joe Hagerman, Lincoln, 315
Pct:Harry Hicks, Omaha, .783, 18-5
Z.Z. "Rip" Hagerman was considered to be the leading pitcher for Lincoln in 1912. Zerah Zequiel was a twenty four year old from Lyndon Kansas. He had a brief stint in the majors in 1909 and stuck for three years starting in 1914. The 6' 2" right handed pitcher played in 51 games for Lincoln. He was 23 and 18 for the year and had 315 strikeouts to lead the league.
Omaha Bee September 29, 1912
Arthur Thomason , who swats the flies in W.A. Rourke's center garden during the balmy months, will polish up his musket after the last contest with St. Joseph today and will journey to Liberty, Mo., where after a brief visit with relatives he intends journeying to the outskirts of Liberty in pursuit of chickens and ducks. There has been a great deal of joshing on the Omaha team this summer as to who is the best hunter - Skipper Bill Schipke or Tommy, and each one swears he will show the other up on the first fall trip.
While Skipper has spent about half of his time in the Ozarks, Tommy has also had considerable experience with the shot-filled shells, having hunted for the market for a number of seasons.
Art led the club in 1912 with a .344 average. He had a 20 game stint with Cleveland in 1910.
Pitchers:
Harry Hicks was 18-5 for the year.
Mark Hall was 25-9 leading the league. He was 5th in strikeouts and second in walks.