Nebraska Minor League Baseball
Omaha Rourkes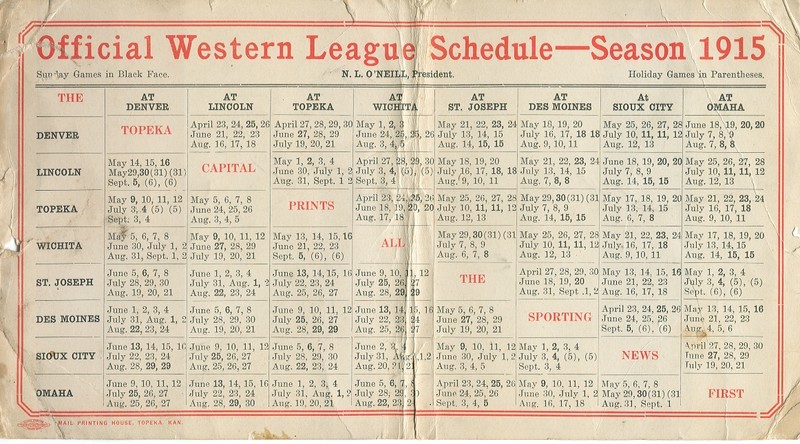 Image courtesy Dan Bretta
Western League Standings 1915
President: Norris L. O'Neill
Standings
Wins-----
Losses---
GB
Des Moines Boosters
87
53
--
Denver Bears
82
55
3 ½
Topeka Jayhawks
75
63
11
Omaha Rourkes
71
69
16
Lincoln Tigers
70
69
16 ½
Sioux City Packers
66
68
18
Wichita Wolves
57
80
28 ½
St. Joseph Drummers
43
94
42 ½
Wins:Tom Blodgett, Omaha, 24
Innings Pitched:Tom Blodgett, Omaha, 321
Losses:Hoffman, Lincoln-Omaha, 17
Stolen BasesMcGaffigan, Lincoln, 44
For 1915 the league went down from a 168 game schedule to a 154 game schedule, matching the major leagues. The salary limit was raised to $3,200. Omaha started the year with a winning streak and by the end of April they were in 1st place. The rest of the year was a slow slide to their finish in fourth.
Robert Ingersoll pitched a no hitter for Omaha against Topeka. The right hander from Rapid City South Dakota was 32 years old. The previous year he pitched six innings in four games for Cincinatti with no decisions.
In 1915 baseball player turned evangelist Billy Sunday came to Omaha. Born in Iowa Billy was a fast ball player. He was signed by the Chicago White Stockings in 1883. He played in the major leagues until 1891. He turned down a baseball contract for $3,000 to work at the Chicago YMCA for $83.00 per month.

Billy came to Omaha to rid the city of "civic vice, greed, corruption and liquor". He preached for two months in an 11,000 seat tabernacle built for his appearance. He made frequent appearances at Rourke Park and was a regular in the stands.

Postcard courtesy Dan Bretta
Roster:
Dutch Schliebner played 141 games at first for Pa in 1915. He averaged .241. He had one year in the major leagues, playing for Brooklyn in the National League and the St. Louis Browns in the American League in 1923.

In the dirt at second was Dick Breen The Brooklyn native averaged .264 in 141 games.

Fenton Whalen played 86 games at short. He also played for Lincoln during the season. In all he played in 103 Western League games and averaged .218.

Robert Wells was a catcher for 39 games and averaged .248. He played for the New Jersey Skeeters from 1911-1914.

Earl Smith averaged .250 while tending the garden for 138 games. He split his time between Omaha and the Cubs in 1916 and between Omaha and the St. Louis Browns in 1917. He ws a regular in the majors for a few years with the Browns then played for the Minneapolis Millers for a number of years.

Averaging .239, Lee Tannehill played 124 games for Pa Rourke. Lee was a fixture for the Chicago White Sox from 1903 through 1911.

Blanck played in 21 games and averaged .164.

Frank Hueslman played in 10 games. He also played for Albuquerque and Sherman during the 1915 season. He had a five year major league career from 1904-1909.

Harry McChesney was in 41 games during the season. McChesney averaged .292. He also played 100 games for Fort Worth in 1915. He played for the Cubs in 1904.

Cy Forsyth was second in the league in batting with a .338 average. He was picked up by Pa Rourke in 1915 from Topeka where he played for the last three years. The outfielder also had 239 total bases and 178 hits.

Marty Krug was a long time Omaha player and player/manager. He led the team with 14 triples and averaged .295 while playing mainly third and short during the year.

Pitching:

Thomas Blodgett was third in the league in total games pitched with 46, first in innings pitched with 321 and second in wins with 24 to go with 15 losses. The Blaine Kansas native moved to Columbus for the 1916 season.

Lou North managed an 8-7 record in 19 games. He had a one game appearance with Detroit in 1913, played in 5 games for the Cardinals in 1917 and was a regular for the Cards from 1920 through 1924. He also played for the Braves for 9 games in 1924.

Cecil Thompson pitched in 25 games and had a 14-6 record.

Bob Ingersoll from Rapid City South Dakota was 4-8 in 15 games. He had a cup of coffee with the Cincinatti Reds in 1914.

Berney Everdon was 8-11 in 33 games. He was 20-8 for Grand Island in 1914. Pa bought his contract at the end of the season.

Ernie Krueger was 9-4 as a pitcher and averaged .283 with the wagon tongue. He was listed as a catcher making me wonder if there were two Krueger's on the team.

Larson had a 3-2 record.

Jake Kafora had a .180 in 37 games.

Wallace Closman hit .333 in 11 games. He was listed as a pitcher and was 7-13 for Omaha in 1914.

Charles Payne hit .250 in 17 games. He played for York in the Nebraska State League in 1911 and 1912 and Omaha from 1913 through 1915.

Art Thomason played for Omaha and Des Moines in 1915. He averaged .254 in 83 games. The Liberty Missouri native played for the Cleveland Naps in 1910. He was a Western League fixture playing in the league for 10 years.

Varney played in 14 games and averaged .188, Hallman played in 18 games and averaged .118. F. Johnson was 4-7 for the Rourkes.