Nebraska Minor League Baseball
Omaha Rourkes 1916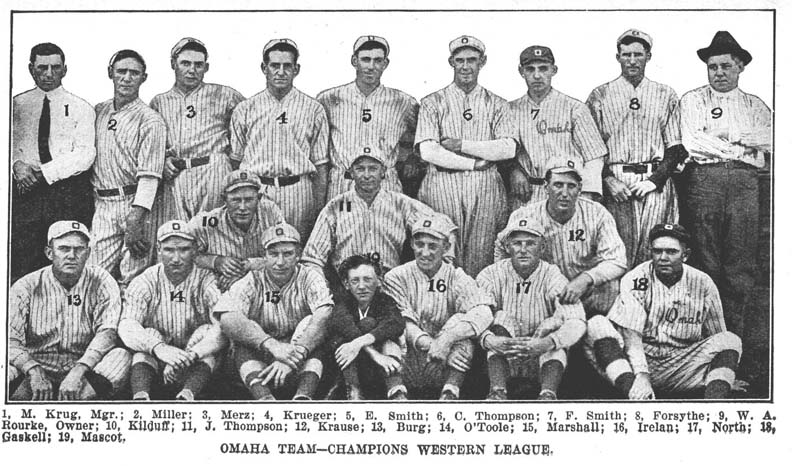 Western League Standings 1916
President: Frank Zehrung
Standings
Wins-----
Losses---
GB
Omaha Rourkes
92
57
--
Lincoln Tigers
87
63
5 ½
Sioux City Indians
79
71
13 ½
Denver Bears
78
75
16
Des Moines Boosters
75
75
17 ½
Topeka Savages
70
84
24 ½
St. Joseph Drummers
67
86
27
Wichita Wolves/Colorado Springs Millionaires
57
94
36
RunsWalter Carlisle, Lincoln, 121
Wins:Carl East, Lincoln, 24
ERA:Otto Merz, Omaha, 2.45
The league owners finally removed Norris O'Neill as president and Frank Zehrung, former Lincoln mayor replaced him. O'Neill lived in Chicago and he was an absentee landlord during his time as president. Wichita moved to Colorado Springs in September.

The Rourkes for 1916 looked like a potential league champion. They returned catcher Ernie Kruger, outfielders E. Smith and Cy Forsythe and pitchers Lou North and Cecil Thompson. On paper they looked good. By the end of May they were in fourth place and looking like another middle of the road team.

Pa went on a trip looking for talent. He picked up spitball specialist Marty O'Toole and another pitcher named Bruck from Columbus and infielder Joe Burg from San Francisco in the PCL. With these additions the Rourkes vaulted to first place and stayed there for the rest of the season.

For Omaha fans it was particularly sweet as Lincoln came in second. There was no love lost between these two franchises. Cy Sherman regularly fanned the flames of Omaha hatred in his columns for the Lincoln paper and the Omaha papers responded in kind about the Solon city Ducklings.

As with most championship clubs the Rourke's had a core group of players who carried the load for the entire season. Most of the position players had more than 120 games during the season.

Omaha played in the minor league championship against Louisville in October. The series was played in Omaha and even though the weather was more conducive to "sledding and ice skating" more than 12,000 fans turned out for the series. Both teams had future and past major league players but Louisville had more depth. The first game went 11 innings and was stopped due to darkness with the score tied 3-3. The second day Omaha won 11-7 in a rout. The Omaha bats then went silent and Louisville won the next four games to take the series.

Roster:

R. Miller was on first for the year and averaged .344 in 151 games.

Marty Krug was a long time player manager for the Rourke's in 1916. Before the season he told the Omaha papers that he was going to be the Boss this year and that the players were to do as they were told. He played in 122 games and averaged .294.

Joe Burg was at the hot corner in 1916. He had a cup of coffee with the Boston Doves in 1910. The Chicago native played for Milwaukee and started the 1916 season in San Francisco. Pa bought the 28 year old third baseman early in the season and he had a .261 average in 121 games.

Pete Kilduff was a 23 year old middle infielder for Omaha in 1916. The young man from Weir City Kansas was also sold to the Giants for 1917. He played in the major leagues from 1917 through 1921. He played for the Giants, Brooklyn and Cubs during his major league tenure.

Ernie Kruger was a 25 year old catcher from Chicago. He attended Crane High School where he was a three sport letterman. He entered Lake Forest college in 1911 and lettered in football, basketball and baseball. He signed a professional contract with the Cleveland Indians which made him inelgible to compete in university athletics. He acquired a degree in history and political science.

He played in 5 games with Cleveland in 1913. He was picked up by Omaha in 1914 and caught 49 games. In 1915 he played 94 games in Omaha and 10 games for the Yankees. The right hander was behind the mask for Omaha in 1916. He caught 112 games and batted .335. He was sold by Pa Rourke to the New York Giants after the season. He played in the majors for 10 years and played for the Giants, the Dodgers, Yankees and Reds. He played for the Giants and Brooklyn in 1917 and for Brooklyn from 1918-1921. He was the catcher for the Dodgers in 1920 when they won the National League pennant and caught all 26 innings of their game against the Boston Braves. He returned for a brief stint with the Reds in 1925. He then played in Minneapolis, Nashville and New York for various minor league teams until 1933.

He has a street named after him in Waukegan. Marshall caught 59 games, played in 81 and had a .276 average.

Outfield:

Cy Forsythe was acquired from Topeka in 1915. He played in 147 games and averaged. 315.

J. Thompson played in 127 games and averaged .296.

E. Smith played in 121 games and averaged .298.

Pitchers:

Marty O'Toole was a spit ball specialist who pitched in 30 games and had a 15-7 record. Marty was considered to be a "phenom" when he started. He broke in with the Reds in 1908 when just 19 years old. He then went to Sioux City for the 1910 season. He ws sold by St. Paul to the Pirates for the amazing sum of $22,500. His tenure in Pittsburg was from 1911 to 1914 where he amassed a 27-36 record. Pa picked him up from Columbus at the beginning of the 1916 season. It was a good move as his pitching added the necessary depth to the staff.

Lou North from Elgin Illinois was 16-8 in 33 games for Omaha. Lou played in one game for Detroit in 1913. He had a cup of coffee with St. Louis Cardinals in 1917. He played for St. Louis from 1920-1926 with a best year of 10-3 in 1922.

Cecil Thompson returned to the Rourkes for 1916. He had a 17-10 record in 33 games.

Otto Merz played professional ball for 21 years but never made the major leagues. The Red Bud Illinois native had an 18-11 record in 36 games.
Harry Kruase had played for Philadelphia (Athletics) from 1908-1912 and had a 36-26 life time record. He was picked up by Pa from San Francisco for 1916. He had a 14-10 record in 32 games and batted .320 in 63 games in the field.
T213 Coupon Tobacco Card
Courtesy of Dan Bretta
Bruck was bought from Columbus early in the season and had a 5-5 record in 15 games.
Allison was 0-3 in 3 games.
&nbsp