Nebraska Minor League Baseball
Western League
Omaha Cardinals 1949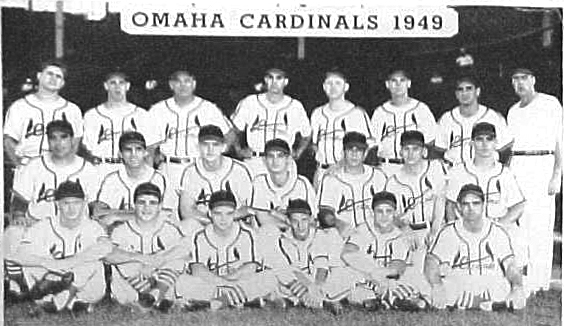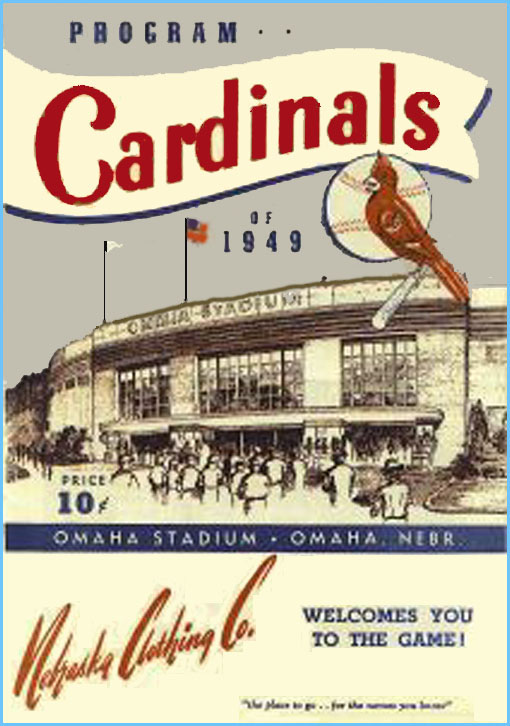 Western League Standings 1949
President:Senator E.C. Johnson
Standings
Wins-----
Losses---
GB
Attendance
Manager
Affiliation
Lincoln Athletics
74
64
--
149,159
James DeShong
Athletics
Denver Bears
71
68
3 ½
463,069
Michael Gazella
Pueblo Dodgers
71
68
½
138,726
Ray Hathaway
Brooklyn Dodgers
Des Moines
70
70
5
210,204
Stan Hack
Chicago Cubs
Omaha Cardinals
68
71
6 ½
277,370
Cedric Durst
St. Louis Cardinals
Sioux City Soos
63
76
11 ½
125,356
Don Ramsay
New York Giants

---

Playoffs:Denver defeated Pueblo 5-3 for second place.
Des Moines 3 games to 1 over Lincoln. Pueblo 3 games to 1 over Denver.
Finals:Pueblo 4 games Des Moines 1.


---

BA: Vic Marasco, Pueblo, .330
Runs: James Williams, Pueblo, 126
Hits: Fred Richards, Des Moines, 178
RBI's: Vic Marasco, Pueblo, 121
HRs: Lou Limmer, Lincoln, 29
Wins: Lynn Lovenguth, Lincoln 17
Earl Stabelfeld, Des Moines; Walter Cox, Sioux City, 17
SO's: Kenneth Lehman, Pueblo, 203
ERA: George Uhle, Denver, 2.25
The 1949 season was a close one for all of the Western League teams. Omaha finished next to last but they were only 6 1/2 games out of first. Cedric Durst replaced Ollie Vancec as manager.
The team played its first full season in the new Municipal Stadium (now called Rosenblatt Stadium). With the new stadium, Omaha drew 277,370 fans. This was a record for an Omaha franchise and was not beat until Omaha was in the American Association. The league had 1.3 million fans in 1949, which was the most in league history.
Omaha led the Western League in team fielding, but their second division finish in both batting and pitching led to their next to last finish.
Roster:
&nbsp
Fred Marolewski was a regular at first and averaged .253 for the year. He played in one game for the St. Louis Cardinals in 1953. He had no at bats and no putouts making him a modern day Moonlight Graham. After Omaha he played for Columbus, Allentown, Houston, Birmingham, Oklahoma City, San Antonio, Columbus (Georgia) and San Antonio.
Francis Haus played second base for 139 games. He averaged .242. He started with Johnson City in the Appalachian league in 1945. After two years in Johnson City he was promoted to Winston Salem in the class "C" Carolina League. In 1948 he was in class "B" ball in Allentown then Omaha and class "A" ball in 1949. After Omaha he was with Houston then Columbus in 1953.
Robert Rausch played 92 games between third and the outfield. He averaged .263. He returned to Omaha in 1950 and 1951.
Bernie Creger averaged .290 in 78 games. He had a 15 gaem stint with the St. Louis Cardinals in 1947.
Edmund Nietopski averaged .286 in 112 games. The shortstop started with the Durham Bulls in 1945 and played for nine different minor league teams during his career.
Nick Adzick was the regular catcher for Omaha in 1949. He averaged .304 in 94 games. The St. Louis native started with West Frankfort in 1947.
Russ Kerns from Fremont Ohio played in 73 games at catcher and averaged .325.
James Barkley tended the garden in 1949. He played in 109 games and averaged .304.
Another garden tender was Sidney Langston he averaged .243 in 104 games.
Vaughn Hazen played in 84 games and averaged .244. He also played for Rochester in the International League in 1949.
Larry Swederske played in 16 games and averaged .184 and Albert Smith played in 19 games and averaged .176. Albert also played in 123 games for St. Joseph in 1949.
Al Neal played in 69 games and averaged .268.
Frank DiPrima averaged .174 in 22 games.
Pitchers:
Lou Ciola was an ironman for Omaha, pitching in a league leading 51 games. In 1952 he would set a post war Western League record with 65 appearances. He had an 11-10 record with 171 innings pitched.
Joe Presko was 14-9 with 232 innings pitched. He made it to the major leagues in 1951 and pitched for St. Louis and Detroit in the bigs. He had a 6 year major league career with a lifetime 25-37 record.
Dick Bokelmann was 5-3 for Omaha in 1949. He had a cup of coffee with St. Louis in 1951, 52 and 53. The Northwestern University graduate had an eight year minor league career.
Jackie Collum was 3-9 in 1949. He made his debut with the St. Louis Cardinals in September of 1951. He was up and down from the majors to the minors through the 1962 season. His best year was 1955 when he was 9-8 with Cincinnati.
Maurice Garlock was 11-7 for the Omaha Cardinals.
Bob Mahoney was 7-13. The LeRoy Minnesota native made it to the big leagues with the White Sox in 1951. He played in 36 total major league games with Chicago and the St. Louis Browns.
Raymond Glaser was 5-7 in 1949. He also was 6-2 for Winston Salem in 1949.
David Thomas was 6-4.
Merlin Williams was 5-8 during 1949. He also played for Columbus and Little Rock during the season.
Norman Shope was 1-1 for Omaha and 10-8 for Lynchburg in 1949.
Nebraska Minor League Baseball Home