Nebraska Minor League Baseball
Western League 1951 Omaha Cardinals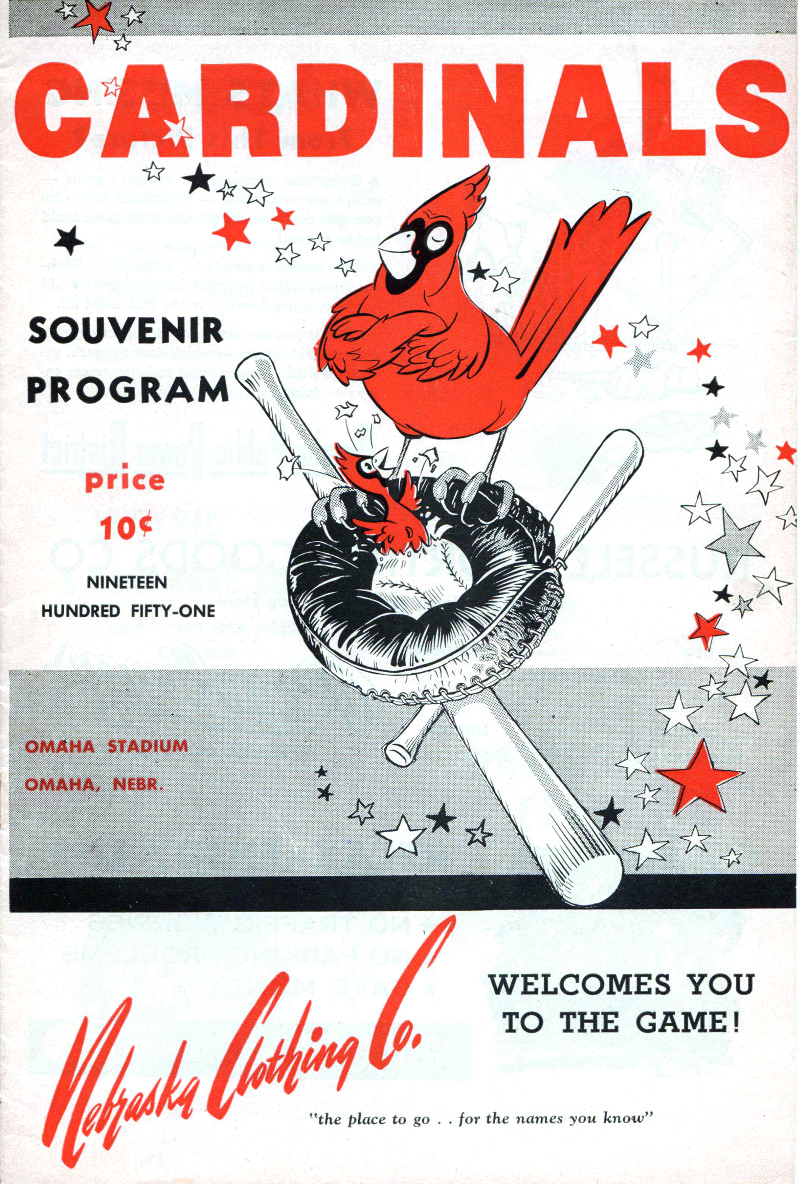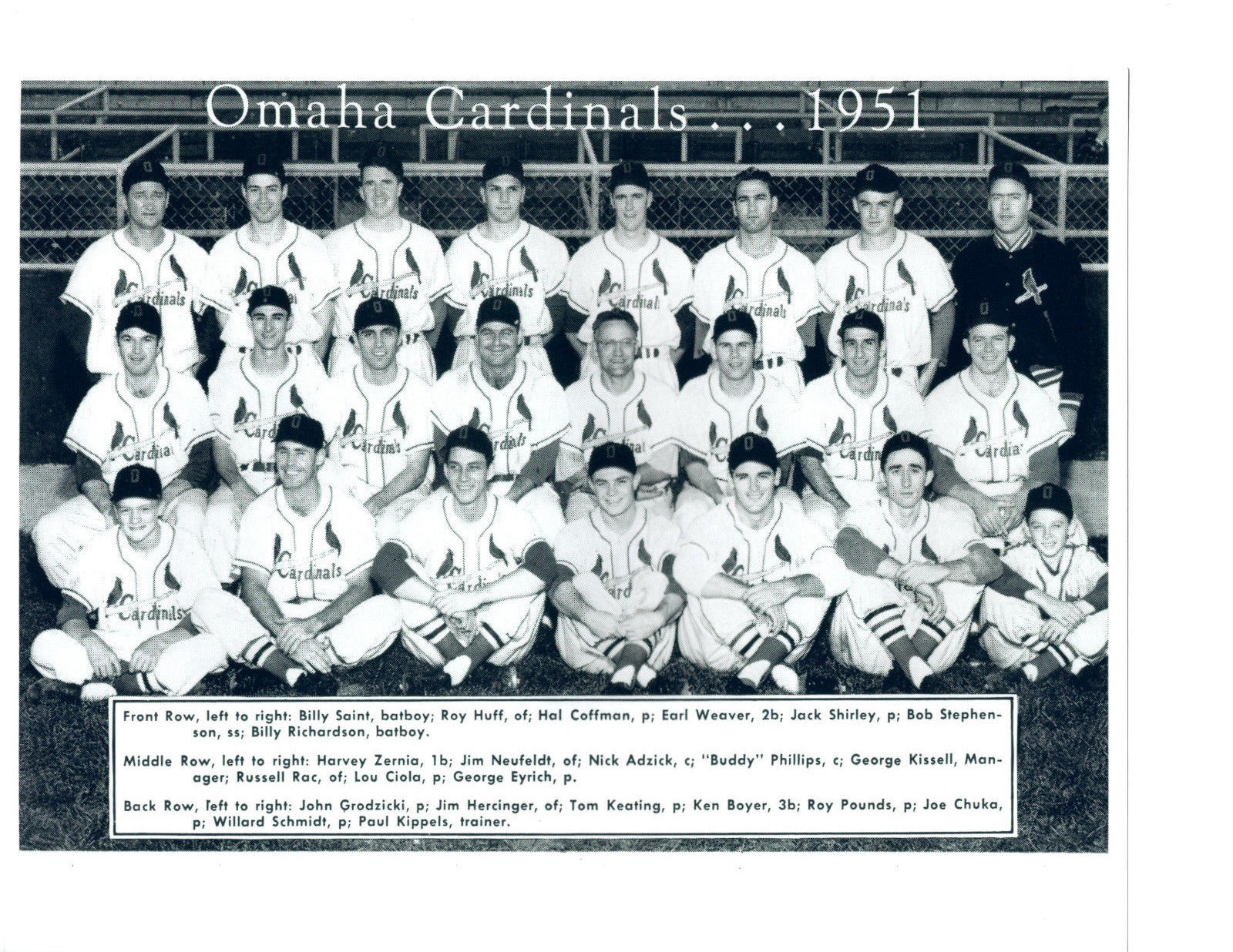 The Western League was a class "A" league in 1951. There were three "AAA" leagues, two "AA" leagues and four "A" leagues in 1951.
Western League 1951 Standings
President: Senator Edwin C. Johnson
Standings
Wins
Losses
Games
Back
Affiliation
Attendance
Manager
Omaha Cardinals
90
64
--
St. Louis Cardinals
162,247
George Kissell
Denver Bears
88
66
2
Boston Braves
424,065
Andy Cohen
Wichita Indians
84
68
5
Cleveland Indians
122,060
Joe Schultz
Sioux City Soos
77
71
10
New York Giants
104,247
Chuck Genovese
Des Moines Bruins
73
78
15 ½
Chicago Cubs
94,137
Alfred Todd
Pueblo Dodgers
74
80
16
Brooklyn Dodgers
104,254
James Biven
Colorado Springs SkySox
64
87
24 ½
Chicago White Sox
107,320
Skeeter Webb
Lincoln Athletics
57
93
31
Philadelphia Athletics
37,123
Frank Skaff

---

Sioux City beat Omaha 3 games to 1.
Denver beat Wichita 3 games to 1.
Sioux City beat Denver in the finals 3 games to 1.

---

BA: George Freese, Pueblo, .338
Runs: Ron Samford, Sioux City, 108
Hits: George Freese, Pueblo, 183
RBI's: George Freese, Pueblo, 106
HR's: Howard Roles, Des Moines, 32
Wins: ElRoy Face, Pueblo, 23
SO's: Willard Schmidt, Omaha, 202
ERA: Willard Schmidt, Omaha, 2.11
George Kissell took over the manager duties in Omaha for 1951. He was the third baseman and manager of Winston Salem in 1950 and his team there was picked as number 61 of the top 100 minor league teams in history by minorleaguebaseball.com. He was signed by the Cardinals in 1940 but World War II interrupted his career. After the war he was a player, manager, coach and minor league instructor for the Cardinals. After leading Winston Salem to the league title in 1950 he moved to Omaha with a number of his players and won the Western League championship in 1951. Kissell was a 1993 "King of Baseball" award winner for his many years of minor league success. He was inducted into the Missouri Sports Hall of Fame in 2003. He spent 10 years as a minor league infielder. From 46-58 he was a manager, coach and scout for the Cardinals. 2003 marked his 63rd year with the Cardinals organization. If you go to Busch stadium for a Cardinals game you look up the plaque outside the stadium honoring this great teacher of the game of baseball.
Omaha won the regular season title by two games over the Denver Bears. Although they were below average in batting, they were second as a team in fielding and their above average pitching led by Willard Schmidt led them to the title. The playoffs were a different story as their old nemesis Sioux City defeated Omaha in the first round of the playoffs.
Earl Weaver and Ken Boyer were selected by the Omaha fans as the most popular players for 1951.
&nbsp
Roster:
First base for Omaha in 1951 was Harvey Zernia. He played 100 games at first and 105 games overall. He averaged .264 while swinging from the port side of the plate.
Others who spent some time at first included Neal Hertweck . The eighteen year old played the position for 27 games and the port side swinger averaged .253. He was on the Winston Salem team managed by Kissell in 1950 where he averaged .273. He was the regular first baseman for Omaha in 1952 and his play led him to be promoted to the parent Cardinals. The St. Louis native made it to the majors for two games in 1952.
---

Major League All Star

Nineteen year old Joseph Cunningham played first for 12 games and averaged .268. He played most of the year at Winston Salem in the class "B" Piedmont League where he averaged .311. The lefty was signed as an amateur free agent in 1949. He made it to the major leagues in 1954 and played through the 1966 season.

---

Topps 1958
In the dirt at second base was Earl Weaver Yes that Earl Weaver. He averaged .279 for the season. Earl also played in Winston Salem in 1950 and his play there led to his promotion to Omaha. Best known for his 17 year career as skipper of the Orioles, he was a solid second baseman for Omaha from 1951-1953. He was a Western League All Star in 1952.
---
Major League All Star

The hot corner for 1951 was handled by Ken Boyer He averaged .306 for the year. Ken was a 20 year old who grew up in Alba Missouri. He was one of 14 children and six of the Boyer brothers played pro ball. He, Clete and Cloyd all made it to the major leagues. He was signed with the Cardinals for $6,000. He moved from Omaha to the service then returned to baseball in 1954. He made it to the major leagues in 1955 and played through 1969. He won five gold gloves, six straight All Star selections and led the NL third basemen in double plays five times. He also managed the Cardinals for three years. He died in St. Louis of lung cancer in 1982.
---
Short stop for Omaha in 1951 was Robert Stephenson. He averaged .226 for the Cards. The 22 year old from Blair Oklahoma played for the University of Oklahoma before signing with the Cardinal organization. He had a cup of coffee with the parent Cards in 1955.
Catcher for the Cards in 1951 was Nick Adzick. He averaged .239 for the season.
Putting on the mask for 52 games was Luther Phillips . He played in a total of 60 games and averaged .206.
Outfield:
James Neufeldt was a regular in the garden for the Cardinals and averaged .276 for the season.
Russell Rac was another of the players who played for Kissell in Winston Salem in 1950. He was a regular in the outfield for Omaha and averaged .301. He was selected as a Western League All Star in 1951. He played in Omaha through the 1953 season.
Roy Huff was another garden tender. He averaged .248.
Manager George Kissell played in 18 games and still had a good eye at the plate as he averaged .385.
James Hercinger averaged .266 as a utility player for the Cards.
Willard Schmidt was a 23 year old pitcher from Hays Kansas. He started with Hamilton in the Pony League and had a 22-9 record. In 1950 he had a 15-11 record with Allentown. His league leading stats in strike outs and ERA in 1951 resulted in his being promoted to the parent St. Louis club for 1952. He played in the majors in 1952 and 1953. In 1955 he was back in Omaha with the new "AAA" American Association Cardinals. He led the American Association that year with a 2.56 ERA. He was promoted back to the parent Cardinals and remained in the majors through the 1959 season.
Topps 1953
Jack Shirley was named a Western League All Star in 1951. He had a 1.83 ERA and a 9-2 record in 16 games. He did not pitch enough innings so his team mate Willard Schmidt was the league leader in ERA. He returned to Omaha for the 1952 season.
George Eyrich was 18-11 in 38 games. I am not sure if this is the same George Eyrich who had a nine game major league stint in 1943 with the Philadelphia Blue Jays in the National League.
Lou Ciola appeared in 46 games and had an 11-5 record. Lou had a short stint in the majors as a 20 year old in 1943 with the Philadelphia Athletics.
Harland Coffman was 11-7 in 26 games.
Thomas Keating was 9-7 in 30 games.
Joseph Chuka was 4-3 in 12 games.
Roy Pounds was a port side flinger who managed a 5-5 record for the Cardinals.
Nebraska Minor League Baseball Home