Nebraska Minor League Baseball
Western League Omaha Cardinals 1952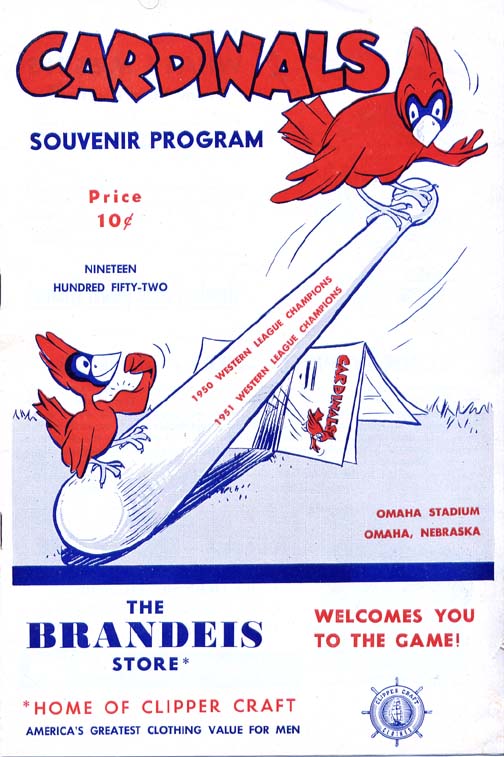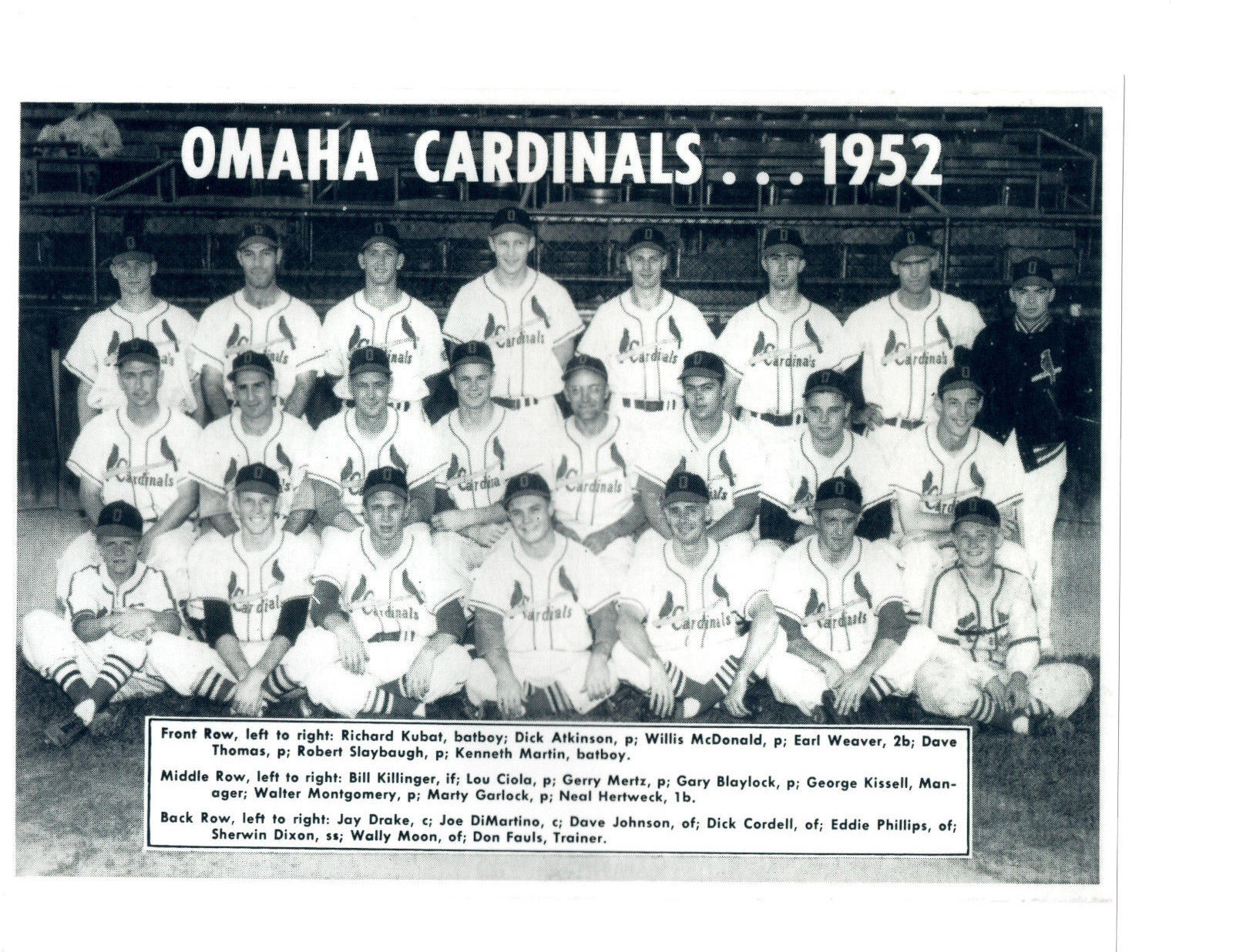 The Western League was a class "A" league in 1952. In 1952 the Pacific Coast League was classified as an "Open" league in anticipation of it becoming a third major league. Of course the moves of the Dodgers to Los Angeles and the Giants to San Francisco stopped the move of the PCL to major league status. There were two "AAA" leagues, two "AA" leagues and four class "A" leagues in 1952.
Western League 1952 Standings
President: Senator Edwin C. Johnson
Standings
Wins
Losses
Games
Back
Affiliation
Attendance
Manager
Denver Bears
88
66
--
Pittsburg Pirates
471,419
Andy Cohen
Colorado Springs Sky Sox
87
67
1
Chicago White Sox
170,041
Don Gutteridge
Omaha Cardinals
86
68
2
St. Louis Cardinals
137,378
George Kissell
Sioux City Soos
83
71
5
New York Giants
103,004
Ray Mueller
Pueblo Dodgers
81
73
7
Brooklyn Dodgers
122,746
William McCahan
Wichita Indians
67
87
21
Cleveland Indians
116,703
Ralph Winegarner
Lincoln Athletics
67
87
21
Philadelphia Athletics
61,483
Les Bell
Des Moines Bruins
57
97
31
Chicago Cubs
62,597
Harry Strohm

---

Denver beat Sioux City 3 games to 1.
Omaha beat Colorado Springs 3 games to 1.
Denver beat Omaha in the finals 3 games to 0.

---

BA: Ed Phillips, Omaha, .320
Runs: Ken Landenberger, Colorado Springs, 112
Hits: Ken Landenberger, Colorado Springs, 183
RBI's: Ken Landenberger, Colorado Springs, 133
HR's: Bill Pinckard, Denver, 35
Wins: Alberto Osorio, Denver, 20
SO's: Connie Johnson, Colorado Springs, 233
ERA: Jim Singleton, Sioux City, 2.73
Eddie Phillips led Omaha and the league in batting in 1952. The 20 year old split time between the outfield and third base for the Cardinals in 1952. He was not named to the All Star team because the votes for him were split between the two positions.

Earl Weaver was an all star at second base for Omaha in 1952. He averaged .278 in 97 games. My personal favorite Earl Weaver quote is:
"It's what you learn after you know it all that counts."
and "The job of arguing with the umpire belongs to the manager, because it won't hurt the team if he gets thrown out of the game."

The Omaha Cardinals for 1952 under manager George Kissell wound up in third place. Kissell was a 1993 "King of Baseball" award winner for his many years of minor league success. He was inducted into the Missouri Sports Hall of Fame in 2003. He spent 10 years as a minor league infielder. From 46-58 he was a manager, coach and scout for the Cardinals. 2003 marked his 63rd year with the Cardinals organization. If you go to Busch stadium for a Cardinals game you look up the plaque outside the stadium honoring this great teacher of the game of baseball. A great article on the man and his history was in the Ithaca College Quarterly, his alma mater. He managed Winston Salem to a league championship in 1950, was promoted to Omaha and led the Cards to a league championship in 1951.

Under Kissell's leadership the Cards beat Colorado Springs in the first round of the playoffs but lost to Denver in the finals.

Image courtesy Dan Bretta
Bobby Slaybaugh was a 20 year old prospect for the Cardinals in the spring of 1952. The lefty was struck in the eye with a line drive in March while in Florida for spring training. He was a 17 game winner in 1951 with Goldsboro. He made his debut in Omaha on June 22. He allowed 2 hits and one run in over 6 innings of relief work. In his first start a week later, he pitched a four hit shutout of Des Moines. Unfortunalty, that seemed to be the highlight of his year as he finished with only 31 innings of work.

Roster
First base for the Cardinals in 1952 was anchored by Neal Hertwick. He averaged .285 while swinging from the port side of the plate. Neal played most of the 1951 season in Winston Salem and was promoted to Omaha for the end of the 1951 season. In 1955 he played with Albany and led the Eastern League with 112 RBI's.

Western League All Star Earl Weaver held down second base for the Cardinals. He averaged .278 in 97 games. Of course he went on to be one of the best baseball managers in the game. In addition to Earl, Killinger was on second for 21 games and Barczewski held down second for 21 games.

The 1952 Western League batting champion Eddie Phillips held down third base for the Omaha Cardinals in 1952. He averaged .320 while splitting his time between third base and the outfield. Joseph DiMartino played third for 41 games and 81 games at catcher and averaged .268.

Short stop for 1952 saw another Western League All Star in a Cardinals uniform. Sherwin Dixon was an ironman at short, playing in 147 games and averaging .249 and had 34 stolen bases.

In addition to DiMartino, Jay Drake put on the mask for 71 games and played in 94 games overall. He averaged .233 for the season.
---
Major League All Star

The outfield for 1952 saw future all star Wally Moon in the garden for Omaha He played in 118 games and averaged .255. By 1954, he was in the major league with the Cardinals. The port side swinger played in the majors for 12 years. He was a Major League All Star in 1957 and 1959.
---
Richard Cordell played in the outfield for 125 games and averaged .242. David Johnson averaged .232 in 80 games and James H. King played in 63 games for Omaha and averaged .238.

Louis Ciola played in 78 games and averaged 242, and Eli Russo averaged .238 in his 33 games.

Pitchers:
Richard Atkinson had a 2.14 ERA for 1952. He appeared in 19 games and had a 10-4 record.

Louis Ciola was 15-1 and appeared in an amazing 65 games. He was a 30 year old veteran who had a brief appearance in the show in 1943 with Philadelphia.
Gary Blaylock was a future major leaguer who was 13-9 in 30 games. The 20 year old Clarkton Missouri native had four shutouts in 1952. He made it to the majors in 1959 with St. Louis and pitched in 26 games with St. Louis and 15 for the Yankees.

Willis McDonald was 6-5 in 29 games.
Gerald Mertz was 13-9 in 39 games.
Jack Shirley was 4-5 in 13 games.
Maurice Garlock was 7-4 in 26 games.
David Thomas was 4-8 in 47 games.


1959 Topps
Walter Montgomery was 8-16 in 38 games. He had 6 shutouts. He returned to Omaha in 1953 and led the Western League in pitching that year.
Thanks to the generosity of Walter's brother Gary, here are some stories by Walter during his time in the minor leagues.
Stan Musial and Enos Slaughter