Nebraska Minor League Baseball
Western League 1954 Omaha Cardinals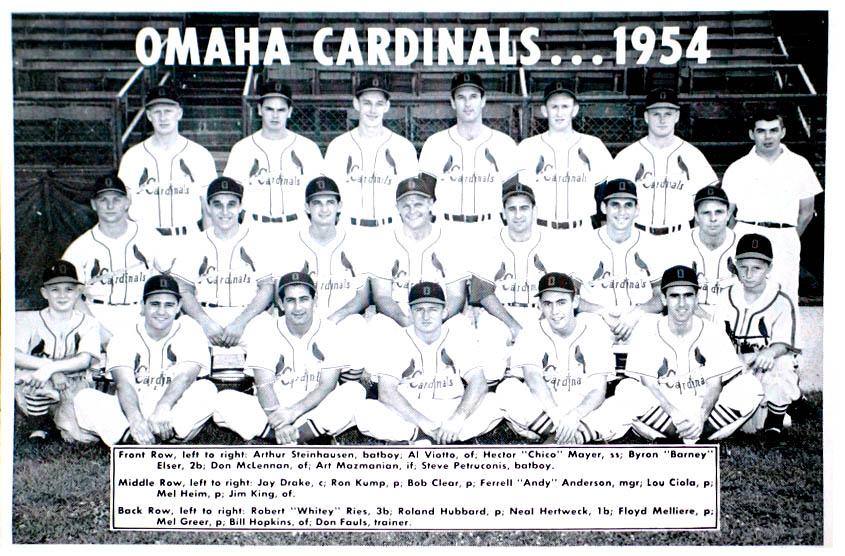 The Western League was a class "A" league in 1954. In 1954 the Pacific Coast League was classified as an "Open" league in anticipation of it becoming a third major league. Of course the moves of the Dodgers to Los Angeles and the Giants to San Francisco stopped the move of the PCL to major league status. There were two "AAA" leagues, two "AA" leagues and four class "A" leagues in 1954.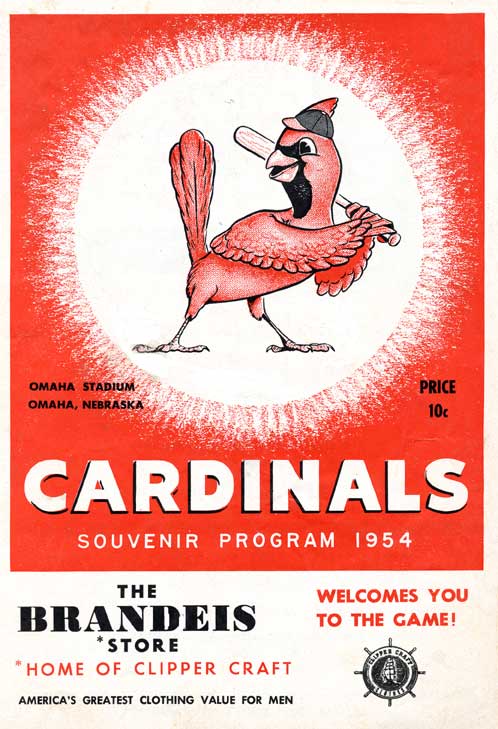 Western League 1954 Standings
President: Senator Edwin C. Johnson
Standings
Wins
Losses
Games
Back
Affiliation
Attendance
Manager
Denver Bears
94
56
--
Pittsburg Pirates
232,686
Andy Cohen
Des Moines Bruins
88
66
8
Chicago Cubs
113,691
Les Peden
Omaha Cardinals
83
68
11 ½
St. Louis Cardinals
150,131
Ferrell Anderson
Pueblo Dodgers
79
74
16 ½
Brooklyn Dodgers
80,768
Goldie Holt
Sioux City Soos
78
75
18 ½
New York Giants
69,333
David Garcia
Wichita Indians
76
77
19 ½
Baltimore Orioles
87,854
Herb Brett
Lincoln Chiefs
62
88
32
Milwaukee Braves
80,660
Whitney Wietelman
Colorado Springs Sky Sox
48
104
47
Chicago White Sox
59,606
Mickey Livington

---

Denver beat Pueblo 3 games to 1.
Des Moines beat Omaha 3 games to 1.
Des Moines beat Denver in the finals 3 games to 1.

---

BA: Joe Kirrene, Colorado Springs, .343
Runs: Bobby Prescott, Denver, 137
Hits: Reno DeBenedetti, Denver, 183
RBI's: Rocco Ippolito, Denver, 131br> HR's: Bill White, Sioux City, 30
Wins: Bob Clear, Omaha, 20
SO's: Robert Garber, Denver, 173
ERA: Hy Cohen, Des Moines, 1.88
The 1954 season was going to be the last for Omaha in the Western League. Omaha and Denver move to the "AAA" American Association in 1955.
Manager Ferrell Anderson had played part of the 1953 season with the St. Louis Cardinals. The 36 year old from Maple City Kansas had played for Brooklyn in 1946 and 1954 was his first year with the Omaha Cardinals.
Omaha played in the shortest double header in Western League history when it was defeated by Wichita 1-0 in 1:05 and then beat Wichita in 1:23. A double header in less than twa and a half hours. Some batters take about that long today just preening before getting into the batters box.
---

Major League All Star 1961

John George "Jackie" Brandt was an Omaha native who played for the Cardinals and Columbus in 1954. He averaged .313 in the games he played in Omaha. He started his professional career in 1953 with Ardmore in the Sooner State League where he batted .357. He moved to Rochester in 1955 and made his major league career debut in 1956 with St. Louis. He led the National League in fielding in 1956. He played in the 1961 All Star Game and had an 11 year major league career.

---

Topps 1963
Neal Hertweck played 122 games at first base for the Cardinals and 18 for Denver. He averaged .260 for the year. He played for Omaha in 1952. He played for Albany in 1955 and led the Eastern League with 112 RBI's.
Wayne Wallace played 30 games at first and averaged .246.
In the dirt at second base was Byron Elser. He averaged .281 for the Cardinals.
The hot corner was held down by Robert Ries and averaged .291 for the season.
Short stop in 1954 saw Hector Mayer. He averaged .264.
Putting on the mask for the Cardinals was Jay Drake for 83 games. He was a .255 hitter.
Alternating with Drake at catcher was Ferrell Anderson. He averaged .274. The Maple City Kansas native had a short stint with Brooklyn in 1946 and again with the parent Cardinals in 1953. He played in a total of 97 major league games. He died in Joplin Missouri in 1978.
Outfield:

Along with their local all star Jackie Brandt, James King roamed the garden for Omaha in 1954. The 21 year old led the regulars with a .314 average. The bats left, throws right outfielder from Elkins Arkansas was traded to the Cubs organization in November 1954. He played in the majors from 1955 through the 1967 season.

Donald McLennan was a regular in the outfield in 1954. The lefty averaged .262 for the season.

Topps 1956
photoshopped
Alfred Viotto was a gardener for the Cardinals in 1954. He averaged .243 while swinging from the port side of the plate. He led the Evangeline league in triples while playing for Baton Rouge in 1952.
Pitchers:
Bob Clear led the Western League with 20 wins in 1954. He also led the league by pitching in 267 innings and in walks with 114. He started his career in 1945 with Batavia and played for Omaha in 1950. After stops in Rochester, Columbus and Houston he was back in "A" ball for the 1954 season.
Lou Ciola led the Western League by appearing in 49 games. This was the third time he led the Western League in this category. He had a 7-5 record for the Cardinals. He also averaged .300 at the plate.
Ronald Kump pitched in 30 games and had a 14-12 record for Omaha. He led the club with a 2.28 ERA and averaged .253 at the plate.
Millard Heim was a southpaw who had a 13-8 record in 38 games.
Lewis Swinger pitched in 15 games and had a 3-4 record.
Gordon Jones appeared in 18 games and had a 10-5 record. The Portland Oregon native was signed by St. Louis as an amateur free agent in 1949. The 24 year old was promoted to the parent Cardinals in August. He pitched in the majors for 11 years.

Charles Hollingsworth broke even with a 4-4 record in 19 games.

Melvin Greer pitched in 26 games and had a 1-4 record. He also averaged .429 at the plate (yes that is .429).

Roland Hubbard had a 1-2 record in 13 games.

Topps 1955
&nbsp

Nebraska Minor League Baseball Home