Nebraska Minor League Baseball
Omaha Rourkes 1918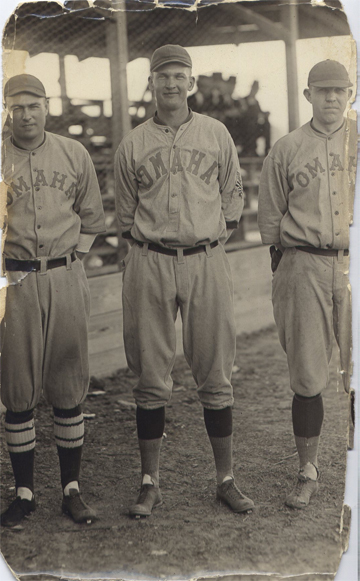 Unknown Omaha Players--
Circa 1918
(Flag on sleeve indicates year)

Western League Standings 1918
President: Emerson Dickerson
Standings
Wins-----
Losses---
GB
Wichita Jobbers
41
24
--
Topeka Kawnees/Hutchinson Salt Packers
37
31
5 ½
Des Moines Boosters
36
31
6
Joplin Miners
34
31
7
Omaha Rourkes
33
32
8
Hutchinson/Oklahoma City Indians
33
37
10 ½
St. Joseph Saints
30
38
12 ½
Sioux City Indians
22
42
18 ½
Runs:Al Bashang, Omaha, 49
Lincoln and Denver dropped out at the end of the 1917 season. The work or fight order concerning WWI caused the league to fold in early July. President Dickerson joined the military.
Only one minor league survived the season. The Western League was one of the ones that folded during the year. The league tried to make a go of it. They lost many players who volunteered and many others were drafted. Restrictions on travel, lack of attendance and focus on the war effort all combined to cause the league to fold.
As an example of the issues during the year, Marty Krug was traded to St. Paul for Defate and Boardman. Louisville owned the rights to Boardman and refused the deal. Krug was drafted into the army. Defate was sent to Omaha anyway. Tony Defate had a cup of coffee in the major leagues in 1917. The Kansas City native averaged .262 in 55 games for Omaha. He played in organized ball from 1916 through the 1931 season. The
Omaha tried to put together a competitive team for 1918. Ex Federal League player Charles Hanford was picked up when the International League went belly up in 1917. The 36 year old averaged .255 in 51 games.
Twenty year old Charles Kopp was picked up from Peoria. He had an 8-7 record for Omaha in 1918 and returned to play in Omaha in 1919 and 1920.
Along with Charles, Al Bashang was also picked up from Peoria. Al had a cup of coffee with Detroit in 1912 and with Brooklyn in 1918. He played in professional ball from 1910 through 1927. He averaged .236 in 67 games.
Larry Pratt a catcher, was optioned to Omaha from Columbus in 1917. He refused to report to Omaha and played independent ball in 1917. He decided to report to Omaha for the 1918 season.
Charlie Callahan averaged .258 in 46 games.
Bill Jackson played in the Federal League for two years. He was another Peoria transfer and averaged .265 in 55 games.
Twenty five year old Harry Donica from Logan Indiana averaged .283 in 55 games.
Jake Holderman averaged .206 in 52 games.
Robert McMenemy averaged .280 in 50 games and Otto Nye played in 19 games and averaged .178.
Kelly played in 20 games and averaged .155.
W. F. Corey was 2-5 in 1918 and A. Manske was 1-2.
Brooks Hale was 4-4 in 1918.
Omaha had a brace of former major league pitchers in the fold for at least part of the 1918 season.
Oscar Fuhr from Defiance Missouri was 2-3 for 1918. He played for the Cubs in 1921 and with Boston (AL) in 1924 and 1935.
Marty O'Toole had a 5-2 record for Omaha. He started in Omaha in 1916 and 1918 was his last year in organized ball. He played for the Reds, Giants and Pirates from 1911 through 1914.
Shag Thompson was usually an outfielder but he pitched in one game for Omaha in 1918 and had a 1-0 record. He played for the Athletics from 1914 through 1916.
Elam Vanglider had a 4-2 record in 1918. The Cape Giradeau Missouri native pitched for the Browns from 1919 through 1927 and Detroit in 1928 and 1929.
Otto Merz was a fixture in Omaha from 1916 through 1919. He managed a 6-6 record in 1918.